Right-hander Jake Arrieta entered free agency in winter 2017 after a four-year run as one of the majors' premier starters. Arrieta was toiling as a back-end starter with the Orioles just a few years before, but he turned his fortunes around with the Cubs. Not only was he part of the Cubs' World Series drought-breaking team in 2016, but he won the 2015 NL Cy Young Award and posted a 2.73 ERA/3.16 FIP with 8.89 K/9 and 2.73 BB/9 in 803 innings and 128 starts in a Chicago uniform.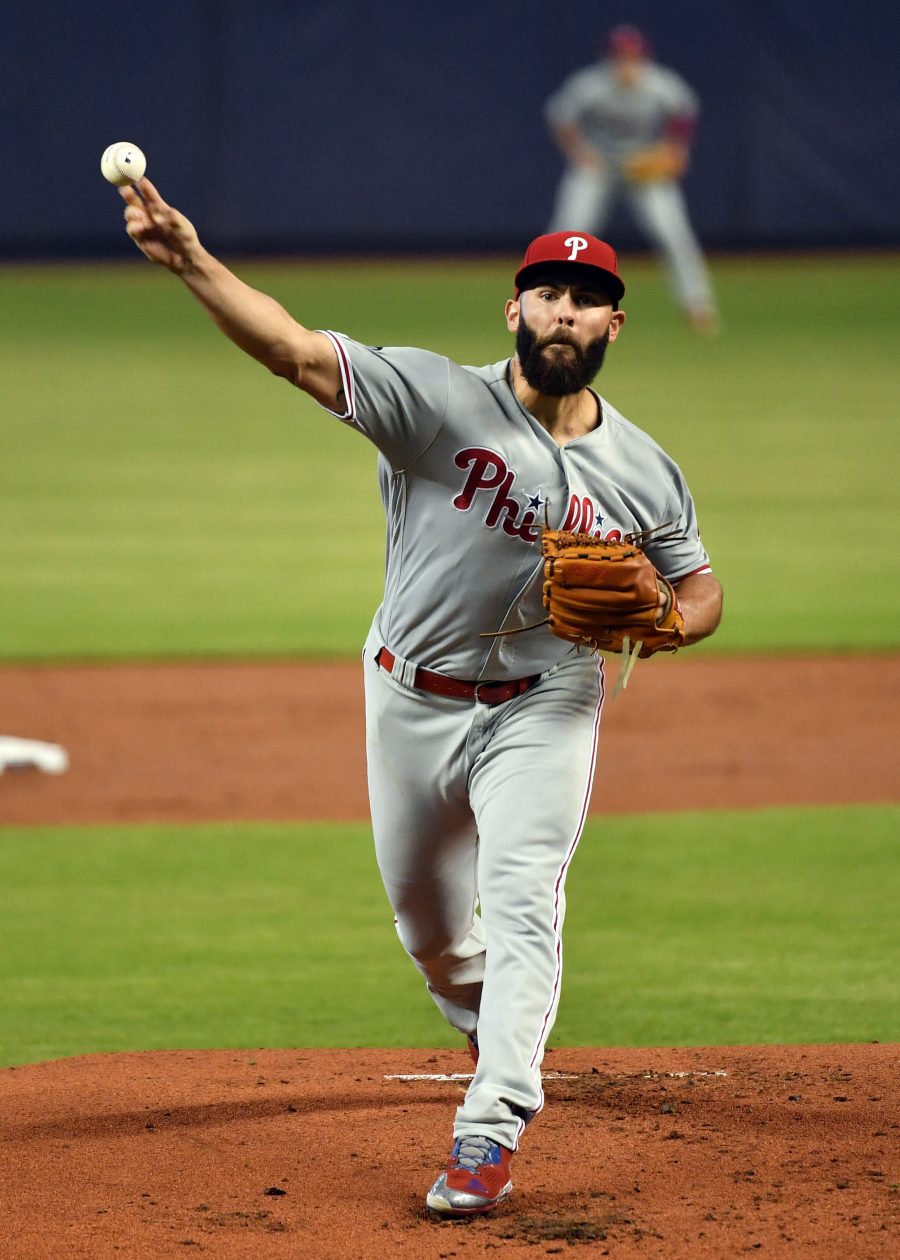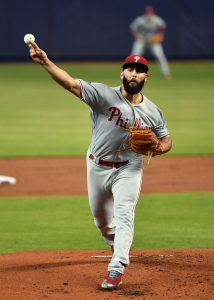 If Arrieta had his druthers, he likely would have stayed on the North Side of Chicago, where he became a beloved figure. However, the Cubs' Theo Epstein-led front office wasn't willing to pony up for the Scott Boras client when he hit free agency. The Cubs weren't alone in that regard. There were reports Arrieta had designs on a $200MM-plus contract when he reached the open market, but after upward of four months in free agency, he settled for the Phillies' three-year, $75MM guarantee in March 2018. While the Phillies hoped they were landing a front-line starter at something of a discounted cost, they've essentially gotten mediocrity to this point.
Arrieta continued his years-long run of durability in 2018, notching 31 starts and 172 2/3 frames, though the results weren't great. He logged a 3.96 ERA/4.26 ERA with 7.19 K/9, 2.97 BB/9 and a 51.6 percent groundball rate. Respectable numbers? Absolutely. Worth ace-caliber pay? No.
Now 33 years old, Arrieta's amid his worst season since 2013, when the Cubs pulled him from the Orioles' scrapheap. He has pitched to a 4.43 ERA/5.14 FIP with 7.03 K/9, 3.47 BB/9 and a 52 percent grounder mark. Despite his continued penchant for inducing grounders, Arrieta has degenerated into a back-end starter. As a result, there's basically no chance he'll vacate the remainder of his contract after the season. Arrieta's pact gives him the right to opt out of his $20MM salary for 2020 in favor of free agency. On the other hand, the Phillies could void his opt-out to pay him $40MM from 2021-22. It appears you can forget that on both counts, though.
Beyond simply looking at Arrieta's basic numbers, leaks in his foundation are manifest. His average fastball velocity is hovering in the high-92 mph range for the third straight season, down from 94-95 in his best days. As noted before, he's striking out fewer batters and walking more. Home runs have also become a major problem for Arrieta, who yielded long balls on 10.9 percent of flies from 2013-18 but is up to 21.4 percent in that category this year. Among qualified starters, only the Cubs' Yu Darvish (whom they chose over Arrieta) and the Cardinals' Dakota Hudson have allowed more HRs per fly ball.
Looking at Arrieta's bloated HR rate, it's no surprise he's fooling fewer hitters than he did during his peak. Arrieta's 7.4 percent swinging-strike rate is his worst since 2010, when he debuted in the bigs, while his 27 percent chase rate is his lowest ever. When hitters have gone after Arrieta's pitches, they've made much more impactful contact than before, evidenced by a hard-hit rate (37.9 percent) that easily ranks as the highest of his career. And it hasn't been a matter of bad luck for Arrieta, whose expected weighted on-base average against (.338) is almost identical to his xwOBA (.337), according to Statcast.
While searching for further causes for Arrieta's decline, it's obvious a change in pitch usage has played a role. In 2015, when Arrieta won his sole Cy Young, he fired sinkers at a 33 percent rate, complementing those with sliders (29 percent), four-seamers (18), curveballs (15) and changeups (5). Those pitches all yielded good to dominant results – including against left-handed batters, who posted a dreadful .205 wOBA against him. Nowadays, though, Arrieta's tossing his sinker 54 percent of the time and his change at roughly 17 percent, with his slider (15) and curve (12) next. For all intents and purposes, he has scrapped his four-seamer. Arrieta's oft-used sinker and slider have been the main the sources of his problems in 2019, according to Statcast, which credits hitters with a .373 wOBA/.372 xwOBA against the former pitch and a .413/.413 line versus the latter. And lefties – whom Arrieta once stifled – have smashed him for a .384 wOBA.
Including his 2019 performance, the Phillies have gotten an OK starter in Arrieta – not the front-line righty they wanted when they signed him. His presence couldn't help the club to the playoffs last year and doesn't look as if it'll be a key reason if the Phillies make it this season. Considering that, it appears the two sides will be tied together through 2020.
Photo courtesy of USA Today Sports Images.