At times since he debuted in the majors in 2011, right-hander Kelvin Herrera has been one of the majors' most dominant relievers. Between 2012 and '16, for instance, Herrera pitched to a sterling 2.57 ERA/2.96 FIP with 9.14 K/9, 2.69 BB/9 and a 48.7 percent groundball rate over 354 1/3 innings. He averaged a whopping 98.0 mph on his four-seam fastball along the way, and was a key reason why the Royals took home a World Series championship in 2015. That fall, Herrera turned in 13 2/3 innings of two-run ball (one earned) and totaled 22 strikeouts against three walks. Herrera hasn't been the same caliber of pitcher over the past couple years, however, and is now struggling through the worst season of his career.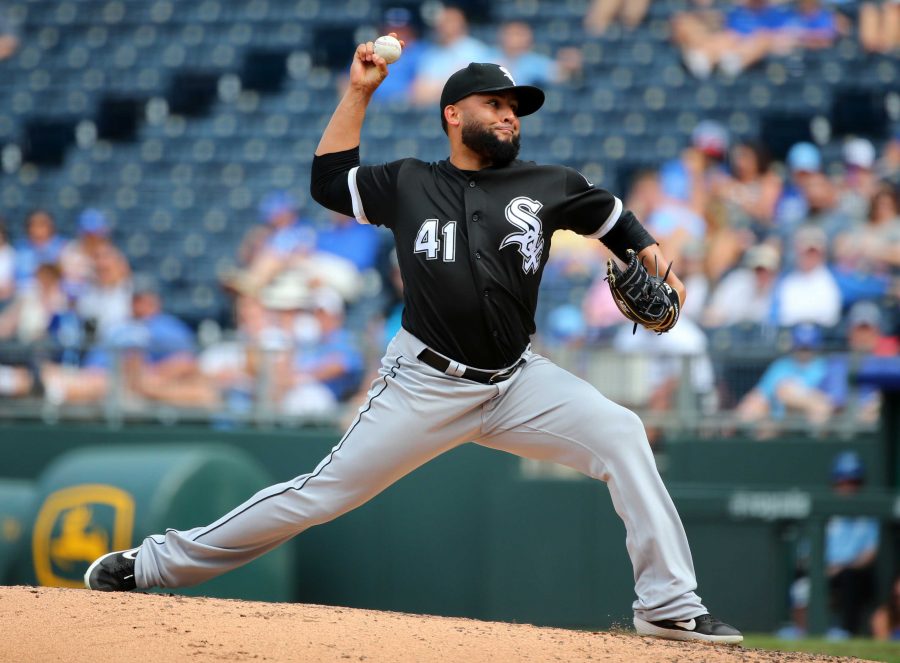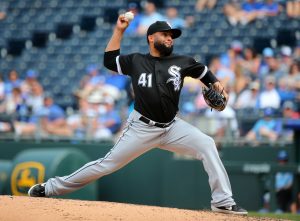 Things began going downhill for Herrera in 2017, his last full season as a Royal, and continued to spiral last year in a campaign divided between Kansas City and Washington. Herrera still notched an outstanding 2.44 ERA and barely walked more than two batters per nine over 44 1/3 innings, but his 7.71 K/9, 35.6 percent groundball rate, 3.95 FIP, 4.31 xFIP and 3.81 SIERA ranked among the least impressive figures during his time in the pros. Making matters worse, Herrera suffered a season-ending Lisfranc injury in his left foot in late August.
Although 2018 concluded in unfavorable fashion for Herrera, that didn't stop the 29-year-old from landing a solid payday in free agency last winter. The rebuilding White Sox, familiar with the hurler from his run with the division-rival Royals, committed two years and $18MM to Herrera.
Unfortunately for Chicago, the Herrera contract has looked like a mistake to this point. Through 34 1/3 innings with the ChiSox, Herrera has limped to a 7.08 ERA. Only two relievers who have accrued 30-plus innings (David Hernandez, whom the Reds just released, and the Orioles' Branden Kline) have had more trouble preventing runs than Herrera, whose average fastball velocity (95.8 mph) sits as the least imposing of his career. Unsurprisingly, a drop in swinging-strike rate – 10.8 percent, the worst of Herrera's majors tenure – has accompanied his dip in velocity. At the same time, with 4.19 walks per nine, Herrera has issued more free passes than ever.
Herrera's new status as one of the game's least effective relievers has come with a change in repertoire. According to Statcast, after throwing his four-seamer anywhere from 40 to 60 percent in previous seasons, he's down to 32.8 percent this year. Hitters have tattooed the pitch, though, with a .483 weighted on-base average/.421 xwOBA. They've also had plenty of success against his sinker (21.9 percent; .432 wOBA/.364 xwOBA) and cutter (10.3 percent; .375/.391). Conversely, Herrera's non-fastballs – his changeup (21.5 percent; .218/.225) and slider (13.6 percent; .202/.220) – have stymied the opposition. Perhaps he'd be well-served to rely more on those offerings.
Regardless of pitch choice, it does seem Herrera has encountered a bit of bad luck this season. His fielding-independent pitching marks, including a 4.73 FIP, are all much more respectable than his ERA (although hardly great). Hitters have also victimized Herrera for an unsustainable .378 batting average on balls in play, which sits well above his career .292 mark and has come in spite of a low average exit velocity. Herrera's mean exit velo against (85.8 mph) ranks as his best in the Statcast era and falls in the top 7 percent of the league. The .339 xwOBA Herrera has yielded is still unimpressive, but it looks far better than the .370 real wOBA hitters have mustered off him. Meanwhile, Herrera has only stranded 63.2 percent of runners – down from a lifetime mark of 77.7.
Herrera and the White Sox will, of course, hope fortune starts going in his favor over the next year-plus. As of now, though, this doesn't have the makings of a successful signing for the club, which committed much more money to Herrera than any other free agent last offseason. If Herrera does bounce back in 2020, though, it could go a long way toward helping the White Sox snap a painfully long playoff drought that's sure to hit 11 seasons this year.
Photo courtesy of USA Today Sports Images.