Opening Day is about a month away, and here at MLB Trade Rumors it's time to look ahead to the 2020-21 free agent class.  These players are on track to become free agents after the 2020 season, but a lot can change before we reach that point.  As always, these players are ranked by my estimate of their 2020-21 open market earning power.  You can see the full list of 2020-21 MLB free agents here.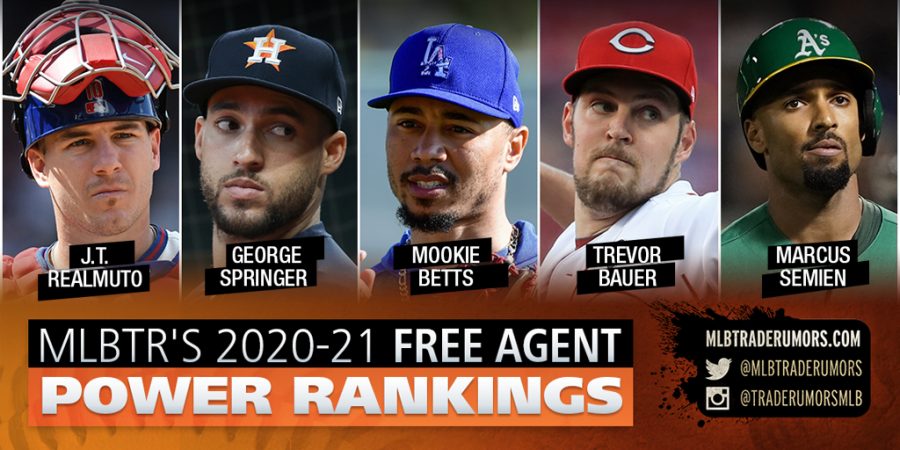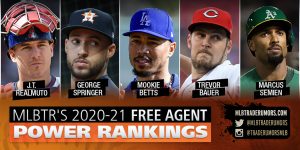 1.  Mookie Betts.  A superstar right fielder who doesn't turn 28 until October, Betts has a shot at the largest contract in MLB history.  That record is held by Mike Trout, who agreed to a 10-year, $360MM extension with the Angels one year ago.  Trout is better than Betts and everyone else, but he didn't subject himself to an open-market bidding war.  Bryce Harper ($330MM) and Manny Machado ($300MM) did, albeit in a colder free agent environment than the one that just closed, which awarded Gerrit Cole a surprising $324MM.  Betts, a projected 6-WAR player for the 2020 Dodgers, could reasonably seek a ten-year term with an average annual value in the $36-40MM range.
Joel Sherman of the New York Post has reported that Betts turned down an eight-year, $200MM extension offer from the Red Sox after the 2017 season, while WEEI's Lou Merloni says Boston offered a contract in the "ten year, $300MM range" fresh off Betts' 2018 MVP campaign.  According to Merloni, Betts' camp countered at 12 years, $420MM.  I know there's an undercurrent that Betts' reported counteroffer is ridiculous, but in reality, it reflects his market value.  He would be justified in seeking an AAV north of Anthony Rendon's $35MM, and a term no shorter than the 10+ years achieved by Trout, Harper, Machado, Giancarlo Stanton, Albert Pujols, Robinson Cano, and Joey Votto.
2.  J.T. Realmuto.  The largest free agent contract ever for a catcher is well within Realmuto's sights.  The Phillies' backstop, 29 in March, is one of the best-hitting catchers in baseball.  He also rates strongly in pitch framing and stolen base prevention.  With Russell Martin being paid through age 36 and Yadier Molina through age 37, Realmuto could aim to be locked up through age 35, which would require an unprecedented six-year deal and top the $100MM mark.  Joe Mauer and Buster Posey have reached that plateau in extensions, but it's never been done by a catcher in free agency.
3.  George Springer.  Springer, 30, is a tough player to value given the Astros' sign-stealing scandal.  According to Tony Adams' calculations, 14.4% of Springer's home plate appearances in 2017 included trash can banging.  The outfielder put up a strong '17 season, but his finest year to date has been 2019.  MLB did not uncover evidence of the Astros stealing signs in 2019.
I'm no Astros apologist, but if I had to guess, I'd say the team's sign stealing had minimal effect on Springer's production at the plate.  He was an excellent hitter while cheating, and will likely continue to be while playing by the rules.  The stigma surrounding Springer and his teammates will surely carry into the 2020-21 offseason, and I could see fans having a longer memory on this than they do on steroids.  For today's many cold, calculating front offices, Springer's complicity in the Astros' scheme may simply translate as a small bargain in free agency.  I imagine many teams would exchange a little bad PR for a 5-WAR player at a discount, especially since Springer didn't actually hurt anyone.
4.  Marcus Semien.  Though he finished third in the AL MVP voting this year, Semien remains an underrated star shortstop for the Athletics.  Semien, 30 in September, jumped from a league average bat to a 137 wRC+ in 2019.  Paired with above average defense, Semien's 7.6 WAR ranked fifth among MLB position players.  What will he do for a follow-up?  How much of Semien's career-best power and walk rate will stick?  If Semien settles in as a 120 wRC+, 5-WAR player with his typical excellent durability, he'd be justified in seeking a six-year contract well in excess of $100MM.  Back in November, Jon Heyman suggested interest was mutual for an extension.
5.  Trevor Bauer.  Bauer, 29, has one elite season on his resume.  His 2018 season for the Indians included a 2.21 ERA, but otherwise he's never been below 4.18.  After being traded to the Reds at the July deadline last year, Bauer limped to a 6.39 ERA over his final ten starts, allowing 12 home runs in 56 1/3 innings.  Bauer is known for his passion for his craft and his extensive work with Driveline Baseball.  He's also one of the game's most outspoken players, which you can read about here, or as it relates to the Astros scandal, here.  Bauer's comments and tweets could certainly give some suitors pause, but, true to form, he's got different ideas about free agency too.  Bauer has found a way to pay less than the typical 5% agency fee, which seems wise, and he's also pledged to sign only one-year deals.  That could mean, in a given offseason, forgoing was much as $100MM in guaranteed money to maximize his annual take.  It's a risky, fascinating proposition, especially for a pitcher.  If Bauer is true to his word, I expect he'll land in the $20-30MM range on a one-year deal, depending on his season.  His overall earning power is much higher.
6.  Robbie Ray.  Born five months apart, Ray and Marcus Stroman make for an interesting comparison.  Their results over the last three years have been similar in terms of games started and ERA, but Ray employs a high strikeout, high walk, homer-prone approach for the Diamondbacks while Stroman succeeds via the groundball.  They're both roughly 3-WAR pitchers for 2020, but Ray might be of slightly greater interest due to his ability to miss bats.
7.  Marcus Stroman.  Stroman's 53.7% groundball rate ranked fifth among qualified starters in 2019, and he's second in baseball for 2017-19.  In these homer-happy times, Stroman has allowed just 0.89 HR/9 over the last three years.  Both he and Ray will likely be looking to top the four-year, $68MM deals signed by Nathan Eovaldi and Miles Mikolas, and five years isn't out of the question.
8.  Justin Turner.  Over the past three seasons, Turner's 145 wRC+ ranks eighth in baseball among qualified hitters – better than Anthony Rendon, Freddie Freeman, Cody Bellinger, or Mookie Betts.  That mark dipped to a still-strong 132 in 2019, so the Dodgers' third baseman remains an excellent hitter at age 35.  As you might expect, his defense is slipping.  Turner could still land a three-year deal at a strong salary, and he's ineligible for a qualifying offer since he received one previously.
9.  DJ LeMahieu.  The Yankees' two-year, $24MM deal with LeMahieu turned out to be one of the best deals of the offseason, as he posted a career-best 5.4 WAR.  The infielder had at least flirted with those heights once before, in 2016.  But much like Marcus Semien, LeMahieu's free agent price tag could fluctuate quite a bit depending on how 2020 plays out.  A 4 WAR campaign could lead to a four-year contract.
10.  Nick Castellanos.  I debated between Castellanos and Marcell Ozuna for this last spot.  But the free agent market clearly preferred Castellanos, who is 15+ months younger, lacked a qualifying offer, and finished strong after being traded to the Cubs.  Perhaps that script could be flipped after 2020, especially since Castellanos can get a QO and Ozuna can't.  But Castellanos seems primed to put up big offensive numbers in the Reds' lineup, which could compel him to opt out of his remaining three years and $48MM and try to get a four-year deal again.
At this point, I'm assuming that the 2021 club options for Starling Marte, Anthony Rizzo, Charlie Morton, Corey Kluber, Chris Archer, and Kolten Wong will vest or be picked up.  If not, you'd have to assume the player had a poor season.  I'm also assuming for now that Giancarlo Stanton will not opt out of his remaining seven years and $218MM.
The Power Rankings are fluid, however, and any of these Honorable Mentions could find their way on: Andrelton Simmons, Marcell Ozuna, Mike Minor, James Paxton, Didi Gregorius, Kirby Yates, Liam Hendriks, Masahiro Tanaka, and Jose Quintana.