At present, the Cubs have only two starting pitchers under contract for the 2021 season: Yu Darvish and Kyle Hendricks.  The Cubs actually control Darvish through 2023 and Hendricks through '24, so they'll continue as rotation mainstays into their mid-30s.  The pair combined for 355 2/3 innings of 3.72 ball in 2019, and they'll earn a total of $36MM in 2021.  It's a good starting point, but the Cubs have to address 60% of their rotation before the 2021 season.
The Cubs' Three Free Agents
Jon Lester's time with the Cubs has been a clear success no matter what else happens, and he'll never have to buy his own drink in Chicago.  The lefty will turn 37 prior to the '21 season.  Is there a way he continues with the Cubs?  The easiest path would be through his current contract, which guarantees his $25MM mutual option for 2021 with 200 innings pitched in 2020.  Obviously Lester can't reach that number in a shortened season, but such benchmarks would become prorated.  Meaning if MLB teams play an 81-game season, Lester's goal would become 100 innings.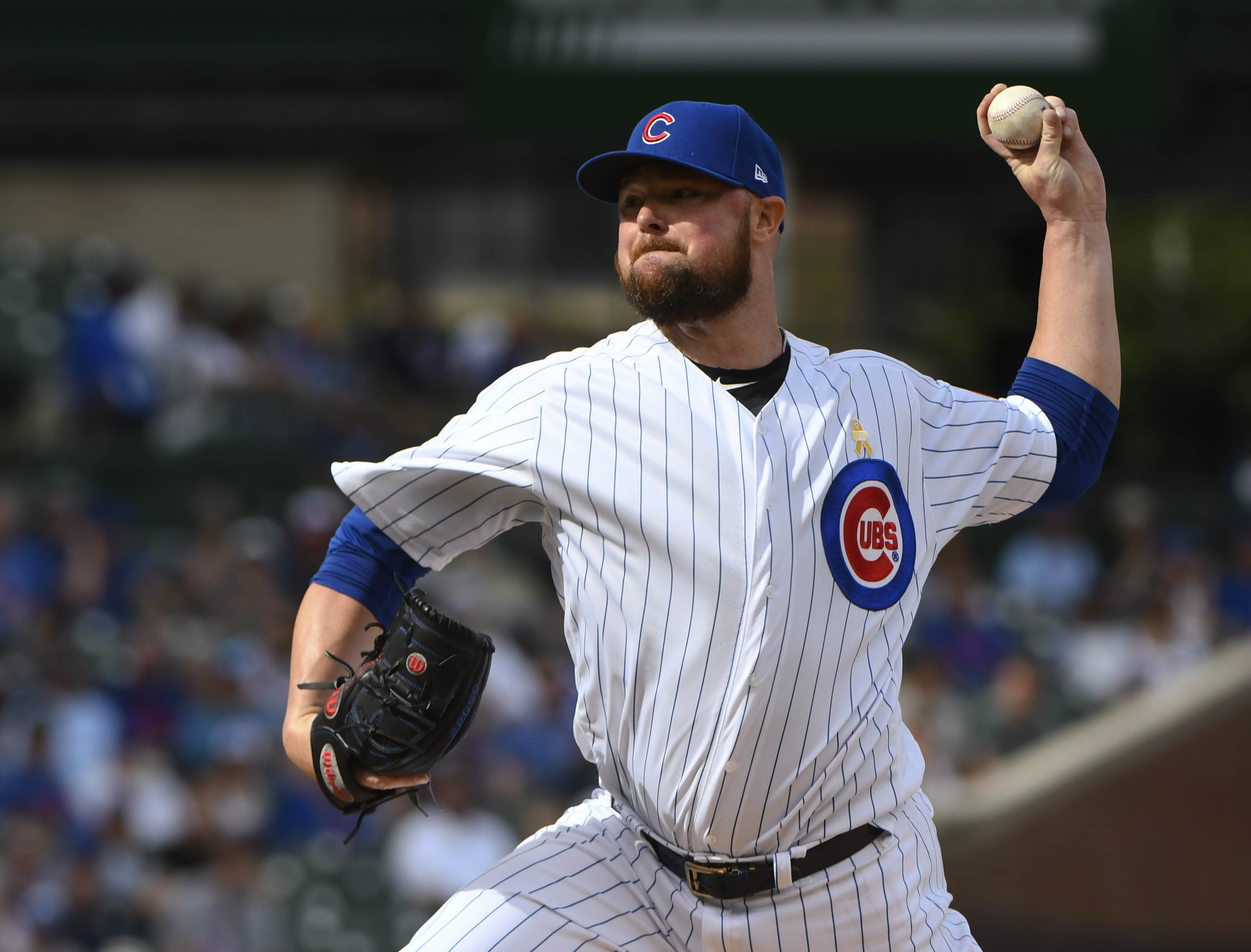 Lester has averaged 5.62 innings per start over the past three years, so in a half-season he'd either need to go deeper into games or make 18 starts to reach 100 innings.  In a recent chat with WEEI's Rob Bradford, Lester talked about the need for pitchers to ramp up carefully to avoid injury, and it's doubtful he'd push himself well past six innings per start just to get his option to vest.   I suppose in the most extreme example, MLB could follow through on its 50-game schedule threat, dropping Lester's benchmark to about 62 innings.  He could theoretically pull that off in 10 starts, but it still seems physically risky to push to a level he hasn't reached in years.
On the Cubs' end, they likely prefer the $10MM buyout to locking Lester in for $25MM.  So new manager and former Lester battery-mate David Ross could encounter a delicate situation, where if Lester somehow kicks off a 2020 season going deeper into games, Ross' bosses might push for earlier hooks.  Ultimately, though, I don't expect Lester's option to vest, in which case it's a mutual one.  It's rare that both sides exercise such an option, meaning Lester would become a free agent.  Working out a new short-term deal could be tricky, with the Cubs already on the hook for a significant $10MM buyout.
The Cubs also stand to lose Jose Quintana to free agency.  Quintana, who will turn 32 prior to next season, hasn't quite gotten the results the Cubs hoped for after giving up Eloy Jimenez and Dylan Cease for him in July 2017.  In his time with the Cubs, Q has posted a 4.23 ERA over 429 2/3 innings.  His impressive durability has remained intact, but the southpaw has dropped to about 5.4 innings per start since 2018.  By a results-based measure, Baseball Reference WAR, Quintana was at just 1.4 in 2019.  FanGraphs WAR, rooted in the Fielding Independent Pitching (FIP) stat, puts him at a healthy 3.5 – rewarding respectable strikeout, walk, and home run numbers but ignoring his allowing 10.1 hits per nine innings.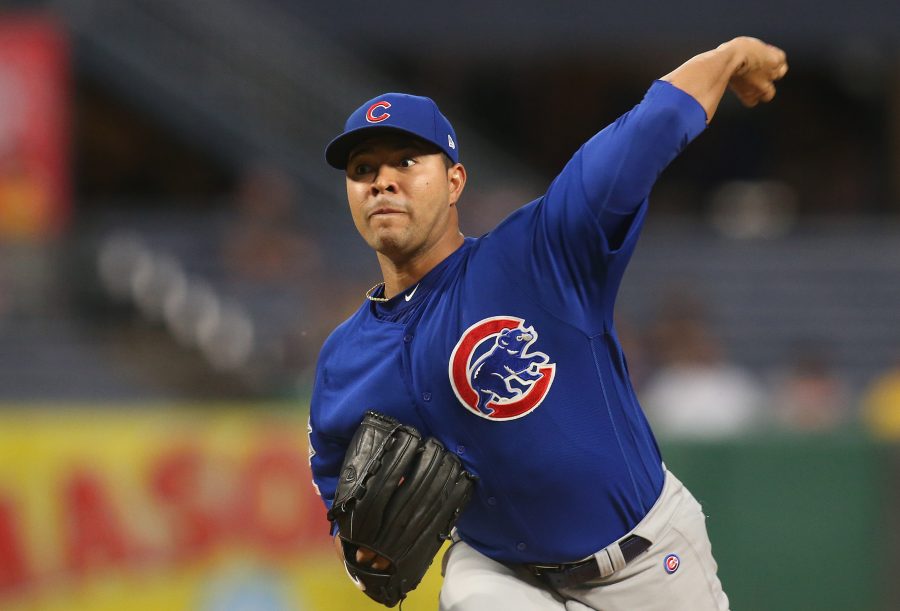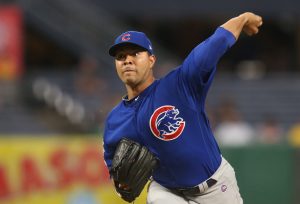 Wherever you land on WAR, it's fair to say Quintana projects to be better than 2019's 4.68 ERA.  170 solid innings of 4.30 ball might be a reasonable expectation moving forward.  It's not clear yet on what the qualifying offer may look like if teams play a shortened 2020 season, so it's impossible to say whether the Cubs would offer one.  My guess is that they would not make the offer, instead maintaining their financial flexibility.  That's what they did with Cole Hamels last winter.
Though he's penciled in as the Cubs' fifth starter for 2020, Tyler Chatwood's contract has been a bust for the Cubs, and he'll surely be allowed to leave via free agency.
Internal Options
What options do the Cubs have to fill a rotation spot internally?  There's Alec Mills, the soft-tossing righty who turns 29 in November.  Mills was a candidate for the Cubs' fifth starter job this spring, so he'll likely be in the mix next year as well.  Adbert Alzolay, 26 next March, would be in the running again as well.  Alzolay pitched 109 innings in total over the past two seasons, and Mills hasn't been particularly successful even at Triple-A.  Both pitchers are depth options, and if they're favorites for a 2021 rotation job, it will be because they're affordable.
Lefty Brailyn Marquez is the crown jewel of the Cubs' farm system, but he's yet to pitch above High A and projects for a 2022 ETA.  Even that goal could be pushed back given the lack of a minor league season this year.  The Cubs do have a few starters with experience at Double-A or above in Cory Abbott, Tyson Miller, and Justin Steele, all of whom have ceilings at as back-end starters according to Baseball America.  The bottom line?  The Cubs need to add at least two starters from outside before next season, and possibly three.
Free Agency
After paying a $7.6MM luxury tax bill for 2019, the Cubs were looking to stay under the $208MM payroll mark in 2020 as a means of resetting the escalating penalties.  The Cubs won't get a free reset if the 2020 season is canceled, but if games are played the club will likely maintain their goal of staying below the base tax threshold.  It's also possible that the luxury tax will be temporarily reduced in some way as part of the current negotiation between MLB and the players' union, to grease offseason spending.  If the Cubs don't spend money during the 2020-21 offseason, I don't expect the luxury tax to be the reason again.
Cubs owner Tom Ricketts recently claimed that "about 70 percent of the revenue that comes into our organization comes in on day of game."  He also said, "We've already lost half that season, so in a best-case scenario, we're looking at recovering maybe 20 percent of our total income."  We'll never know the real financial picture, but obviously the Cubs won't make nearly as much money as they expected to in 2020.  It's easy to see this being the justification for modest free agent spending.  Still, there almost has to be some money to spend if the salaries of Lester, Quintana, and Chatwood come off the books.
While some of the savings could be offset by arbitration raises for players like Kris Bryant, Javier Baez, Kyle Schwarber, and Willson Contreras, it's impossible to project what those arbitration raises will look like after a shortened season.  I imagine we'd be subjected to a fundamental disagreement across baseball on whether a half-season should result in a half-raise, but at least there's already a mechanism in place to settle that with arbitration hearings.
The free agent market will feature roughly 30 credible options, many of whom the Cubs have already tried.  Aside from the trio mentioned above, there's recent former Cubs Cole Hamels, Jeff Samardzija, Jake Arrieta, Brett Anderson, and Drew Smyly.  If the Cubs seek innings, they could make a run at Trevor Bauer, who famously seeks a one-year deal with a team that will let him pitch every fourth day.  With three vacancies, getting significant innings out of someone like Bauer could fit the Cubs better than an arguably better pitcher with a poor track record of durability, like James Paxton.
Though the market lacks a true ace, options abound with a solid group including Marcus Stroman, Mike Minor, Jake Odorizzi, Masahiro Tanaka, Robbie Ray, and Anthony DeSclafani.  Feel free to explore next winter's starting pitcher market further with this FanGraphs leaderboard I created.  Even on a budget, the Cubs could plausibly target any of these guys.
The Trade Market
I've yet to see any concepts floated regarding in-season trading during a shortened 2020 campaign.  At the least we can assume players will be traded in the offseason and starting pitchers will be available.  The Cubs' farm system is far from robust, but they do have minor league assets to consider trading.  There's also a good chance of the team trading Kris Bryant, who becomes eligible for free agency after 2021.
Even the teams that were clearly rebuilding for 2020 could adjust course if they somehow make a fluke run in a shortened season with expanded playoffs.  Names like Matthew Boyd, Daniel Norris, Joe Musgrove, Jon Gray, Danny Duffy, Chris Archer, Jose Urena, and Nick Pivetta could reasonably be available, though we may be in for an unpredictable offseason.
Whatever path they choose, the Cubs seem likely to remake their rotation in a significant way for 2021.  What do you expect them to do?  Let us know in the comments.