TODAY: The Brewers officially announced Bradley's deal.  To create roster space, utilityman Tim Lopes (oblique) has been moved to the 60-day injured list.
MARCH 4, 1:05pm: Bradley's 2021 salary is $13MM, tweets Ken Rosenthal of The Athletic. He'll earn $11MM in 2022 if he declines to opt out.
10:45am: Some of Bradley's salary is deferred, tweets Joel Sherman of the New York Post.
As to the defensive alignment with Bradley in the fold, Brewers manager Craig Counsell spoke to reporters today and firmly indicated that Cain is the team's center fielder (Twitter links via Tom Haudricourt of the Milwaukee Journal-Sentinel). Counsell wouldn't mention Bradley directly, as his deal has yet to be formally announced, but he said his club doesn't "…have any fourth outfielders. We have a lot of starting outfielders and we have to figure out how that works. But there's playing time, absolutely."
7:08am: The Brewers and center fielder Jackie Bradley Jr. are in agreement on a two-year, $24MM contract, reports Julian McWilliams of the Boston Globe. The second year on that deal is a player option, so Bradley will have the opportunity to return to the open market next winter if he performs well during his first season in Milwaukee. Bradley is represented by the Boras Corporation.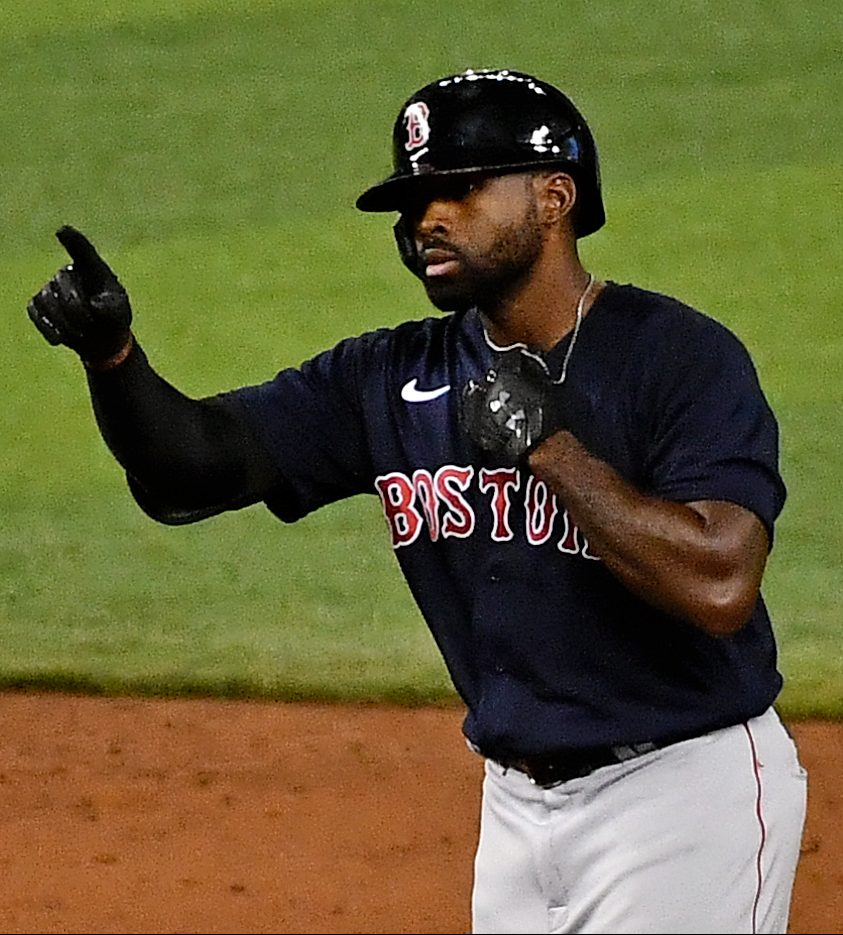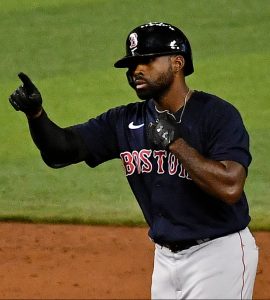 It's the second major free-agent signing for the Brewers this winter and the second that provides the team with a huge defensive upgrade. Milwaukee also inked former division rival Kolten Wong, arguably the game's premier defender at second base, on a two-year deal that guarantees him $18MM.
Bradley, 31 in April, figures to slide into the outfield alongside Lorenzo Cain and Christian Yelich. His acquisition could push Avisail Garcia, who struggled in 2020 during the first season of a two-year contract of his own, into a lesser role. It appears quite unlikely that there'll be a universal designated hitter in 2021 at this point, but Garcia could still work as a DH during interleague games at American League parks. He could also slot into the mix against tough lefties and spell any of the other three on a given day.
Cain, meanwhile, carries a sterling defensive reputation much like Bradley, but he'll turn 35 the same week Bradley turns 31. The Brewers could turn center field over to the younger of the two and slide Cain, who opted out of the 2020 season after just five games last year, into a less demanding corner outfield spot.
Prior to their deal with Bradley, the Brewers didn't have much in the way of proven outfield depth in the event that a starting outfielder went down with an injury. The only other outfielders on the 40-man roster were Tyrone Taylor, Corey Ray and a trio of offseason DFA pickups: Billy McKinney, Derek Fisher and Tim Lopes. Bringing Bradley into the mix now gives them cover for a potential injury and allows them to rest Cain (returning at 35 after opting out of 2020) and Yelich (major knee injury at the end of 2019) with more regularity. More broadly speaking, the signing also simply improves both the defense and the lineup.
Detractors may brush aside the notion that Bradley can help to improve Milwaukee's offense, but over the past six seasons he's batted .247/.331/.438 — good for a slightly above-average 102 wRC+ and 101 OPS+. That line includes a .283/.364/.450 showing through 217 plate appearances last year. Bradley struggled in 2019 as his strikeout rate spiked to an unpalatable 27.3 percent, but he cut that mark by more than five percent last season in a rebound effort during the shortened campaign.
Bradley shouldn't be problematic from a payroll standpoint, as the Brewers had been set for a decrease from their 2019-20 spending levels prior to the deal. The new agreement will take them to $105MM if the contract is evenly distributed and a bit more if the deal is front-loaded (which, speculatively speaking, seems likely). Either way, they'll still be well shy of 2019's franchise-record $122.5MM Opening Day mark.
The Bradley deal, in many regards, is reminiscent of Milwaukee's surprise agreement with catcher Yasmani Grandal in the 2018-19 offseason. Grandal, like Bradley, was an elite defender at a premium position who didn't find long-term offers to his liking and instead bet on himself by signing a one-year deal at a higher annual rate with the Brewers. Bradley's deal doesn't match Grandal's $18.25MM guarantee (although it could afford him more than $12MM depending on the structure), but it gives him a nice safety net with the player option in the event that he struggles in 2021 or deals with a notable injury.
Aside from the Cardinals' blockbuster acquisition of Nolan Arenado, it's been a rather quiet offseason in the NL Central. The Cubs have made a handful of small-scale, one-year additions — but only after trading away Yu Darvish — while the Reds and Pirates have been mostly idle. Late agreements with Bradley, Wong and lefty Brett Anderson don't make the Brewers a clear favorite even in a potentially lackluster division, but they certainly improve what looks to be a competitive club. And given the current payroll level and this front office regime's penchant for late-offseason value plays, it'd be unwise to completely rule out any further additions.