The Albert Pujols era in Anaheim has come to an end. In a shocking move, the Angels announced Thursday that Pujols has been designated for assignment. The DFA is largely a formality, as Pujols and the remainder of his $30MM salary will go unclaimed on waivers. It's possible the Halos could work out some kind of trade where they effectively eat all of that salary, but a release is most likely. Pujols is in the final season of a 10-year, $240MM contract.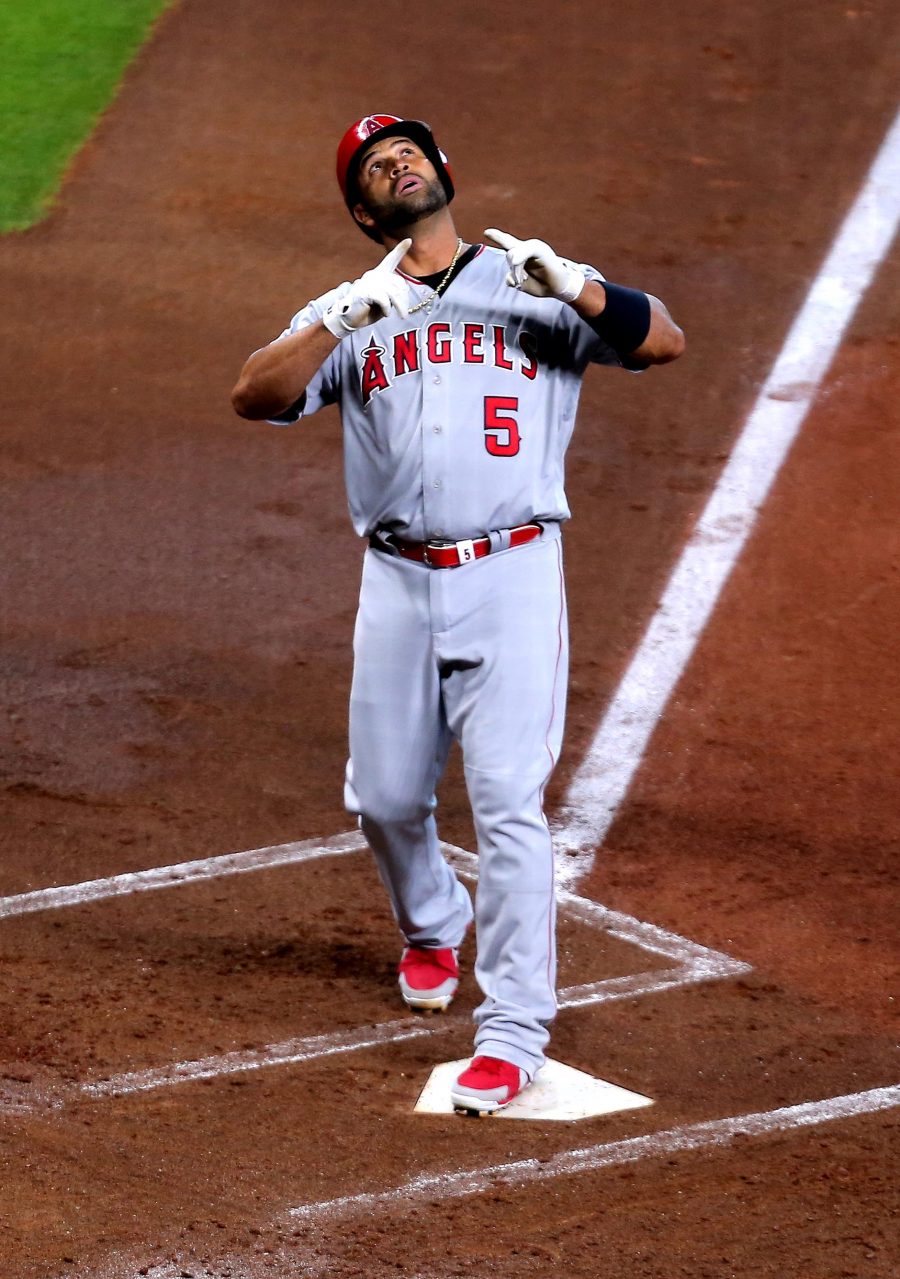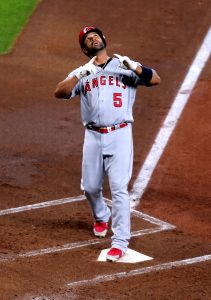 "The Angels organization proudly signed Albert Pujols in 2011, and are honored that he was worn an Angels jersey for nearly half of his Hall-of-Fame career," owner Arte Moreno said in a statement announcing the move. "Albert's historical accomplishments, both on and off the field, serve as an inspiration to athletes everywhere, and his actions define what it means to be a true Superstar. Since his Rookie of the Year season in 2001, Albert and his wife Deidre have generously given their time and resources to countless charities throughout the world. We are thankful to the entire Pujols Family."
It's a stunning end to one of the largest contracts in Major League history, although from a pure performance standpoint, it's hard to fault the move. The 41-year-old Pujols has connected on five homers in 2021 but is batting just .198/.250/.372 overall. He's drawn only two unintentional walks in his 92 trips to the plate this season. The results in 2020 were similarly disappointing, and Pujols has an overall .214/.263/.387 line across his past 255 plate appearances.
Pujols' fit on the Angels has become increasingly difficult, given Shohei Ohtani's flat-out excellence at the plate and the emergence of slugger Jared Walsh. The 26-year-old Ohtani is batting .264/.316/.623 with nine home runs through 114 plate appearances. Walsh, a former 37th-round pick, has built upon last year's surprise production with a ridiculous .333/.412/.576 line in 114 plate appearances, bringing his overall output since Opening Day 2020 to a robust .313/.369/.611 in 222 plate appearances.
Even with Pujols forced into action at first base, this announcement has sent shockwaves through the baseball world. Mike DiGiovanna of the L.A. Times reports that Pujols was unhappy not only with the fact that he was benched against Rays lefty Ryan Yarbrough last night — against whom he is 6-for-9 with a pair of homers in his career — but that the decision to sit him was made by the front office rather than by manager Joe Maddon. The extent to which that specific instance contributed to today's move isn't clear, but MLB Network's Jon Heyman adds that Pujols was also recently given the message that his playing time would begin to be scaled back.
Pujols' signing in Los Angeles was a watershed moment in both Angels and Cardinals franchise history. The three-time National League MVP spent the first 11 seasons of a surefire Cooperstown career in St. Louis, cementing himself as one of the game's top all-around players while batting .328/.420/.617 with 445 home runs through 7433 plate appearances.
Pujols hit the market as one of the most coveted free agents in history. At the time of his signing, his 10-year, $240MM deal was the third-largest in MLB history, trailing only Alex Rodriguez's prior $252MM and $275MM contracts. That contract was negotiated by Moreno himself, and it's now Moreno who has formally made the announcement and issued a statement confirming the end of Pujols' time with the organization.
The contract, of course, didn't pan out as hoped. Pujols began his Angels tenure mired in a dreadful slump, though he recovered to finish his first year with a .285/.343/.516 slash and 30 home runs. With the Angels, Pujols was never the juggernaut that he'd proven to be in St. Louis, but the first five seasons of his contract still resulted in a solid .266/.325/.474 batting line — good for a 119 wRC+. It's not the production for which the Halos had hoped, but it's a far sight better than the cumulative .240/.289/.405 output he's compiled since 2017.
Pujols hit several iconic milestones during his time with the Angels, belting his 500th and 600th career home runs and also tallying his 3000th hit. But beyond the individual milestones, the Angels had only one postseason appearance during the Pujols era — a winless, three-game sweep at the hands of the upstart Royals back in 2014.
It's not clear what's next for Pujols. There's already been immediate speculation and plenty of clamoring from fans about a farewell tour in St. Louis. A reunion of Pujols, Yadier Molina and Adam Wainwright would no doubt give Cards fans chills, but with Paul Goldschmidt at first base and no universal designated hitter, Pujols isn't exactly a clean fit for that roster.
Others have suggested a reunion with skipper Tony La Russa, now managing the White Sox, also might make some sense. However, Yermin Mercedes has been the team's best hitter at DH, and reigning MVP Jose Abreu has first base locked down. It still seems likely that some club will take a chance on Pujols if he wants to continue playing.
For the Angels, moving on from Pujols allows the club to utilize Walsh at first base and Ohtani at designated hitter once top prospects Jo Adell and/or Brandon Marsh are called to the Major Leagues for a look in right field. Were either to hit at even an average (or slightly below-average) level upon his promotion, that'd give the Angels both an improved lineup and an improved defensive outlook.
The organization surely didn't make the decision to move on lightly. Beyond his stature as one of the best players in Major League history, Pujols is a beloved teammate who is respected by all in the league and revered by fans for both his on-field contributions and his prolific charity work off the field. The very fact that there is such widespread shock to a see the DFA of a player with his lack of production over the past few seasons is a testament to that reverence. Time will tell whether that leads to another opportunity.
MLB.com's Mark Feinsand first reported (via Twitter) that Pujols would be released.