The Padres have acquired one of the most sought-after players on the trade market, picking up second baseman Adam Frazier in a four-player swap with the Pirates.  Infielder/outfielder Tucupita Marcano, outfielder Jack Suwinski, and right-hander Michell Miliano are the prospects heading to Pittsburgh in the deal, and the Pirates are also sending $1.4MM along with Frazier to San Diego.  The deal became official Monday afternoon.
It's the first big move of deadline season for Padres general manager A.J. Preller, who is no stranger to splashy moves and is pushing to get his team first to the NL West title and then deeper into October.  While a number of pitching injuries would very well result in some arms being added between now and July 30, Preller recently indicated that a bat was also on his shopping list.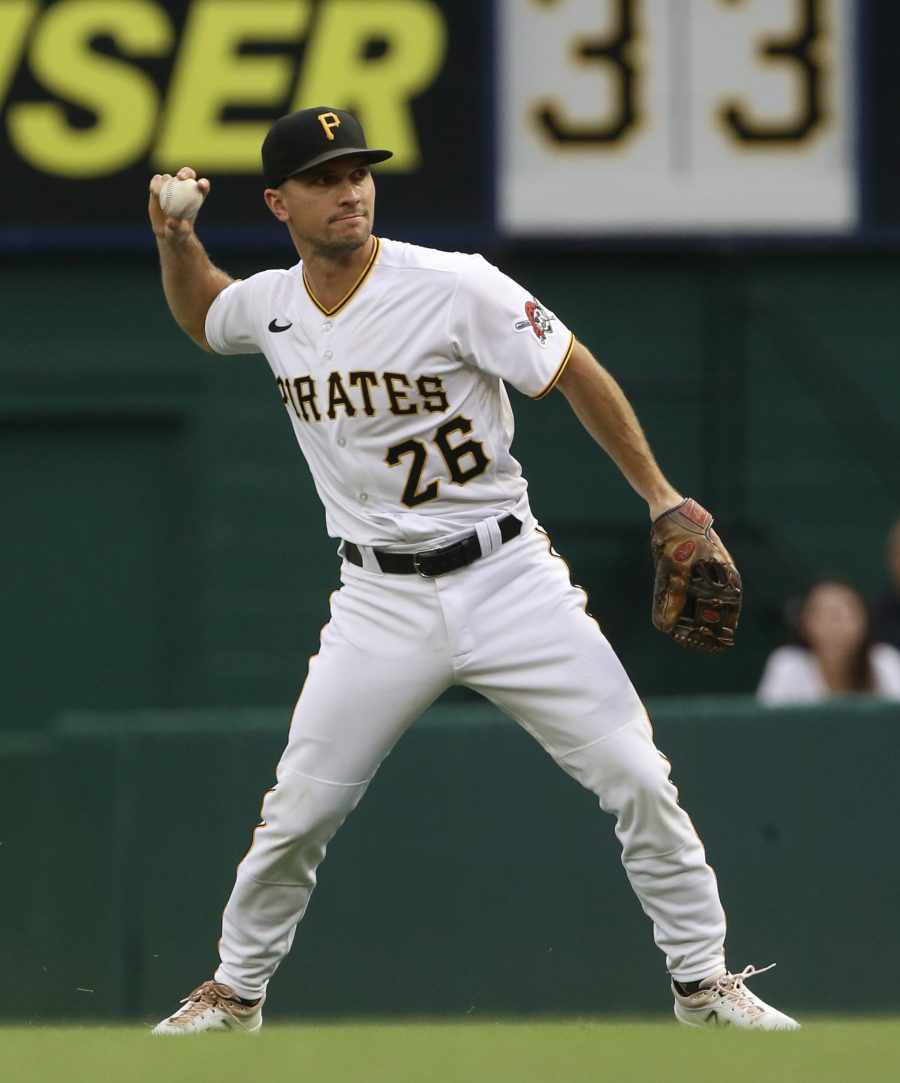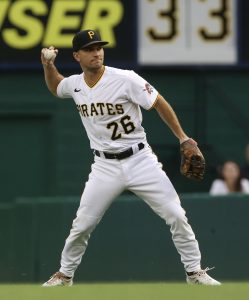 Frazier is enjoying the best season of his seven-year MLB career, hitting .324/.388/.448 with four home runs over 428 plate appearances for the Bucs in 2021.  There is some possibility for regression, as Frazier's .359 BABIP has helped make up for some very low hard-contact numbers, and his .337 xwOBA is well below his .368 wOBA.  However, even that xwOBA is still above average, and Frazier somewhat makes up for that lack of hard contact by making a lot of contact in general — fitting the Padres' model as a player who rarely strikes out.
Frazier is a left-handed hitter, and while the Padres generally lean more to the right side of the plate, Frazier might supplant another left-handed hitting regular in Eric Hosmer.  The hot-hitting Jake Cronenworth could slide from second base to take over from Hosmer as the regular first baseman, opening the door for Frazier to become the new everyday second baseman.  Since Frazier also has experience as a corner outfielder, he could move into the grass to spell Tommy Pham or Wil Myers, giving San Diego even more positional flexibility.
Since Frazier also has one more year of arbitration eligibility remaining, he'll be able to help the Padres for both this year's playoff race and throughout the 2022 season.  Frazier was earning $4.3MM this season, so the $1.4MM sent from Pittsburgh will cover most of his remaining salary for 2021, which helps the Padres stay under the $210MM luxury tax threshold.
There was little doubt that the rebuilding Pirates were going to move Frazier by the deadline, given that his strong season only enhanced his trade value.  Pittsburgh fans expecting multiple top-100 type prospects may be disappointed by the return, though it's worth noting that Frazier has been more solid than outstanding during his career, with an even 100 OPS+ and wRC+ over his first six big league seasons.  Nevertheless, the Bucs did add three notable prospects to add to GM Ben Cherington's overhaul of the farm system.
Marcano is the only member of the prospect trio with any MLB experience, appearing in 25 games for San Diego this season and posting a .485 OPS over 50 plate appearances.  An international signing from Venezuela in 2016, the 21-year-old Marcano is ranked by MLB Pipeline as the fifth-best prospect in the Padres' deep farm system, while Baseball America has him in the eighth spot.
The Pirates valued Marcano highly enough that they were willing to include the $1.4MM to the Padres, Rosenthal reports, while other Frazier bidders like the Mariners weren't asking for any money back in a proposed trade.  Heyman adds that the Padres weren't willing to discuss Marcano back when San Diego and Pittsburgh worked out the Joe Musgrove trade last winter.
There's plenty to like about the versatile Marcano, who has played mostly second base during his pro career but has also seen a lot of time at third base, shortstop, and both corner outfield slots.  At worst, Marcano seems like he'll have a future as a utilityman, and he could well become a regular due to his excellent contact skills at the plate.  Marcano does lack some power, and while he possesses plus speed, BA's scouting report notes that he will need to improve his baserunning instincts.  Marcano skipped Double-A entirely and made his Triple-A debut this year, hitting .272/.367/.444 with six home runs in 199 PA.
Neither Suwinski or Miliano appeared in the top-30 Padres prospect rankings for either Pipeline or Baseball America, but both youngsters have put themselves on the map in 2021.  Suwinski was a 15th-round pick for the Pirates in 2016, and hadn't hit much in his first pro seasons before exploring for a .269/.398/.551 slash line and 15 home runs over 267 PA at Double-A San Antonio.  As noted by BA's Matt Eddy, Suwinski has been doing this despite hitting in a pitcher-friendly home ballpark, though he'll be moving to another pitcher-friendly location in the Pirates' Double-A affiliate in Altoona.  Suwinski has experience at all three outfield positions, and is just a few days away from his 23rd birthday.
The 21-year-old Miliano has a 6.11 ERA over 94 1/3 innings in San Diego's farm system, getting to high-A ball this season.  Miliano has given up a lot of hits (84) and, troublingly, almost as many walks (78) over his four seasons, but the Pirates were surely intrigued by his ability to miss bats.  The right-hander has a 31.74% strikeout rate in the minors, and that number includes an absurd 44.44% rate over 25 2/3 innings at A-level Lake Elsinore this year.
ESPN.com's Jeff Passan (Twitter link) was the first to report that the Padres had acquired Frazier.  FanSided's Robert Murray reported that the Pirates were getting three prospects, with The Athletic's Ken Rosenthal and Dennis Lin identifying Marcano and Suwinski and ESPN.com's Kiley McDaniel identifying Miliano.  Kevin Acee of the San Diego Union-Tribune tweeted that the Padres were getting cash back in the trade, with MLB Network's Jon Heyman specifying the $1.4MM figure.
Photo courtesy of USA Today Sports Images