The Mets, in dire need of some rotation help, have found some of the rotation depth they've been seeking. The team announced Friday that it has acquired lefty Rich Hill from the Rays in exchange for minor league catcher/infielder Matt Dyer and veteran right-hander Tommy Hunter (who is currently on the injured list). Right-hander Robert Stock, out with a hamstring strain, was transferred to the 60-day injured list in order to open a spot on the Mets' 40-man roster.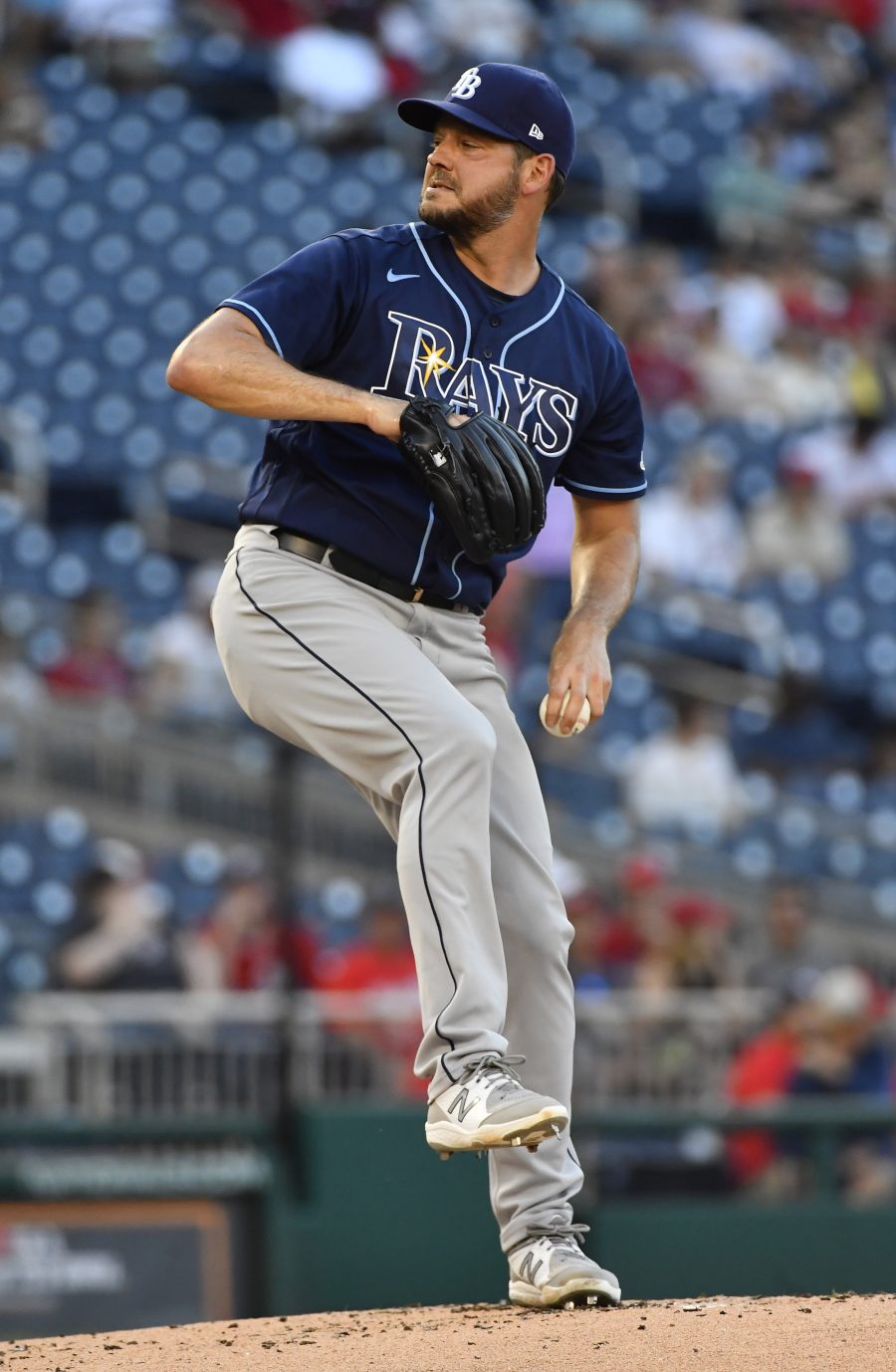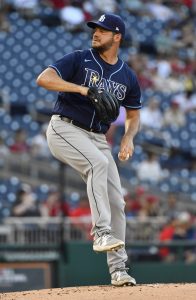 The swap will come as a surprise to many, given the Rays' place in the standings and last night's acquisition of Nelson Cruz, but it serves as another reminder that in today's game, many clubs can't be simply boxed into strict "buyer" or "seller" categories.
Hill, 41, has pitched to a 3.87 ERA through 95 1/3 innings so far in 2021, but he's also struggled rather considerably since mid-June. In his past seven starts, he's tallied just 33 1/3 innings and yielded 20 runs on 34 hits and 16 walks. Seven of those hits have left the yard, and Hill's 28 strikeouts (19.3 percent) in that time represent a pretty pronounced decline.
Overall, Hill is sitting on a 5.40 ERA and 5.25 SIERA since June 12. As the New York Post's Joel Sherman observes (Twitter link), he's seen his spin rates drop considerably in the aftermath of MLB's crackdown on foreign substances. I'd add that it may not be coincidental that Hill began incorporating a changeup (ideally a low-spin offering) into his pitch mix in early June. The 41 changeups he's thrown over his past eight starts are already the most he's thrown in a season since 2009.
Despite his recent struggles, Hill gives the Mets a much-needed veteran arm to plug into the back of an ailing rotation — one with more upside and a much greater track record than recent options they've tried. New York has yet to receive an inning from Carlos Carrasco or Noah Syndergaard in 2021, and depth options like Joey Lucchesi, Jordan Yamamoto and Thomas Szapucki are all sidelined through season's end. Ace Jacob deGrom hit the injured list recently due to a forearm issue, and fifth starter David Peterson is out with an oblique strain.
With all of those injuries piling up, the Mets have leaned heavily on righties Marcus Stroman and Taijuan Walker, who've both exceeded expectations and pitched brilliantly so far in 2021. Young righty Tylor Megill has also fared well in his first five big league outings, but the Mets had a clear and pressing need to get some sort of stability into the rotation. Hill can provide that, and if he can return to his prior levels of production it could prove a difference-making move for the Mets.
From the Rays' vantage point, it's possible that Hill had simply fallen out of favor as one of the organization's preferred rotation options. Tampa Bay has Ryan Yarbrough, Shane McClanahan, Luis Patino, Michael Wacha and Josh Fleming as alternatives on the big league roster, and there are several depth options behind them in Triple-A (including ballyhooed righty Shane Baz). It's also eminently possible that the Rays will add another name of note to the rotation over the next week as they load up to chase the Red Sox in a competitive AL East title picture.
Hunter's inclusion in the swap is seemingly as a financial counterweight to Hill. The New York Post's Mike Puma recently indicated that it was doubtful Hunter, who has been out since May with a back strain, would be able to return in 2021. Hunter's $2.25MM salary is a bit lighter than Hill's $2.5MM salary, so the Rays are saving a fairly nominal $99K by agreeing to take on his contract in return.
The Rays do come away with an interesting prospect in the 23-year-old Dyer, whom the Mets selected in the fourth round of the shortened 2020 draft. Dyer has spent the season with the Mets' Class-A affiliate and shown some concerning swing-and-miss tendencies (30.9 percent strikeout rate), but he's also walked at a high clip and shown good power. He's hitting .194/.329/.452 with seven homers, seven doubles, a pair of triples and six steals, and Dyer has spent time at catcher (65 innings), at first base (80 innings), at third base (66 innings) and in right field (18 innings) so far this season.
Baseball America's scouting report on Dyer prior to last year's draft suggested that he had a plus arm, average sped and the potential to be an average or better defender at as many as five positions, including catcher, which sounds like a player tailor-made for the Rays organization. This year's strikeout concerns underscore that he's far from a sure thing to hit enough to realize that potential, but he's a somewhat interesting name to add to the system in return for a struggling pitcher on an expiring contract.
While it's not a trade many would've expected to see come together today, there's some sense to it for both sides. The Mets are plugging a hole in their rotation with a veteran arm who'll practically be free from a financial standpoint, while the Rays are turning to younger options on the starting staff and acquiring a super-utility lottery ticket while dealing from a position of depth.
MLB.com's Anthony DiComo first reported (via Twitter) that the two sides had engaged in discussions regarding Hill. Fansided's Robert Murray reported that a deal was close. Jon Heyman of MLB Network first reported an agreement had been reached. Joel Sherman of the New York Post reported the other players involved in the deal (Twitter links).