Marc Narducci spent 37 years covering all sports for The Philadelphia Inquirer before recently retiring in July. He covered everything from high school sports to the Phillies winning the World Series and the Eagles winning the Super Bowl. A lifelong Southern NJ resident, he remains a freelance writer and broadcaster. Marc reached out to see if MLB Trade Rumors would be interested in publishing his Hall of Fame ballot.  I am happy to do it and hope it can be an interesting topic of debate for our readers.  Here's Marc…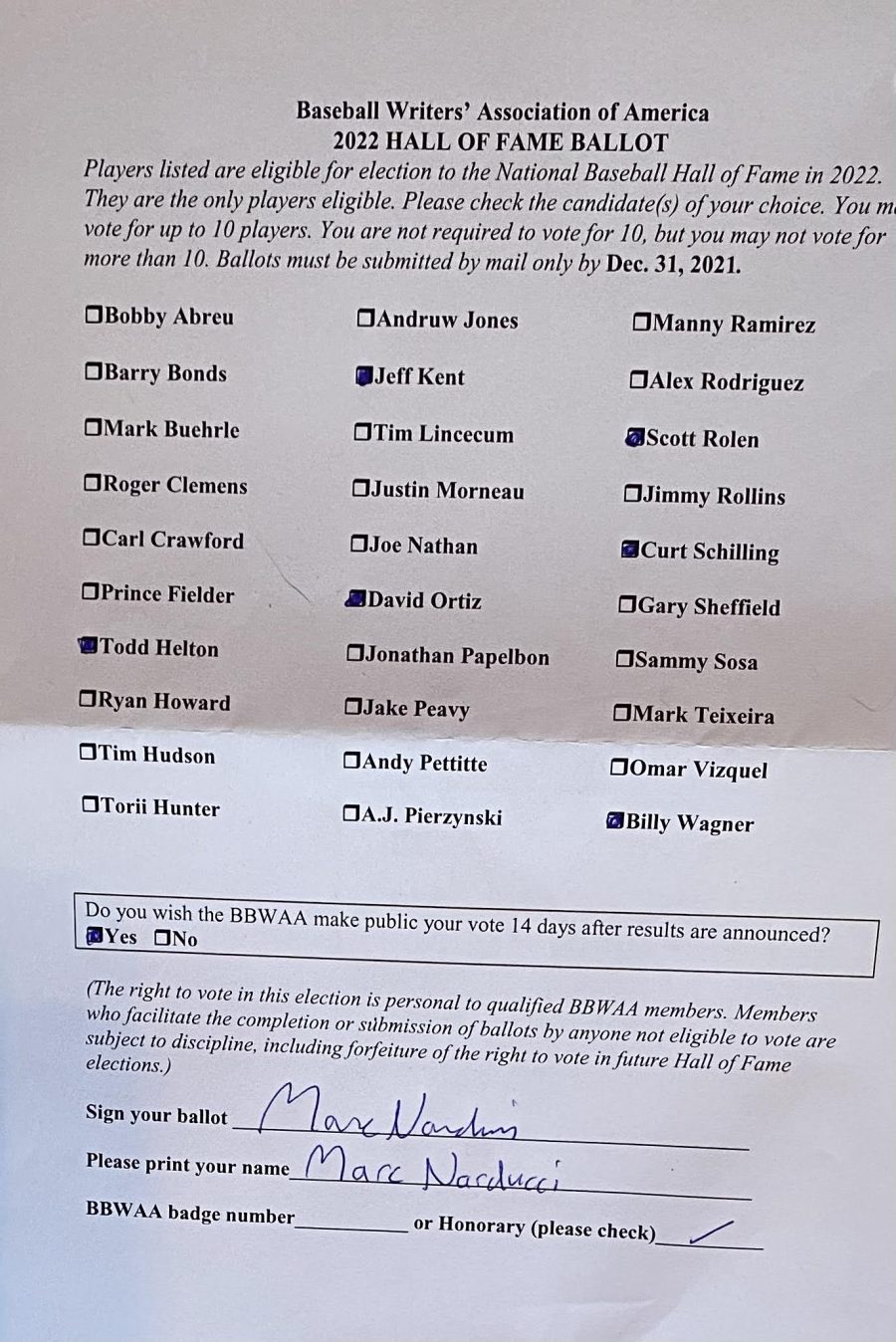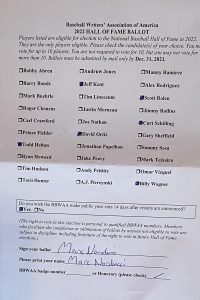 Voting for the Baseball Hall of Fame is an honor, but it's difficult to see any sport where the task is more challenging.
That's because of the steroid era.
One thing that should be stated off the bat is that there is no right or wrong answer when filling out the ballot in the opinion of this reporter.
As a former The Philadelphia Inquirer writer for 37 years, the decision of other voters won't be questioned.
We can all agree to disagree and there will be many disagreements, especially when seeing my ballot.
The steroid era has made things so difficult. Do you vote for players associated with steroids?
One school of thought says the best players should go in regardless and the Hall of Fame would be empty without some of the great stars of the game such as Barry Bonds and Roger Clemens.
Others, and this is the camp will you find me, look at it the opposite way.
The steroid era did permanent damage to the sport. It also hurt the players who followed the rules and were thus competing at a severe disadvantage. Not only that, it hurt former players such as Hank Aaron, who was the all-time home run king and was passed by Bonds.
Due to the damage of the steroid era, Bonds, Clemens, Manny Ramirez, Alex Rodriguez, Sammy Sosa and Gary Sheffield aren't on my ballot.
Ramirez and Rodriguez tested positive for PEDs. The others didn't but Sheffield admitted using a steroid cream. Sosa, Bonds and Clemens maintain their innocence.
Sosa was caught with a corked bat, which even without the suspicion of steroids, would be a stain against his candidacy.
Two former federal authorities who were central to the Bay Area Laboratory Co-Operative (BALCO) steroids trafficking case, say there is no doubt that Bonds and Clemens used performance enhancing drugs during their careers.
Again, I know that people feel that writers are being sanctimonious in keeping players out whose on-field exploits deserve induction, but everybody has to vote the way he or she thinks is best.
So why is David Ortiz on this writer's ballot?
We will get to that in a bit.
Here are the players that I voted for in alphabetical order on my ballot in my second year as a voter. One other thing – we know that stats such as RBI and pitcher's wins are taboo in the sabermetric world, but we have included them for people who still care about those statistics.
Let's get this out of the way first – there are those who won't vote for Helton due to the fact that he played his career at Coors Field. No doubt it helped him, but he was more than solid on the road. Plus, the toll on a hitter having to go from playing in Colorado to another city isn't easy.
In addition, a lot of players have competed at Coors and didn't come close to the numbers that Helton posted. (All stats used are courtesy of Baseball-Reference.com and Fangraphs.com).
Here is his career slash line at Coors: .345/.441/.607. This was Helton on the road: .287/.386/.469.
Having an .855 road OPS isn't too shabby.
Let's look at two stats that take into account the ballpark – OPS+ and WRC+. Helton's career OPS+ was 133 and his career WRC+ was 132, which means he was 33 percent and 32 percent above league average in those categories
Helton is off the charts with his career offensive statistics.
He had a career .316/.414/539 slash line with 369 home runs and 1406 RBI.
Helton was a five-time All-Star, a three-time Gold Glove winner and was Top 10 in the MVP voting three times.
His career OPS of .953 is 22nd on the all-time list. He also had more career walks (1,335) than strikeouts (1,175). That is almost unheard of in these free-swinging days.
During a 10-year stretch from 1998-2007, he hit .332/432/.585 with 298 home runs and OPS+ of 144. His career B-WAR is 61.8, which is 17th among first baseman. Of those 17, 11 are in the Hall of Fame.
A former college quarterback and teammate of Peyton Manning at the University of Tennessee, Helton was the No. 8 overall pick of the Rockies in the 1995 draft and would play his entire 17-year career with the Rockies. This is his fourth year on the ballot and he received 44.9% of the vote last year.
Kent has just two years to go on the ballot and last year he earned just 32.4 percent of the vote. He had a special skill that was way above the second basemen in the Hall of Fame – the ability to hit home runs. Kent has the most home runs of any second baseman in history, 377. He hit 351 of them while playing second base.
Even if one takes the 351 total, that is 50 more than the closest Hall of Fame second baseman, Rogers Hornsby, who hit 301.
Hornsby (.577) is the only Hall of Fame second baseman with a higher slugging percentage than Kent's .500.
Only four Hall of Fame second basemen have a higher career OPS than Kent (.855). His 1.518 RBI are third among all second basemen.
Kent was a five-time All-Star, the 2000 MVP who hit for average (.290) and power. He also had a career 123 WRC+.
His career B-WAR was just 55.5, but that was mainly because he was considered a below average fielder.
Still, his offense was elite, surely enough for HOF induction.
In 2009, the New York Times reported that Ortiz was among the list of players who failed a 2003 anonymous drug test. Commissioner Rob Mandred says there were 10 false positives in the survey testing and it is possible that Ortiz was one of them.
He also said Ortiz never failed a drug test although we cited examples of the above mentioned players who didn't either. That said, I feel less certain about Ortiz and only he knows the truth.
So giving him the benefit of the doubt, he's a sure-fire Hall of Fame player even though he spent the majority of his career as a DH. For instance, 485 of his 541 career home runs came as a DH. Ortiz hit for average (.286) and power. Besides the 541 home runs, he had a .931 career OPS and career OPS+.of 141. He is also 22nd on the career RBI list with 1,768.
In the postseason he helped the Boston Red Sox win three World Series titles, and hit .289 with 17 home runs and a .947 OPS in 385 plate appearances.
There are 17 third basemen in the Hall of Fame, fewest of any position. Only nine third baseman have a higher B-WAR than Rolen (70.1), eight of whom are in the HOF and the other, Adrian Beltre, is a sure-fire candidate. (This also includes Paul Molitor as a third baseman, even though just 3,623 of his 1,267 plate appearances came at third base. It does not include Alex Rodriguez, who had a career B-War of 117.5, but only 42.7% of his plate appearances came as a third baseman).
Rolen was a seven-time All-Star and eight time Gold Glove winner. His defense was every bit as strong as his offense. Rolen's defensive B-WAR (21.2) is behind just one Hall of Famer – Brooks Robinson, who is No. 1 among third basemen (39.1). (Beltre, at 27.1 is a future Hall of Famer ahead of Rolen).
Only eight HOF third basemen have a higher OPS (.855).
Rolen finished with a .281 average, 316 home runs and 1,287 RBI and was NL Rookie of the Year in 1997 with the Phillies. His career WRC+ was 122.
Rolen was a World Series champion with the 2006 St. Louis Cardinals, batting .421 with a 1.213 OPS in the five-game win over the Detroit Tigers.
He was a major threat on offense and defense, both carrying equal weight. This is his fifth year on the ballot and he is trending upward after earning 52.9% of the vote last year.
Schilling may be the first player to talk his way out of the Hall of Fame. His public comments and tweets have been well-documented and he will likely pay for them. This is his 10th and final season on the ballot. Last year he was close to the 75% total with 71.1%. Normally that would mean he would make it this year, but it would be a surprise if he gets in. He even tried to get off the Hall of Fame ballot, saying he doesn't want to get voted in by the members of the Baseball Writers Association of America. That is not exactly a convincing way to sway voters. The Hall of Fame denied his request.
That said, what he did on the field, despite all his verbal gaffes, make him a Hall of Fame pitcher and he got my vote.
Just a few numbers..
Everybody talks about his 11-2 postseason record in 19 starts, but his WHIP was 0.968 and his strike-to-walk ratio was 4.80.
He was a late bloomer and still went 216-142 with a career a 3.46 ERA and 3,116 strikeouts.
Schilling won three World Series titles, two with Boston and one with the Arizona Diamondbacks and went to another World Series with the Philadelphia Phillies, where he was the 1993 NLCS MVP. He was runner-up for the Cy Young Award three times and fourth another.
Schilling was among the best big-game pitchers of his era and the only thing bigger was his mouth, which will likely keep him out of Cooperstown.
There are eight relief pitchers in the HOF. Only Mariano Rivera has a better ERA and ERA+ than Billy Wagner. A seven-time All-Star, Wagner's career ERA was 2.31 and his adjusted ERA was 187. His 11.9 strikeouts per nine innings is best in MLB history (minimum of 750 innings pitched). He also has a career 0.998 WHIP.
Wagner had 422 saves in 491 opportunities (85.9 percent). Only two Hall of Fame relievers have a higher save percentage. Mariano Rivera (89.1%) and Trevor Hoffman (88.8%). Wagner also has a higher strikeout ratio (33.2%) than any reliever in the HOF. The closest is Hoffman (25.8%).
Now the negative. Wagner pitched only 903 innings, fewest of the Hall of Fame pitchers. Wagner also didn't have a stellar postseason record, although it included just 11 2/3 innings over 14 appearances.
We can see why some may keep Wagner out due to the fact that all eight relievers in the Hall of Fame each exceeded 1,000 innings. Yet he has so many top achievements among the best relievers in the game's history that he belongs with them in Cooperstown.
This is his seventh year on the ballot and he received 46.4% of the vote last year.