3:32PM: Toronto will send Colorado $9,716,333, according to Rob Gillies of The Associated Press.  Those payments are split up as $5,383,333 this season and $4,333,333 for the 2023 season.
1:57PM: Both clubs have officially announced the trade.
12:01PM: The Blue Jays and Rockies have agreed to a trade sending outfielder Randal Grichuk from Toronto to Colorado in exchange for outfielder Raimel Tapia, reports Mark Feinsand of MLB.com (via Twitter). The Jays will acquire infield prospect Adrian Pinto from the Rockies, and they'll also send cash to Colorado to help cover Grichuk's contract, Feinsand adds.
Grichuk, 30, has been viewed as a trade candidate for more than a year now as the Rockies have deepened their outfield mix and Grichuk's performance has slipped. Signed to a five-year contract covering the 2019-23 seasons, Grichuk is still owed $9.33MM both this season and next, while Tapia and the Rox settled on a $3.95MM salary earlier this week. He's arbitration-eligible and controlled through the 2023 season himself. The difference in salary between the two players clocks in at about $14.7MM.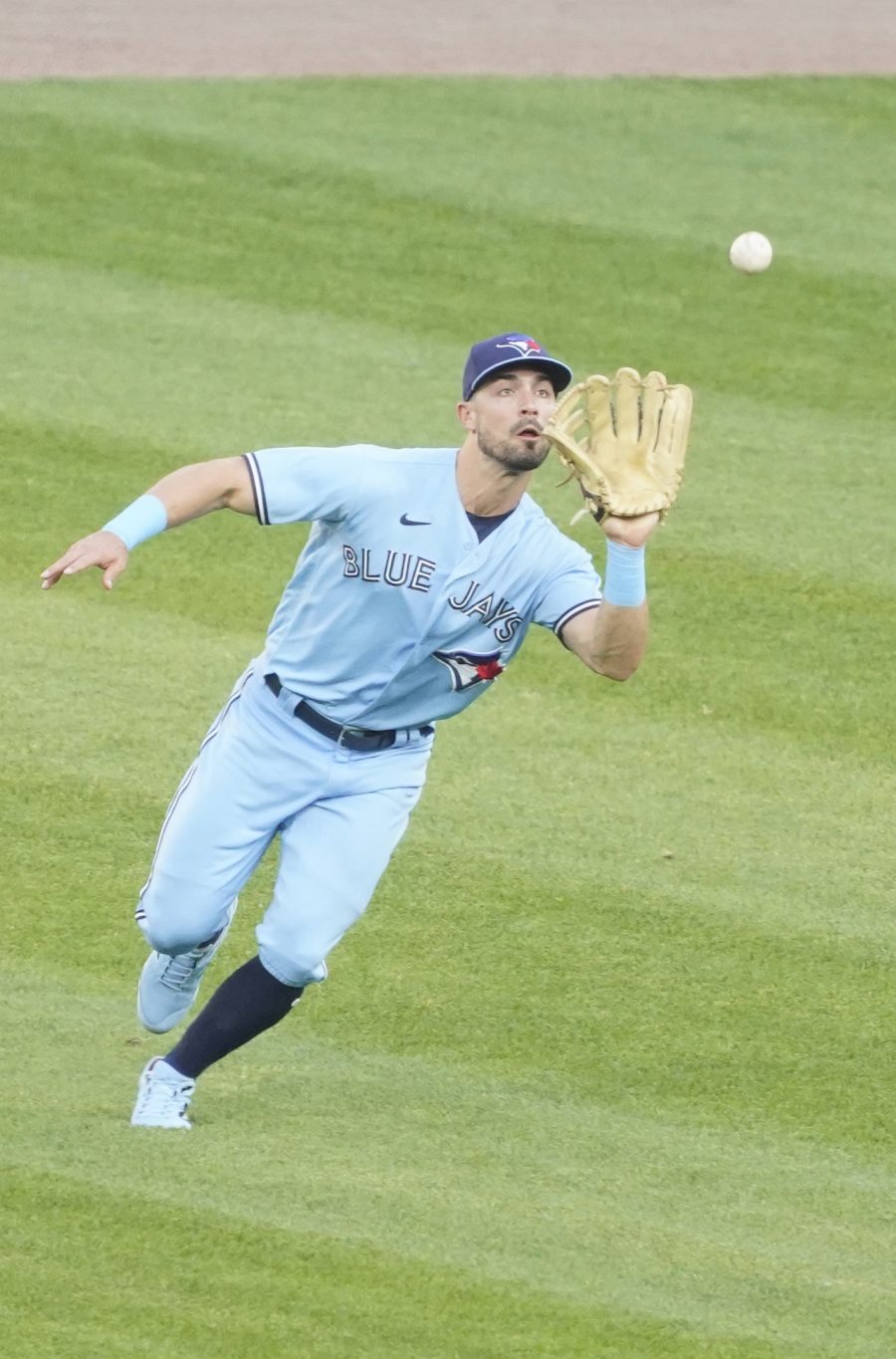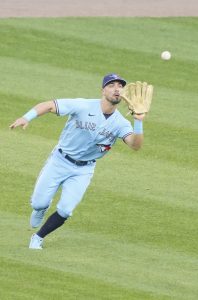 Grichuk signed a five-year, $52MM contract back on April 2, 2019 — fresh off a 2018 season in which he'd batted .245/.301/.502 with what was then a career-high 25 home runs in 462 plate appearances. It was something of a head-scratching deal even at the time, as Grichuk's perennial OBP struggles worked to offset his power and solid glovework in the outfield. That's not to say he wasn't a useful player, but the Jays already controlled Grichuk for two seasons and were effectively committing about $39-40MM on top of what he might've earned in arbitration to buy out his first three free-agent seasons.
Since putting pen to paper, Grichuk has posted a .242/.286/.448 batting line with 65 home runs in 1414 plate appearances. Among the 159 players with at least 1000 plate appearances in that three-year stretch, he ranks 158th in on-base percentage. To his credit, Grichuk curbed his strikeout rate from 26.4% in 2018 all the way down to 20.9% in 2021, but the gains in contact didn't result in a better average and his walk rate dipped to a career-low 5.0%. It's clear that there's above-average pop in his bat, but defensive metrics have also soured on Grichuk's work in center over the past couple seasons. Meanwhile, the Jays have signed George Springer and received breakouts from Lourdes Gurriel Jr. and Teoscar Hernandez since signing Grichuk to that long-term pact.
There were reports even while the lockout was still ongoing that Tapia could be on the move when transactions resumed. Adding Kris Bryant as the new primary left fielder surely only hastened the Rockies' efforts to move Tapia, who'd previously occupied that position. Grichuk can serve as a primary center fielder or right fielder in Colorado, and he'll bring the Rox quite a bit more power than Tapia ever offered — albeit at the expense of some speed, on-base percentage and (arguably) defensive value.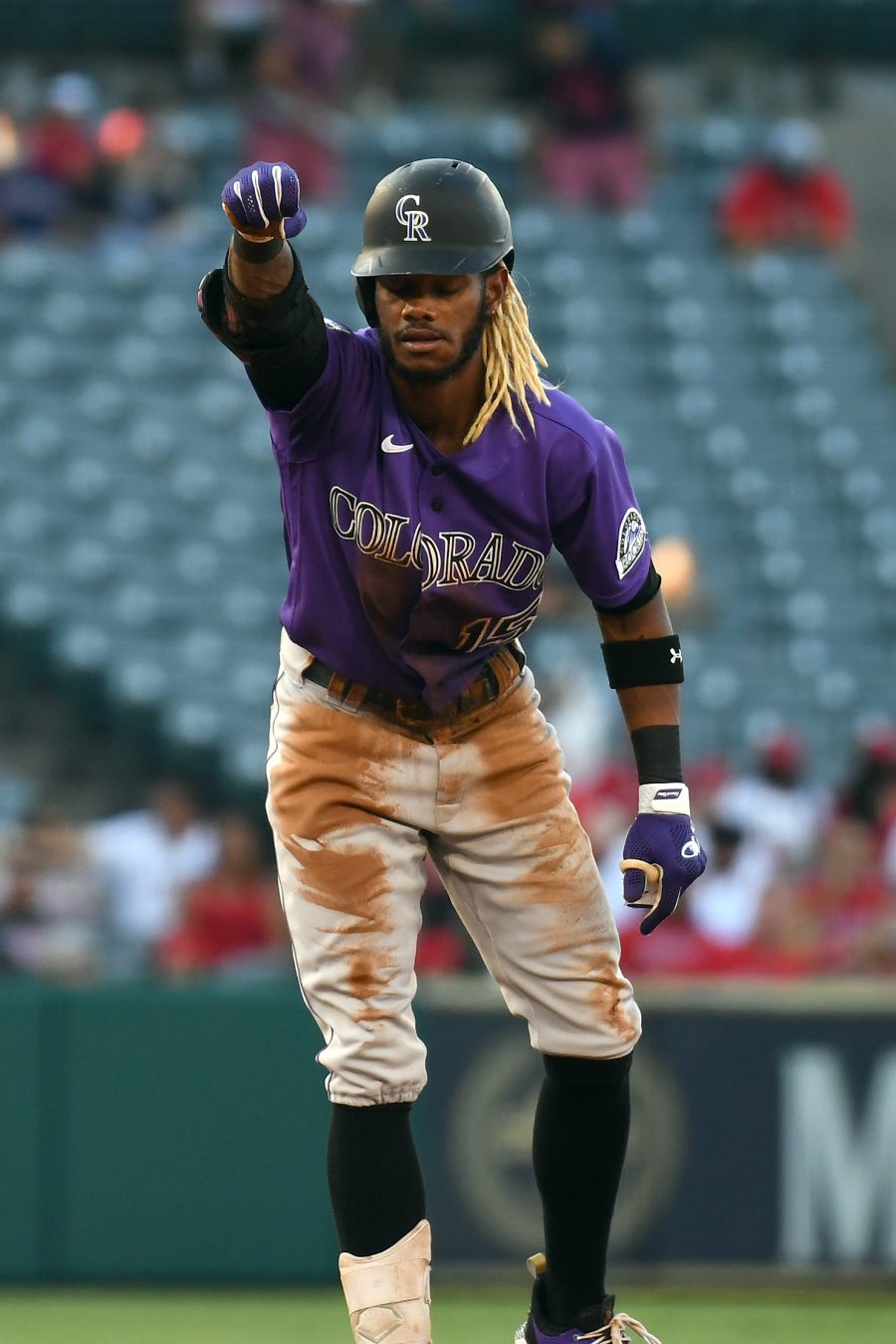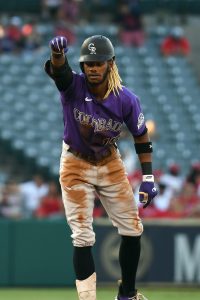 In Tapia, the Jays will get a much-needed lefty bat to help balance out an entirely right-handed outfield mix (and a generally right-leaning lineup overall). The 28-year-old has served as Colorado's primary left fielder since 2019, logging a .282/.327/.394  slash line that appears solid on the surface but falls well shy of average after weighting for home park and league (79 wRC+). Tapia has strong bat-to-ball skills but an extreme ground-ball approach that has resulted in just 16 home runs through 1186 plate appearances since 2019. He can swipe a base when needed (37 steals with a 77.1% success rate across the past three seasons. Like Grichuk, he's not one to take many walks (6.3% since '19), but he's also a tough strikeout, evidenced by last year's career-best 13.1% mark.
Tapia has received solid marks in left field from metrics like Defensive Runs Saved (4), Ultimate Zone Rating (6.0) and Outs Above Average (7) since emerging as a regular in the lineup at Coors Field. He's at least capable of playing center in a pinch, having logged 189 innings there in his career (15 this past season, none in 2020, 83 in 2019). Those ratings, plus his left-handed bat, make him a better fit for Toronto's roster than the right-handed-hitting Grichuk was.
While Tapia may not be the star the Rockies envisioned when he ranked among the sport's 50 best prospects in the 2016-17 offseason, he's emerged as a solid defensive outfielder with better-than-average speed and bat-to-ball skills. The Jays will likely hope to coax some more fly-balls out of Tapia, thus generating some extra power, but even if his batted-ball profile remains unchanged, he can be a useful fourth outfielder for a club that is deep in slugging right-handed options.
As for the 19-year-old Pinto, he'll give the Jays something of a prospect wild card to plug into the low levels of their farm system. Baseball America rated Pinto 19th in a fairly thin Rockies system this spring, labeling the 5'6″ second baseman as a "breakout candidate" who could take substantial steps forward as he moves from the Dominican Summer League to a full-season affiliate.
Pinto hit .360/.486/.543 in 224 DSL plate appearances last season, walking at a massive 17% clip against just an 8% strikeout rate while leading the league with 41 stolen bases. BA's scouting report lauds his "outstanding" hand-eye coordination, advanced pitch recognition skills and plus-plus speed. Players of his size and stature will always have their share of skeptics, but the Jays probably feel better about paying Grichuk to play elsewhere if they're viewing part of the transaction as an effective purchase of Pinto from the Rockies.