The Athletics have traded Sean Manaea to the Padres, according to Mark Feinsand of MLB.com. Earlier today, Andy Martino of SNY had tweeted that Oakland had resumed active conversations about Manaea. Kevin Acee of the San Diego Union-Tribune reports that the Padres will be sending two prospects to Oakland in return. Per Feinsand, the full trade is Sean Manaea and Aaron Holiday for Eruibiel Angeles and Adrian Martinez.
A Manaea trade has seemed inevitable for quite some time now. It was reported prior to the lockout that the A's were planning on moving just about any player with significant salary and dwindling team control. Once the lockout ended, they made good on those predictions, trading Chris Bassitt to the Mets, Matt Olson to the Braves and Matt Chapman to the Blue Jays. Since Manaea is heading into free agency at the end of this season and is making $9.75MM this year, he was the logical choice as the next guy packing up his bag. He will now head to San Diego, reuniting with manager Bob Melvin, who was another casualty of the Oakland penny-pinching, as the club allowed him to head to the Padres in a salary-dumping move.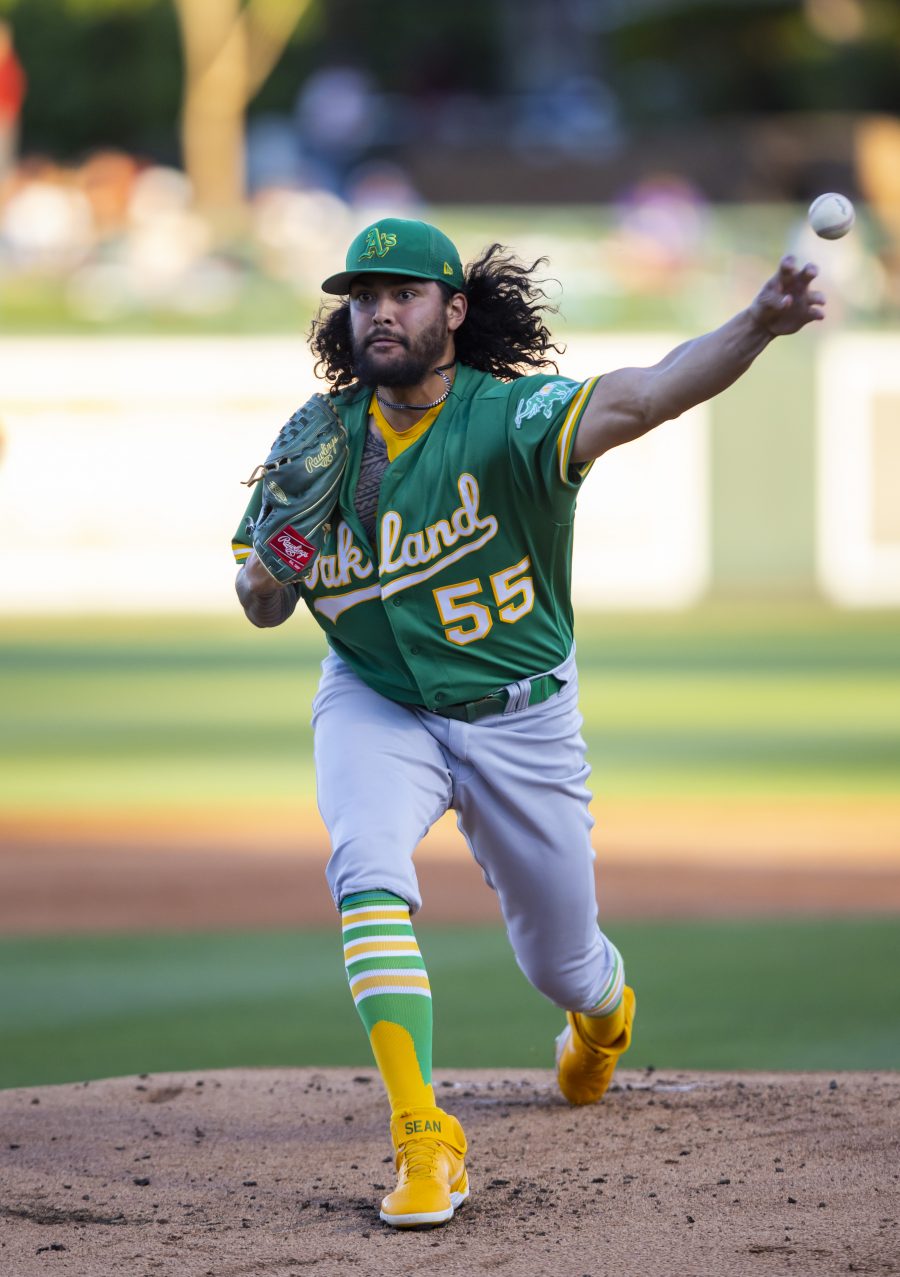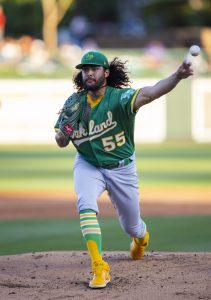 The 30-year-old lefty made his MLB debut in 2016 and immediately established himself with a quality season. In 144 2/3 innings, he put up an ERA of 3.86, along with a 20.9% strikeout rate and 6.2% walk rate. He continued to pitch well over the 2017 and 2018 seasons before being stalled by shoulder surgery in September of 2018. That kept him out of action for around a year, as he returned late in 2019. In the shortened 2020 campaign, he seemed to be back to his old self, throwing 54 innings with an ERA of 4.50. In 2021, he logged another 179 1/3 innings with a 3.91 ERA, cranking his strikeout rate up to 25.7% in the process, a career high for a full season.
For the Padres, this furthers bolsters what was already a very strong rotation that includes Yu Darvish, Joe Musgrove, Blake Snell, Mike Clevinger, Nick Martinez and Chris Paddack, along with up-and-coming options like Reiss Knehr, Ryan Weathers or MacKenzie Gore. Just a few days ago, it was reported that the Padres were considering trading from that rotation depth in order to improve their outfield picture. The addition of Manaea seems to only increase the odds of such a deal coming together.
Their projected outfield currently consists of Trent Grisham in center and Wil Myers in right, with left field being manned by some combination of Jurickson Profar and Matt Beaty. There's certainly room for improvement over that group, especially for a team hoping to compete with the Dodgers and Giants in the AL West, two teams who easily surpassed the 100-win plateau last year. Recent reports had indicated the club had spoken to the Pirates about a Bryan Reynolds trade, though the last word on that front was that the asking price for Reynolds was "prohibitive."
The Padres were one of two teams to have paid the luxury tax in 2021, along with the Dodgers. That means they would be subject to escalating penalties if they were to pay the tax again this year. The new CBA bumped up the lowest tax line from $210MM to $230MM, which gave the Padres a bit of breathing space, as their luxury tax number has been between those two numbers for most of the offseason. Since the signing of that new CBA and the end of the lockout, they have been fairly quiet, apart from their acquisition of Luke Voit. With the acquisition of Manaea, their luxury tax number is now just over the line at $233MM, according to Jason Martinez of Roster Resource. Perhaps they are willing to pay the tax yet again, or further trade could allow them to limbo back under the line. Rumors have swirled for years about their attempts to move Eric Hosmer and the four years and $59MM remaining on his deal. Just a few days ago, they were apparently discussing such a deal with the Mets, though those talks have apparently stalled.
For the Athletics, their fire sale has reduced their 2021 payroll to around $50MM in actual dollars, per Roster Resource. They haven't had a number that low since 2008, leaving aside the pandemic-shortened 2020 campaign. (Hat tip to Cot's Baseball Contracts.) That number could potentially drop even lower if the club lines up a deal on Frankie Montas or Ramon Laureano, though they could also add in a veteran on a modest short-term deal, like those they gave to Stephen Vogt and Jed Lowrie.
The rotation in Oakland won't just be lacking Bassitt and Manaea, as James Kaprielian and Brent Honeywell Jr. are likely to begin the season on the IL. Montas will be at the front of the group if he's still around, with Cole Irvin, Daulton Jefferies, Paul Blackburn, Adam Oller and Zach Logue among the options to take the spots  behind him.
One of today's acquisitions, Adrian Martinez, is an option to serve as rotation depth immediately, as he is on the 40-man roster and made it up to the highest levels of the minors last year. In 80 2/3 Double-A innings, he put up a 2.34 ERA along with a 25.4% strikeout rate and 7.3% walk rate. He struggled a bit in his first taste of Triple-A, throwing 44 1/3 innings with his ERA jumping up to 5.28, along with a deflated strikeout rate of 19.9% and 8.7% walk rate. He's just 25 years old and has options, meaning he's likely ticketed for further time in Triple-A.
The other piece of their return will be more of a long-term play, as Angeles is just 19 years old. Last year, he split his time between A-ball and High-A, while lining up at second base, third base and shortstop. In 105 games, his combined slash line was .329/.392/.445, for a wRC+ of 125, along with 19 stolen bases. Although the A's will need to be patient given his age, he might be the real "get" for Oakland, as he was San Diego's #12 prospect at MLB Pipeline before the deal, with Martinez coming in at #26.
Alongside Manaea, the Padres are also adding some bullpen depth with the acquisition of Holiday. The 21-year-old was just selected by the A's last year, in the 13th round of the 2021 draft. He only has 5 2/3 innings of professional experience under his belt at this point, all of that coming in the Complex League last year. Despite that limited resume, R.J. Anderson of CBS Sports relays that he was hitting over 100mph on the radar gun this offseason.
Photo courtesy of USA Today Sports Images.