In the upcoming free agent class, there's no debate about the top available relief pitcher. Mets' closer Edwin Diaz is arguably the best reliever in the entire sport right now and will be the jewel of that segment of free agency.
Now 28, Diaz burst onto the scene with the Mariners at the age of 22, recording 18 saves as a rookie. After two more excellent seasons as Seattle's closer, he was traded to the Mets, partly as a way for the Mariners to get out from under Robinson Cano's contract. Though he struggled in 2019, his first season in Queens, he righted the ship over the next couple of seasons. Coming into this year, Diaz had a career 3.23 ERA with a 38.6% strikeout rate, 8.8% walk rate and 40.2% ground ball rate.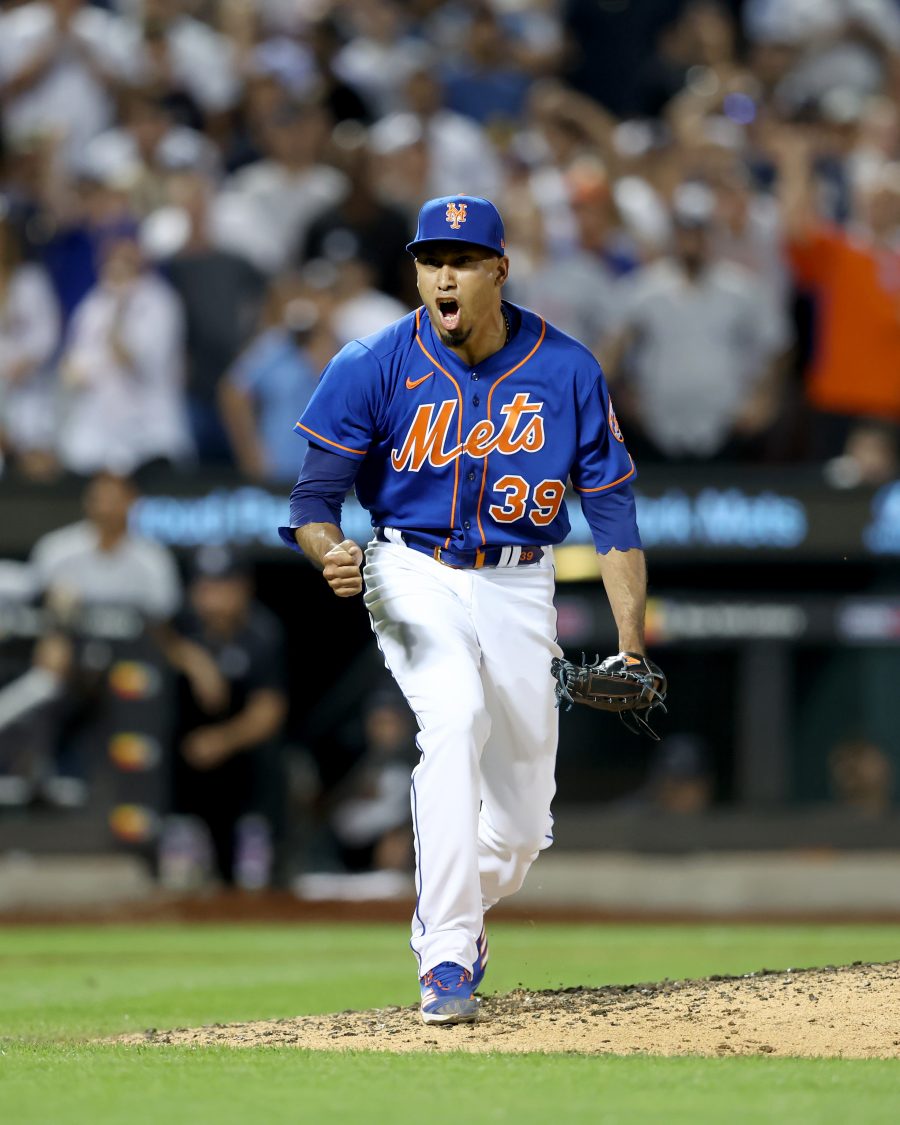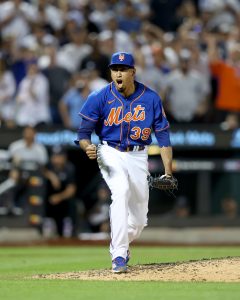 Despite that excellent body of work, he's somehow found a way to take his game to new heights here in 2022. Through 45 1/3 innings on the year, he has a miniscule 1.39 ERA. 48.5% of batted balls against him are going into the ground, which is a career high and well above the 43.3% league average for relievers. His 7% walk rate is a few points better than the 9.1% rate for relievers around the league. But most impressively, he is striking out 52.9% of batters who come to the plate, well beyond his career high and more than double the 23.4% average for bullpen arms. That rate is easily the best among all pitchers in baseball with at least 20 innings pitched on the year, with Josh Hader coming in a distant second at 41.9%.
Diaz's Statcast page is blood red, with the hurler coming in the 100th percentile in terms of strikeout rate and whiff rate, 99th percentile in terms of average exit velocity, barrel percentage and chase rate, and 87th percentile in hard hit rate. Hitters aren't hitting him and rarely inflict any damage when they do. He averages 99 mph on his fastball and 90.7 mph on his slider.
If Diaz continues pitching at this elite level, could he push for a record-breaking contract, either in total dollars or average annual value? The largest contract ever given to a relief pitcher is the five-year deal signed between Aroldis Chapman and the Yankees prior to the 2017 campaign, which was for $86MM over five years, with Chapman eligible to opt out after three. That amounts to an average annual value of $17.2MM. Also worth noting, Liam Hendriks and the White Sox signed a four-year, $54MM contract prior to the 2021 season. The last year of the contract is technically a $15MM club option with a $15MM buyout. If the club chooses to buy him out, they will pay him that $15MM deferred over a ten-year period instead of paying it all out during the 2024 campaign. This unique contract, depending on how you look at it, either has an AAV of $13.5MM over four years or $18MM over three years. For those in the latter camp, Hendriks will be included in the forthcoming analysis.
When Chapman signed his contract, he was going into his age-29 season, which is the same situation as Diaz. Hendriks was going into his age-32 season. But what about performance? Here are all three pitchers in their final year before free agency, for comparison.
Chapman in 2016: 58 innings, 1.55 ERA, 40.5% strikeout rate, 8.1% walk rate, 46% ground ball rate.
Hendriks in 2020: 25 1/3 innings, 1.78 ERA, 40.2% strikeout rate, 3.3% walk rate, 32% ground ball rate.
Diaz in 2022: 45 1/3 innings, 1.39 ERA, 52.9% strikeout rate, 7% walk rate, 48.5% ground ball rate.
Here's the three seasons leading into free agency:
Chapman in 2014-2016: 178 1/3 innings, 1.72 ERA, 44.4% strikeout rate, 10.7% walk rate, 41.8% ground ball rate.
Hendriks in 2018-2020: 134 1/3 innings, 2.21 ERA, 34.7% strikeout rate, 6.4% walk rate, 33.4% ground ball rate.
Diaz in 2020-2022: 133 2/3 innings, 2.42 ERA, 42.7% strikeout rate, 9.1% walk rate, 39.8% ground ball rate.
I think it's fair to say that Diaz will be entering free agency with a less consistent track record than either Hendriks or Chapman. Hendriks' track record, broadly speaking, was less overpowering but also less wild. The shortened 2020 season was the first time he posted a strikeout rate above 40%, but he also had never posted a double-digit walk rate. Chapman had a double-digit walk rate four times prior to reaching free agency, but also got strikeouts above 40% five straight seasons from 2012 to 2016, including a 52.5% rate in 2014. Diaz had an 11.5% walk rate in 2017 and then 12.7% in the shortened 2020 campaign but hasn't had alarming numbers of free passes apart from that. He's also gone beyond a 40% strikeout rate three times prior to this year, though never for two seasons in a row.
Looking just at the platform seasons, Hendriks limited walks in the shortened campaign, but got far less strikeouts and ground balls than the other two. Chapman trails Diaz in every rate category, however, with Diaz just 12 2/3 innings behind in terms of the sample size. If he can maintain this over the season's final months, he could argue that he's a better option now than Chapman was in 2017. Also, given that Chapman's contract will be six years old this winter, there's an argument that the natural trajectory of inflation should lead to Diaz getting a larger contract than Chapman, if they were considered equally talented. One thing working against Diaz, however, is the qualifying offer. Chapman was traded from the Yankees to the Cubs midseason in 2016, making him ineligible to receive a QO. Diaz, on the other hand, is a lock to receive one, meaning any team that signs him would be subject to draft pick forfeiture and potentially other penalties.
All in all, it seems like Chapman and Diaz make for fairly close comps. Hendriks was a bit older and got a shorter contract, with unique accounting measures inflating the AAV on paper. Diaz will be the same age as Chapman was at the time of his contract, both of them having strong track records and dominant platform seasons. Chapman didn't have the QO attached but Diaz will have six years of inflationary progress helping push his dollars up.
There's still some time for Diaz to change the calculus one way or another, and there's also the postseason to consider, as Chapman pitched for the championship Cubs in 2016. He threw 15 2/3 innings in the playoffs that year, but not quite at his level from the regular season. The competition in the postseason is naturally higher than otherwise, but Chapman put up an ERA of 3.45 in that time, with a diminished 33.9% strikeout rate, a 9.7% walk rate and 43.8% ground ball rate. Since Diaz pitches for the Mets, who have a seven-game lead in the NL East and are almost guaranteed to make the playoffs, Diaz should get a chance to showcase his talents against the game's highest competition and on its brightest stage. If he thrives there as he's thrived elsewhere this year, he'll have a chance to take the throne as the game's highest-paid reliever ever.
Image courtesy of USA Today Sports.