Each offseason, the Dodgers are mentioned as at least a speculative favorite for seemingly every top-tier free agent. They're willing to pursue elite players even in the absence of a true positional need, and they annually sport one of the league's highest payrolls. This winter should be no exception, with headlines eventually linking the Dodgers to the best free agent shortstops, including their own impending free agent Trea Turner, and top-of-the-market starting pitching.
Los Angeles doesn't just pursue established superstars in the Freddie Freeman mold, though. President of baseball operations Andrew Friedman, general manager Brandon Gomes and the rest of the front office also leverage their payroll flexibility in another way. While it's not as visible or exciting, the Dodgers roll the dice on plenty of mid-tier free agents. They signed nine players to major league deals last offseason alone, seven of whom inked a one-year guarantee. It was a blend of high-upside players who carried injury or performance risks with more stable, lower-variance veterans to round out the roster.
Tyler Anderson seemed to fall into the latter bucket. He's been a durable back-of-the-rotation arm for much of his career. Anderson lost chunks of the 2017 and '19 seasons with left knee issues, but he started a full slate of 32 games in 2018 and hasn't gone on the injured list at any point in the past three years. That kind of reliability appealed to a Dodgers team that opened the season with Dustin May on the IL, Clayton Kershaw coming off a season-ending arm issue and Andrew Heaney (another lower-tier free agent pickup) seeking a rebound after a dismal 2021 campaign.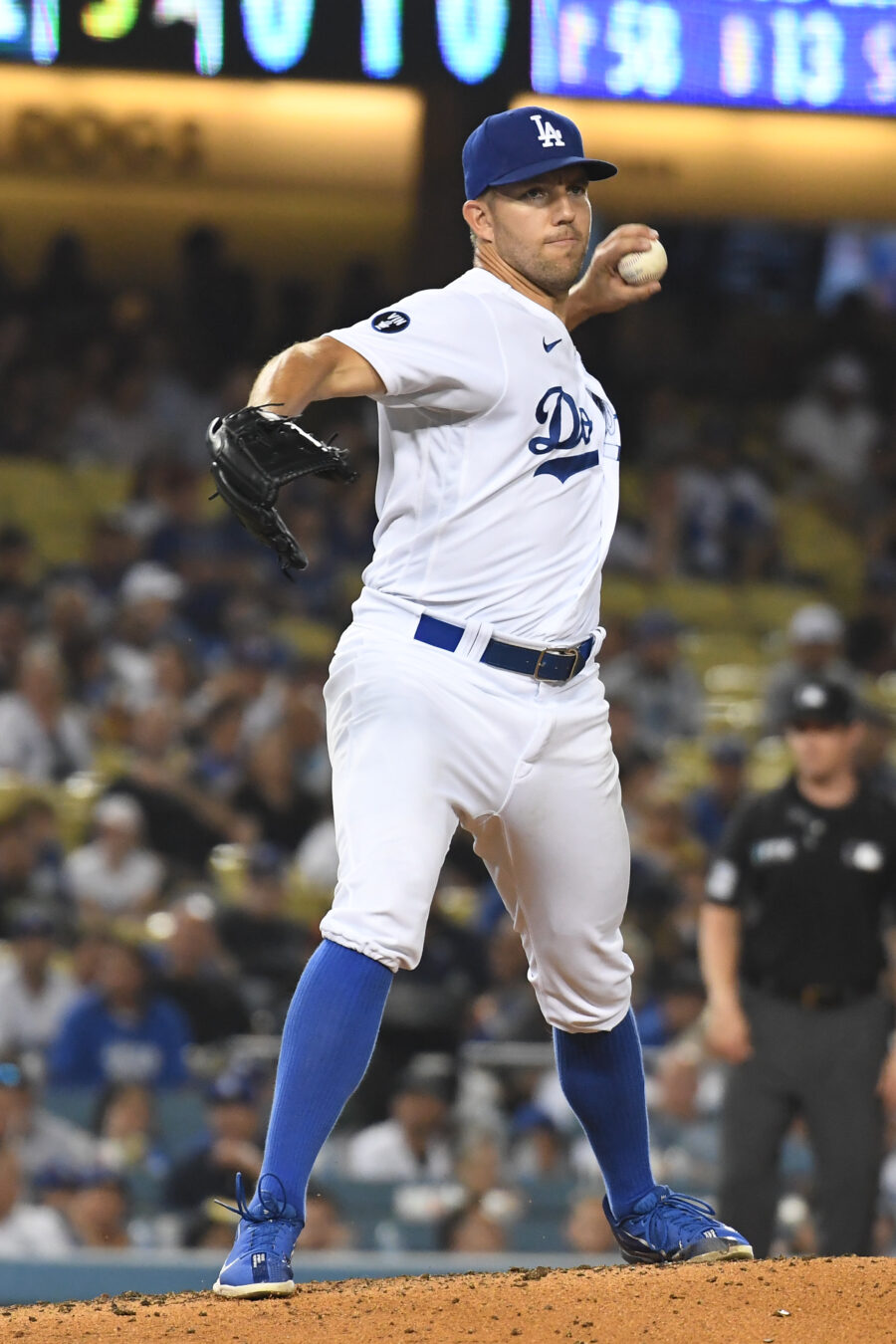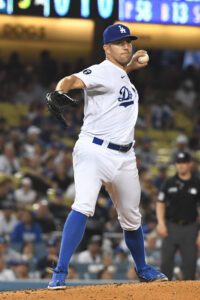 Reliable as he was in taking the ball every fifth day, Anderson didn't look like a potential impact arm. He'd only once posted an ERA below 4.00 in a season, and that was in his 2016 rookie campaign. The southpaw had the tough task of pitching his home games at Coors Field for his first four years, but he also had mixed results in a 2021 season split between two more pitcher-friendly settings. Anderson played the year with the Pirates and Mariners, combining for a 4.53 ERA over 167 innings. A nine-run clunker during his third-to-last start of the season inflated that number, but he carried an ERA hovering around 4.00 for much of the season.
Featuring a fastball that averages under 91 MPH, Anderson looked the part of a back-end arm who throws strikes and keeps teams in a ballgame for five innings. That netted him an $8MM guarantee from L.A. in Spring Training. That would've been a generally worthwhile investment if Anderson had merely replicated his 2021 numbers over another full season. Instead, he's posted easily the best showing of his career to date.
Through 26 appearances, the former first-round pick has worked 154 2/3 innings of 2.73 ERA ball. He's neither striking batters out nor generating ground-balls at a particularly robust clip, with his respective 19% and 39.7% rates each checking in below the league averages. Yet Anderson has improved upon the aspect of his game in which he'd already been most effective: getting opponents to offer at pitcher's pitches.
Despite not having eye-popping raw stuff, Anderson has always been adept at inducing chases on pitches outside the strike zone. Opponents went after 37.2% of offerings he threw outside the zone last season, well above the 31.5% league average for starters. He's pushed that already impressive rate further, getting hitters to chase a personal-high 38.9% of pitches this year.
That ability to get hitters to swing at bad pitches drives two key aspects of Anderson's success. It's helped him avoid free passes, with this season's 4.9% walk rate among the best in the game. Anderson has always been adept at pounding the strike zone, and his combination of plenty of pitches within the zone and ability to get hitters to swing at would-be balls keeps him frequently in advantageous counts. It's also worked to avoid especially damaging contact, with opponents having a hard time squaring him up. Anderson ranks among the league's top starters in suppressing hard contact, thus far allowing him to avoid home run issues that have plagued him in the past.
The Dodgers have already received more than they could've expected from a reasonably low-cost acquisition. He could have a hard time cracking a playoff rotation that'll certainly feature Julio Urías, Kershaw, May and (if healthy) Tony Gonsolin, but he's likely to be on the mound for some high-leverage innings this October in some capacity. Anderson also looks to have set himself up for a better payday on his return trip to the open market, although how robust the interest will be depends on how much teams buy into his ability to sustain this year's elite results.
His lack of premium velocity or swing-and-miss stuff gives him a thin margin for error. Even modest regression in his ability to induce bad swing decisions could lead to results more akin to a back-of-the-rotation arm than this year's All-Star form. After all, it's not as if Anderson's success has come completely out of the blue. He'd already been above-average at getting batters to chase and make weak contact in seasons where his overall output was roughly league average.
The 32-year-old has made tweaks to his repertoire this year that probably helped push his game forward. He's taken some speed off his changeup, which is getting more downward depth. Batters are swinging through it more often as a result, and given the alterations to his changeup, it's probably not a coincidence he's faring better than ever against right-handed batters. That's a promising improvement, but like the other gains he's made this season, it's a rather subtle one.
Put all the changes together, and Anderson looks as if he's better now than he has been. Is he a true talent 2.73 ERA pitcher who'll be an annual All-Star? Probably not. His future level likely falls somewhere in between this year's outstanding numbers and the pedestrian 4.49 mark he posted from 2020-21. Yet even if Anderson allows around three and a half to four earned runs per nine innings moving forward, he's a valuable pitcher — particularly if he can continue to stay healthy and take the ball every fifth day.
As MLBTR's Mark Polishuk noted last month, the Dodgers will have to at least consider the possibility of tagging Anderson with a qualifying offer this offseason. It still seems they'd opt against making an offer that, in recent seasons, has sat in the $18-19MM range, but that it's even a worthwhile consideration is a testament to his strong year. At the very least, Anderson looks to have pitched his way into the first multi-year contract of his career when he returns to free agency.
Image courtesy of USA Today Sports.