9:22pm: The 2024 option would vest at $5MM if Castro appears in 60 games next year and passes a physical at the end of the season, reports Ken Rosenthal of the Athletic (Twitter links). Should Castro finish 40 games next season, it'd become a player option. The deal also contains various incentives based on appearances and games finished that could tack on as much as $2.75MM per season to the deal.
9:00am: The Diamondbacks have agreed to a one-year deal with free-agent righty Miguel Castro, Robert Murray of FanSided reports (via Twitter). The Ballengee Group client will be guaranteed $3.5MM. Jon Heyman of the New York Post adds that the one-year deal also contains incentives to boost that guarantee, as well as an option for the 2024 season.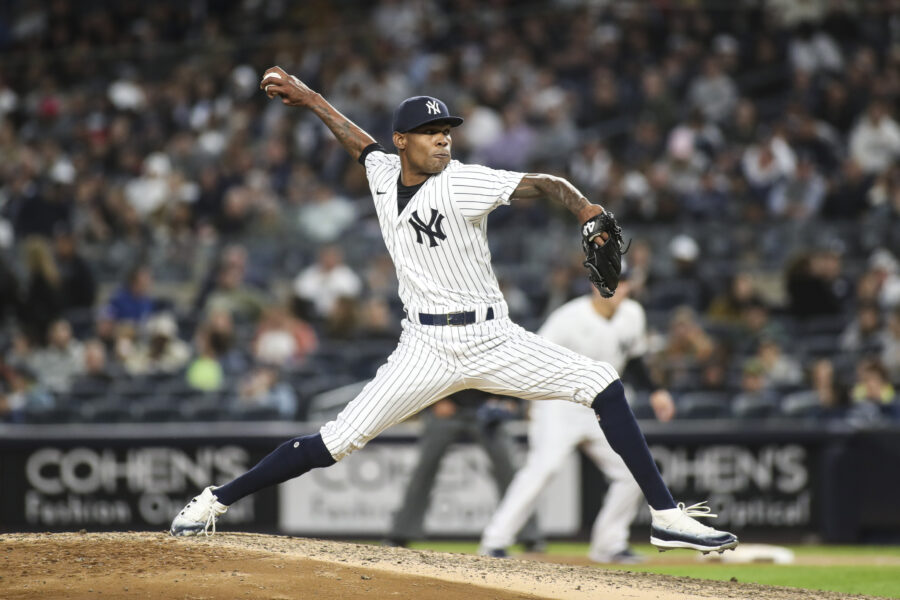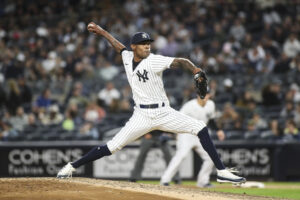 Castro, 28 next month, is one of the youngest free agents on this year's market, which surely appealed to the D-backs and other interested parties. However, he's also coming off an injury-marred  season in which a shoulder strain limited him to just 29 innings for the Yankees. That injury sidelined Castro for most of July and for all of August and September, though he did return to toss two innings in October. He added another pair of scoreless frames during the ALCS.
Since making his Major League debut with the Blue Jays as a 20-year-old back in 2015, Castro has been traded multiple times and struggled to find consistent success. The flamethrowing righty, who averaged 97.9 mph on his sinker in 2022, has at times looked brilliant but has also battled high walk rates and been occasionally susceptible to home runs. His 2022 season in the Bronx was solid, as he pitched to a 4.03 ERA with above-average strikeout and ground-ball rates (23.7% and 47.5%, respectively) in his 29 frames. However, Castro walked 11.5% of his opponents in his lone season as a Yankee — the fifth straight year in which he's logged at least an 11% walk rate.
For all the ups and downs with his command, Castro has logged a composite 3.93 ERA in 350 innings across the past six Major League seasons while pitching for the Orioles, Mets and Yankees. His strikeout rate has trended upward over the past three seasons, in particular, sitting at 26.6% in that time. That's backed up by an above-average 12.8% swinging-strike rate, and Castro has added a hearty 50.8% grounder rate in that time.
Between his age, velocity, ground-ball rate and ability to miss bats, there's plenty to like in Castro's game even if his command never turns a corner. The D-backs will surely hope to curtail his proclivity for free passes, but Castro has pitched for five different Major League teams and only once turned in a walk rate under 10% — and that came in 2016 when he threw just 14 2/3 innings with the Rockies. Listed at a lanky 6'7″ and 205 pounds, Castro's long levers give him excellent extension on his pitches (77th percentile, per Statcast) which can make his perceived velocity even stronger than his already impressive 98mph average — but maintaining control over those long levers has been a persistent challenge that no team has been able to help him overcome to this point.
Castro is the second addition to the Arizona bullpen in the relatively young offseason, as the Snakes also claimed righty Cole Sulser off waivers from the Marlins late last month. Improving a suspect bullpen has been a stated priority for the D-backs, and Castro will give them a youthful veteran to pair with incumbent options Joe Mantiply, Kyle Nelson, Kevin Ginkel and Mark Melancon, the latter of whom will be seeking a rebound after a frustrating 2022 campaign that saw him lose his grip on the closer's job in Arizona.
Castro's $3.5MM guarantee will nudge the Diamondbacks' projected payroll north of $100MM for what would be just the fourth time in franchise history and the first time since 2019. General manager Mike Hazen recently cast doubt on whether ownership would take payroll back to that 2018-19 level ($131MM in 2018, $124MM in 2019), but he did suggest that a bump over last year's $90MM Opening Day mark was likely. It stands to reason that the D-backs will remain in the market for further bullpen help, and Hazen has previously spoken about the possibility of finding an offensive upgrade behind the dish and perhaps adding a right-handed bat to the lineup.