Dec 10: The Mets have officially announced the signing.
Dec 8: The Mets and outfielder Brandon Nimmo are in agreement on a deal that would bring him back to Queens. He will make $162MM over eight years, with a salary of $20.25MM in each season. He will have a no-trade clause. Nimmo is represented by the Boras Corporation.
Nimmo, 30 in March, was considered by most observers to be the clear #2 outfielder on this winter's free agent market, well behind Aaron Judge but also well ahead of anyone else. Nimmo is nowhere near Judge in terms of power, as he has only 63 home runs in his seven-year career, while Judge hit 62 in 2022 alone.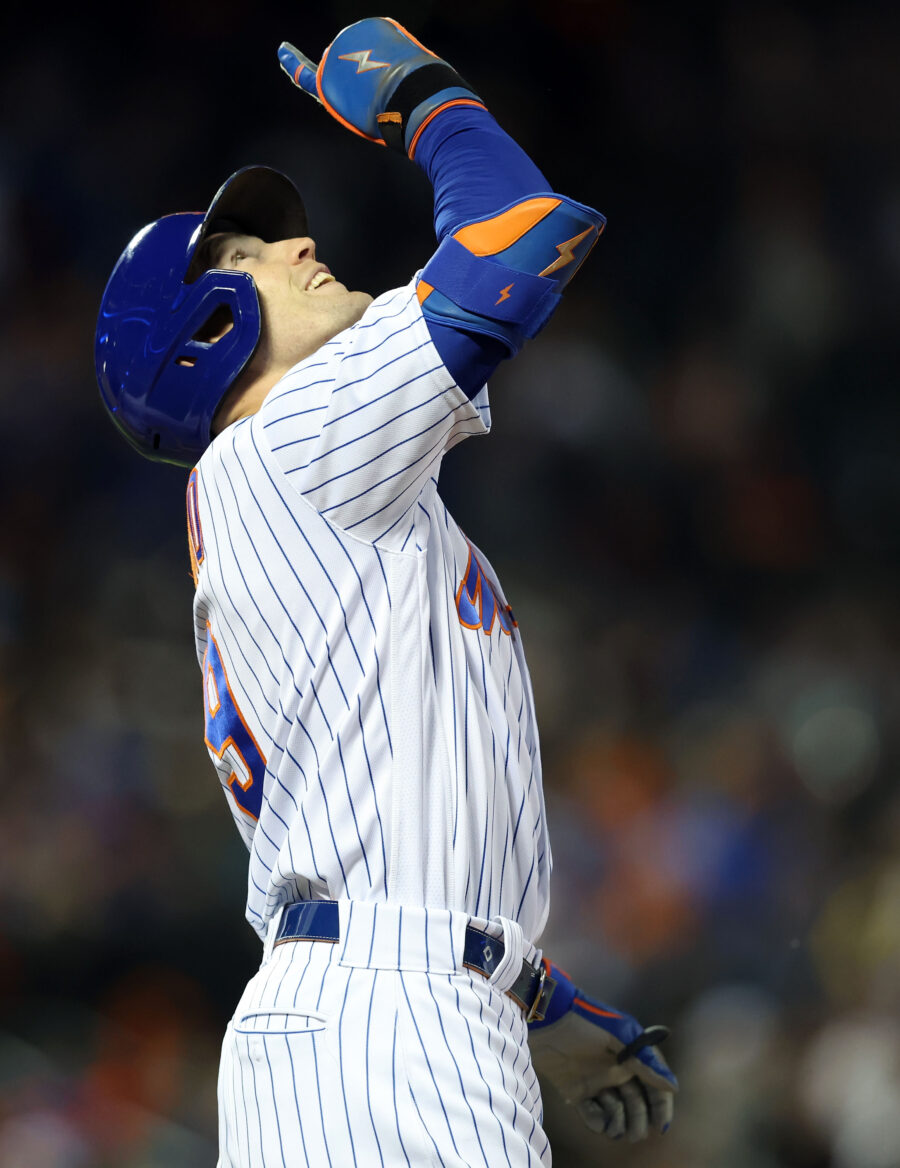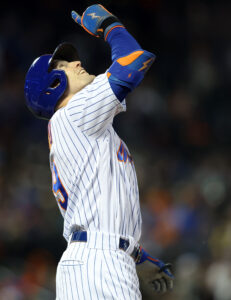 Despite that lack of power, Nimmo stood out from the rest of the outfielders on the market for a couple of reasons. One is an ability to play center field and a second is his ability to get on base. For his career, which began in 2016, he has a 13.6% walk rate and .385 on-base percentage. Only 17 qualified hitters have a better walk rate in that time while only seven have a better OBP. His career batting line is currently .269/.385/.441, leading to a 134 wRC+, indicating he's been 34% better than the league average hitter.
That level of production would be welcome at any position but it's especially valuable in center field, where many teams are looking for upgrades. Nimmo was unsurprisingly popular as a free agent, getting publicly reported interest from the Blue Jays, Giants, Yankees, Rays and Mariners, with others surely interested as well. But it will be the Mets, the franchise that drafted Nimmo 13th overall back in 2011, who will keep him. Even before the offseason truly began, it was reported that the Mets were prioritizing retaining Nimmo and closer Edwin Díaz, and they have now succeeded on both fronts.
The deal is not without its risks, as Nimmo has spent his share of time on the injured list. In his career, he has landed on the IL due to hamstring strains, a collapsed lung, a neck issue and a bruised finger. Due to those various ailments, he has only twice eclipsed 100 games in a season. Most of those injuries are a few years in the past at this point, as Nimmo stayed healthy in the shortened 2020 season, played 92 games in 2021 and then 151 games this year. That means he's been healthy for the vast majority of the past three seasons. However, this deal has gone well beyond expectations in terms of both length and guarantee. MLBTR predicted a five-year, $110MM deal but Nimmo got three extra years and an extra $52MM, meaning this deal will take him into his age-37 season.
But the Mets are clearly as "win-now" as a team can possibly get and likely won't worry themselves with the later years of the deal for now. Owner Steve Cohen, who just purchased the club at the end of the 2020 season, has shown he's willing to blow well past previous spending limits shown by the Mets or anyone else. The Mets had never had an Opening Day payroll that reached $160MM in their pre-Cohen history, per Cot's Baseball Contracts. But they moved up to $195MM in 2021 and $264MM this past season. Cohen had previously hinted at a $300MM limit for 2022 to The New York Post but that number is well in the rear-view mirror now.
Today's deals for Nimmo and reliever David Robertson bring the Mets' payroll for next season to an incredible $322MM, according to the calculations of Roster Resource. In terms of the competitive balance tax, which uses the annual average values of contracts as opposed to just the 2023 salaries, they are at $335MM. That means they are incredibly more than $100MM beyond the lowest CBT threshold of $233MM. There are also three further tiers of luxury tax payments, going up in $20MM increments to finish at $293MM, with the Mets now more than $40MM above that top level.
The CBT also has escalating penalties for going over the line in successive seasons, with the Mets sure to be a second-time payor. They will pay a 30% tax on spending over the first tier, 42% over the second, 75% over the third and 90% over the fourth. That means that they are currently slated to pay a tax of about $67MM, on top of that $322MM payroll. It's also possible that they're not done, as Andy Martino of SNY reports that they could still sign Kodai Senga, even after the Nimmo deal.
It seems that we don't really know how far Cohen and general manager Billy Eppler are willing to go in their pursuits of building the best baseball team possible. The aggressive spending yielded mixed results in 2022, as the club won 101 games, the second-highest win total in franchise history. However, Atlanta snuck in and nudged the Mets aside for the division crown in the National League East, which then led to the Mets falling to the Padres in the first round of the playoffs.
For 2023, the Mets were facing a serious challenge in even repeating that performance. They had a huge free agent class that included Nimmo, Díaz, Jacob deGrom, Taijuan Walker, Chris Bassitt and a whole host of relievers. However, they have pulled out all the stops in trying to ramp back up for another shot next year. deGrom and Walker have signed elsewhere, but the Mets signed Justin Verlander and José Quintana to replace them, in addition to retaining Díaz and Nimmo.
Nimmo will now return to his center field position in Queens, flanked by Starling Marte and Mark Canha. The division will be a fascinating one to watch, as the Phillies have followed up their trip to the World Series by aggressively spending on Walker and Trea Turner, while Atlanta are still loaded with all of their young stars that they have locked into lengthy extensions.
Joel Sherman of The New York Post first reported the contract details (Twitter links 1, 2 and 3).
Image courtesy of USA Today Sports.