The Phillies have continued to strengthen their roster following their World Series defeat last year, acquiring left-handed reliever Gregory Soto and utilityman Kody Clemens in a trade with the Tigers. Utilityman Nick Maton, outfielder Matt Vierling and catcher Donny Sands are headed to Detroit in the other end of the deal. The two teams announced the deal this afternoon.
The deal adds another quality southpaw to Philadelphia's bullpen, as Soto joins fellow lefty Matt Strahm in the relief corps plus another prominent new face in right-hander Craig Kimbrel. Between these bullpen additions and the signings of Trea Turner and Taijuan Walker, president of baseball operations Dave Dombrowski is being typically aggressive as he looks to take the World Series finalist Phillies one step further in 2023.
Soto (who turns 28 in February) worked to a 3.28 ERA over 60 1/3 innings for the Tigers last season, striking out batters at a 22.8% clip against a 12.9% walk rate. In the process, he notched 30 saves for the team. The strikeout rate represented something of a dip for Soto, as it sat at 27.5% just a year prior.
Signed out of the Dominican Republic back in 2012, Soto came up through the Tigers' system as a starting pitcher. He'd make seven starts for Detroit in his rookie year back in 2019, but was rocked to the tune of an 8.49 ERA and has been a reliever ever since. He's found plenty of success in that role, working to a 3.57 ERA over 181 1/3 relief innings, including earning trips to the All Star game in 2021 and 2022.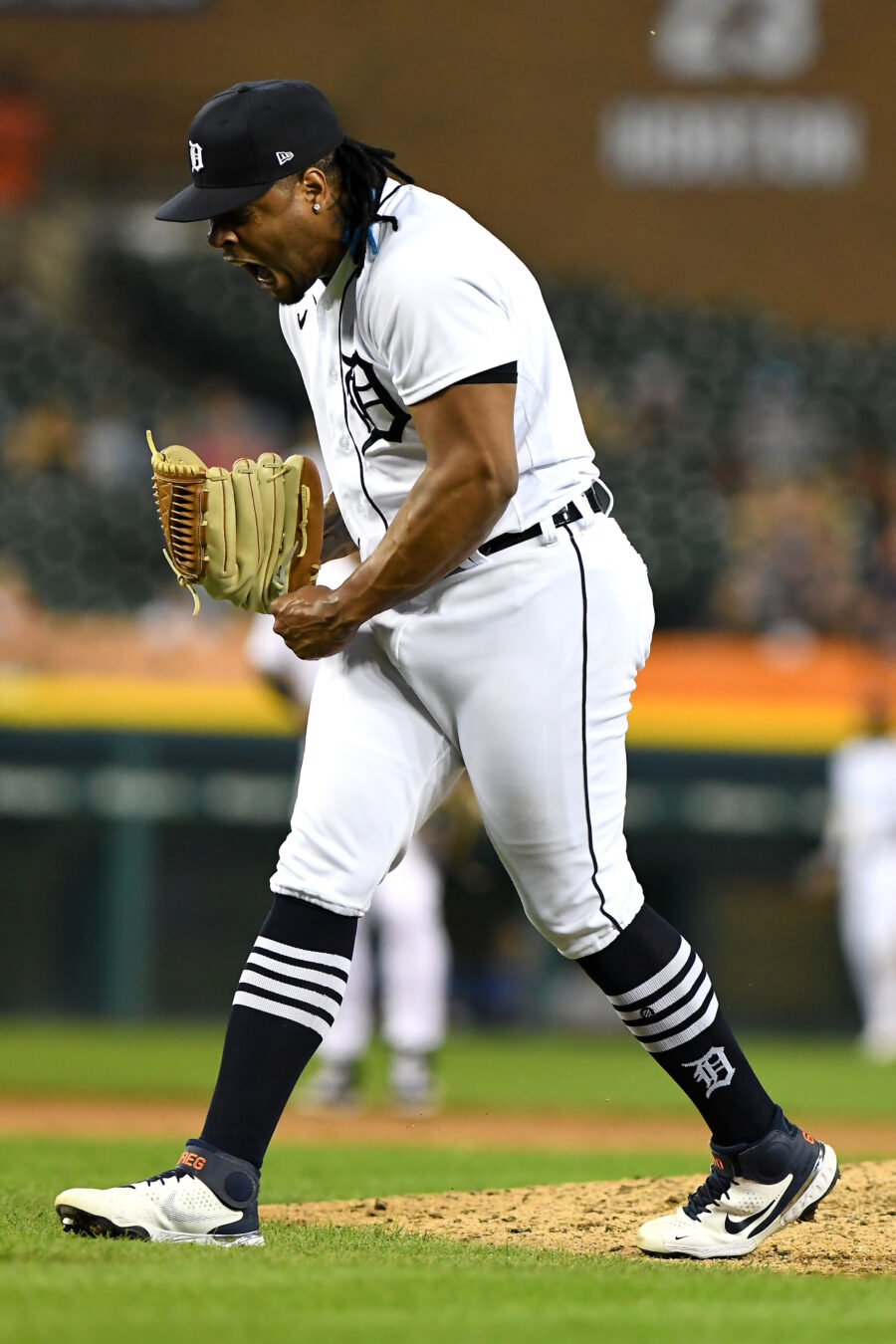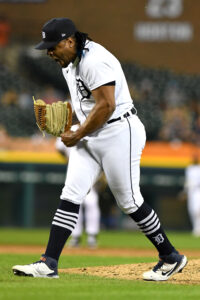 Left-handed hitters hit just .225/.328/.277 against Soto, but perhaps most noteworthy is the fact he's given up just one home run in his career to a left-handed hitter. While he handled the closing duties in Detroit, he's joining a much stronger bullpen in Philadelphia so may see fewer ninth-inning opportunities, but in any event they've got an ideal late-innings arm to shut down any left-handed power threats late in the game.
Soto mixes a fastball which touches triple-digits with an 89 mph slider, as well as a very occasional changeup. As evidenced by his career 13.1% rate, walks have been the biggest issue for Soto during his career. Even with the below-average walk rate Soto has been a valuable relief arm, but if he can tighten up the free passes he has the stuff to blossom into an elite late-inning arm.
Soto has between three and four years of service time, so the Phillies will pay him a first year arbitration salary that Matt Swartz estimated to be $3.1MM. The Phillies will then control him via arbitration for the 2024 and '25 seasons.
The Phillies pen now includes Kimbrel, Soto and Strahm, as well as Seranthony Dominguez, Jose Alvarado, Andrew Bellatti and Connor Brogdon. In Alvarado and Soto, they've now got two of the hardest throwing left-handers in the game, with both possessing the ability to reach 100mph.
They'll also pick up Clemens, a utility infielder who got his first taste of the big leagues in 2022.  Clemens slashed just .145/.197/.308 with five home runs over 127 plate appearances for the Tigers in 2022. The 26-year-old did hit a much more robust .274/.327/.535 line at Triple-A.
He logged time at first, second and third base in 2022, as well as some time in left field. Though it was a small sample size, he did earn two Defensive Runs Saved for his work at first and third. While unlikely to be a regular in Philadelphia, Clemens comes with two minor league options remaining so should serve as depth/bench piece.
As for the return, Detroit picks up three players who were all on Philadelphia's 40-man roster. Sands is a 26-year-old catcher who earned his first taste of the big leagues in 2022, appearing in three games for the Phillies. Acquired from the Yankees last winter, Sands made 57 appearances at Triple-A last year, slashing .309/.413/.428 with five home runs. It's a strong slashline, but with J.T. Realmuto ahead of him Sands was never likely to get an extended look in the big leagues. The Tigers have Eric Haase and Jake Rogers as catching options, but Sands will join that mix and could be in line to serve as a backup.
Maton, 25, is a utility player who appeared in 35 games for the Phillies last year, slashing .250/.341/.514 with five home runs over 85 plate appearances. That was a solid follow-up to his rookie year in 2021, when he hit .256/.323/.385 over 131 plate appearances. He came through the Phillies system as a shortstop but bounced around the infield and outfield in the majors. Javier Baez is locked in at shortstop for the Tigers, but they don't currently have an obvious option at third so Maton could see plenty of time there as the Tigers look to see if his strong showing in 2022 can be sustained over a full season.
Vierling, 26, wound up picking up 357 plate appearances for the Phillies last season, putting together a .246/.297/.351 line with six home runs. He logged 434 2/3 innings in center, earning -7 Defensive Runs Saved. Vierling graded out much better in a corner spot, earning 1 DRS over 175 innings in right. He also logged a handful of innings at first, second and third. He should compete for a bench spot in Detroit as a fourth outfielder.
While there's no highly rated prospect going back to Detroit in the deal, all three players are ready to contribute to the major league club in 2023. For the Phillies, these three players would have found opportunities somewhat hard to come by in 2023 unless more injuries (beyond just Bryce Harper's Tommy John surgery) hit, given the established nature of their contending roster. As such, it's a solid move from Dombrowski to flip the trio for a player that immediately makes their bullpen stronger, plus Clemens helps replace some of the bench depth sent to the Tigers.
Jim Salisbury of NBC Sports Philadelphia first reported on Twitter that the Phillies and Tigers were working on a trade. Jon Morosi of MLB Network reported on Twitter that the two sides were close on a deal involving the five players. Morosi was also first to report on Twitter that the two sides had agreed to the deal. 
Photo credit: USA TODAY Sports.