Andrew McCutchen's career has come full circle. The Pirates on Friday formally announced that they've re-signed the franchise icon to a one-year contract for the 2023 season. McCutchen will reportedly earn a $5MM salary on the deal.
"We are thrilled to be able to reunite with Andrew," Pirates owner Bob Nutting said in a statement within today's press release. "His return just feels right. It is right for our team, for Andrew and his family, for our fans and for the game of baseball. Andrew is a special player and person. It is going to be exciting to again see him take the field wearing 22 in the black and gold."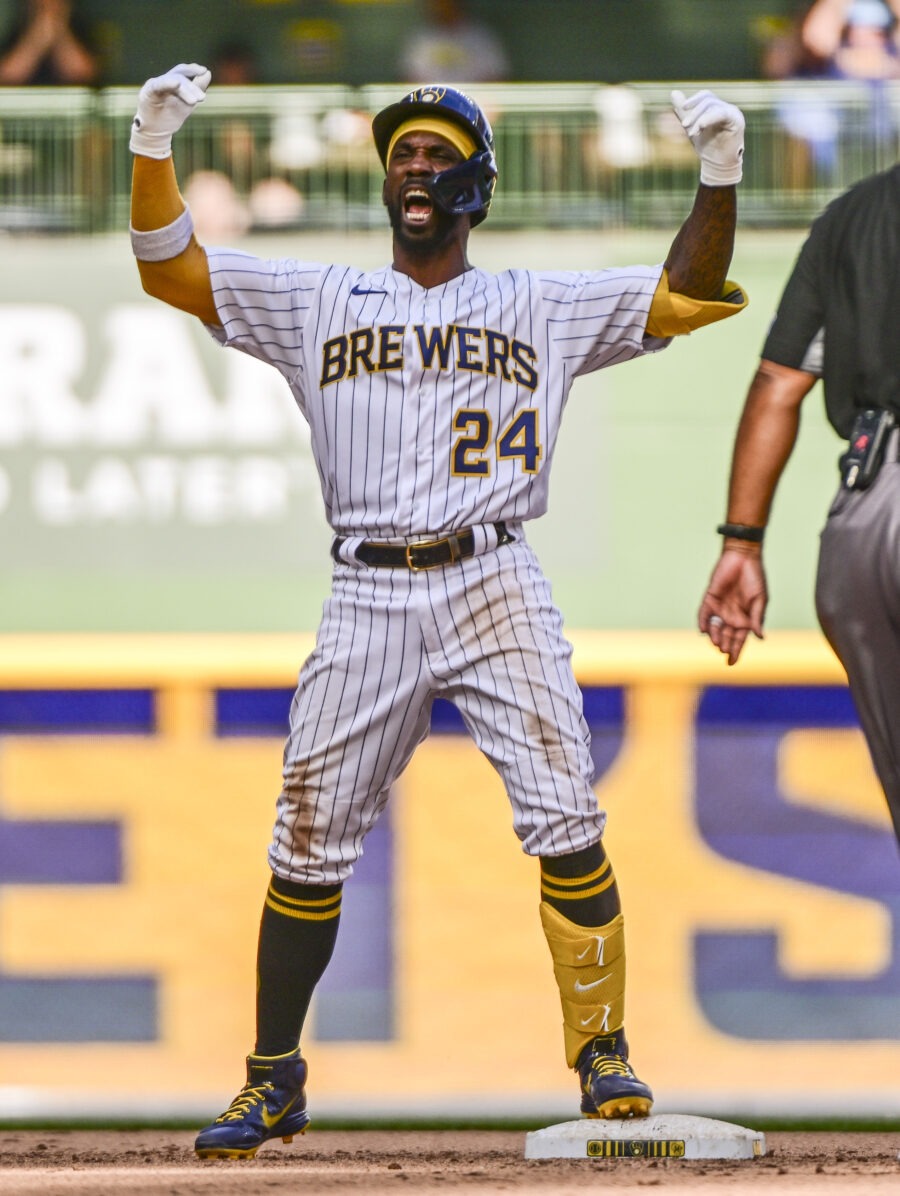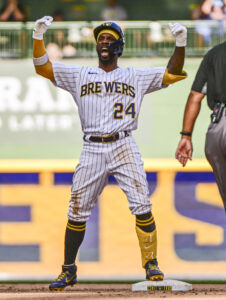 It's a feel-good story for Bucs fans, who'll surely give the five-time All-Star and 2013 National League MVP a hero's welcome in his return to PNC Park. The Pirates selected McCutchen, now 36 years old, with the No. 11 overall pick in the 2005 draft. He immediately ranked among the sport's top overall prospects after a strong post-draft showing in the minors in '05, and by 2009 he'd reached the Majors and played his way into a fourth-place Rookie of the Year finish in the National League, hitting .286/.365/.471.
That served as a stepping stone into stardom for McCutchen, who'd spend the first nine seasons of his career in black and gold, hitting a combined .291/.379/.487 with 203 home runs, 292 doubles, 44 triples and 171 stolen bases. A true cornerstone player, McCutchen led the Pirates to their three most recent postseason appearances, in 2013, 2014 and 2015 — each a Wild Card berth. Pittsburgh only advanced in one of those three seasons, topping the Reds in a one-game Wild Card showdown in 2013 before falling to the Cardinals in that year's NLDS.
McCutchen signed an early extension with Pittsburgh — a six-year, $51.5MM contract with a club option for a seventh season. That gave the Bucs some extra club control and cost certainty over a player who was then the face of the franchise, but as is so often the case with the Pirates and other low-payroll clubs, McCutchen surfaced as a trade candidate in the late stages of that contract. Nearly six years after that extension was signed, McCutchen was traded to the Giants in what was an unpopular move at the time but now looks like perhaps the best swap in former GM Neal Huntington's tenure. In order to acquire the final year of McCutchen's contract, the Giants parted with right-hander Kyle Crick and the man who eventually replaced McCutchen in the outfield: current center fielder Bryan Reynolds.
Since leaving the Pirates and entering his mid-30s, McCutchen's production has begun to wane. He proved plenty productive in a 2018 season split between the Giants and Yankees — enough to land a three-year, $50MM contract with the Phillies. The first season of that deal saw continued production early on, but McCutchen suffered a torn ACL that June, missed the remainder of the season, and has since settled in closer to league-average in terms of offensive output. Over the past three seasons, he's a .234/.325/.417 hitter — about three percent better than league average, by measure of wRC+.
McCutchen spent the 2022 campaign with Milwaukee and scuffled to a career-low .237/.316/.384 batting line in 580 trips to the plate. Even as McCutchen's bat began to slow down in his post-Pirates days, he remained a potent threat against left-handed pitching, hitting southpaws at a .291/.407/.567 slash from 2019-21. However, that trend also dipped with the Brewers in 2022, as McCutchen turned in a tepid .221/.303/.434 line even when holding the platoon advantage. The Pirates will hope that was more of a BABIP-driven anomaly (.248) than the beginning of a true decline.
McCutchen served as the Brewers' primary option at designated hitter last season (82 games) but also logged 50 games in the outfield. He hasn't topped 93 innings of center field work since 2017, his last year with the Pirates, though, and at 36 years old it doesn't seem likely that he'll return to logging meaningful time at his former position.
There will naturally be some speculation about the signing of McCutchen and whether it serves as a portent for a subsequent trade of Reynolds, who requested one earlier this offseason due to a sizable gap in extension negotiations with the team. However, logic dictates that there's no real connection here; McCutchen can't play center field regularly at this point in his career, and even if Reynolds were traded, the Bucs would surely reallocate much of that playing time to younger outfield options they hope can be part of the team's core moving forward.
Rather, McCutchen will likely get occasional looks at designated hitter, though with Pittsburgh already acquiring first basemen Ji-Man Choi and Carlos Santana this offseason, one of those two figures to be the main option at DH. McCutchen gives the Pirates' outfield mix a complementary right-handed bat to pair with lefty-swinging corner options like Jack Suwinski, Cal Mitchell and Canaan Smith-Njigba, but his impact on the decision of whether to trade or retain Reynolds ranges between minimal to nonexistent.
Beyond the contributions he'll make on the field and the mentorship he'll provide to several up-and-coming young Pirates, McCutchen will give fans plenty to cheer for in 2023 as he chases down multiple career milestones. He's just 52 hits shy of reaching 2000 in his career, and he's only 13 home runs shy of 300. McCutchen slugged 17 home runs last year and hasn't hit fewer than 13 in a full season's worth of games in his career to this point, so he's a good bet to reach both round numbers this year.
The Pirates don't project as contenders this season, and McCutchen isn't likely to push them over that edge, but the team has spent more this winter than in recent years. Pittsburgh has acquired Choi (projected $4.35MM salary) and signed free agents Santana ($6.725MM), Rich Hill ($8MM), Austin Hedges ($5MM), Vince Velasquez ($3.15MM) and Jarlin Garcia ($2.5MM). It's still a modest slate of expenditures by MLB standards, but McCutchen will take them north of $30MM in added payroll this winter. Contrast that with last offseason's $16.225MM in spending and the $2.5MM total they spent in free agency during the 2020-21 offseason, and the Bucs are at least on an upward trajectory as they look to buttress their young roster with some steady veterans who can raise the team's floor.
Even with those additions, Pittsburgh's payroll won't reach $80MM, so they only deserve so much praise for taking more earnest strides to put a winning product on the field. That said, that low number still creates the possibility for further veteran additions, be it via the free-agent or trade markets.
Regardless, the Pirates should be an improved team in 2023 — due both to contributions from those new acquisitions and to larger, more productive roles from prospects acquired over the course of the rebuild. There's surely hope that hopeful cornerstone infielders Ke'Bryan Hayes and Oneil Cruz will take steps forward, and the Pirates could plausibly welcome names like Endy Rodriguez, Liover Peguero, Quinn Priester and others to the big leagues for lengthy auditions. The allure of young talent alone gave Pittsburgh fans something to look forward to in 2023, but the return of a beloved franchise figure and one of the best players in recent Pirates adds an extra layer of sentimentality and, hopefully, another productive bat.
Jason Mackey of the Pittsburgh Post-Gazette first reported the agreement and the terms of the contract.