The Phillies and right-handed reliever Seranthony Dominguez are in agreement on a two-year contract to avoid arbitration, according to a team announcement. The deal includes a club option for the 2025 season, which extends Philadelphia's window of club control on Dominguez by one year. The deal guarantees him $7.25MM, MLBTR has learned. He'll be paid $2.5MM in 2023, $4.25MM in 2024 and has a $500K buyout on an $8MM club option for the 2025 season. Dominguez is represented by Epitome Sports Management.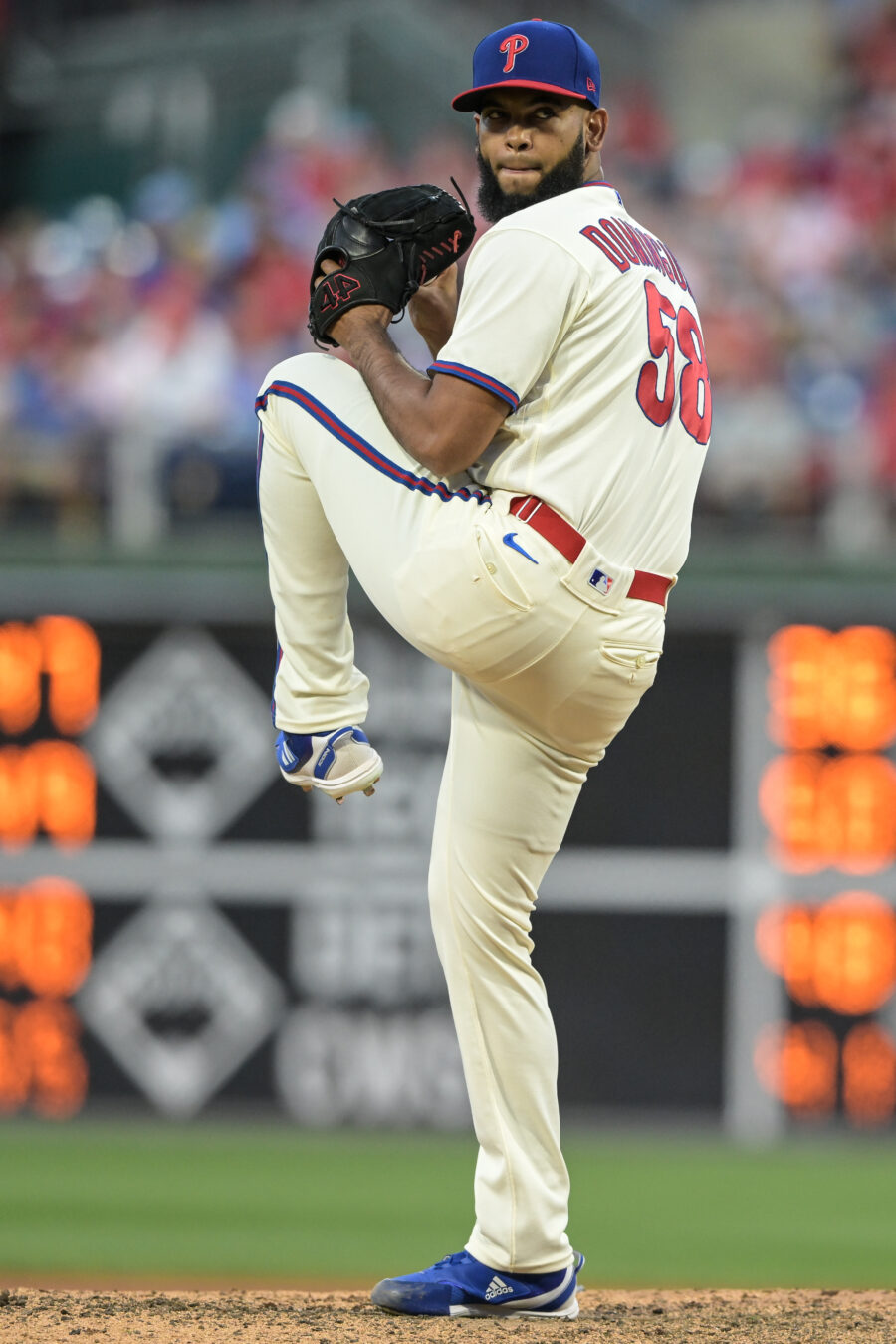 The 28-year-old Dominguez and the Phillies had faced a relatively wide gap in the arbitration figures they exchanged, with the team submitting a $2.1MM figure to Dominguez's $2.9MM submission. He'll now have his salaries for the next two seasons locked in, gaining some financial security in exchange for control over what would've been his first arbitration season.
It's an understandable trade to make in Dominguez's case, given the electric right-hander's lengthy injury history. Dominguez's sheer talent has never been in doubt. He debuted as a 23-year-old back in 2018 and immediately thrust himself into the mix for leverage innings with the Phillies, pitching to a 2.95 ERA with a huge 32% strikeout rate against a 9.5% walk rate in 58 innings. Brandishing a four-seamer that averaged a whopping 97.8 mph (and a sinker that sat 98.3 mph), Dominguez dominated opposing lineups, yielding a woefully anemic .157/.251/.250 batting line during his rookie campaign.
However, an elbow strain in June of 2019 shelved Dominguez, eventually leading to the discovery of damage in his right elbow's ulnar collateral ligament. After a visit to Dr. James Andrews, Dominguez followed the recommended treatment of a platelet-rich plasma injection and rehab. After all, given that his UCL injury occurred in the summer, he'd likely have missed the entire 2020 campaign (or close to it) whether he underwent surgery immediately or whether he first attempted to rehab.
The treatment appeared to work at first. Dominguez reported to camp in 2020 and was expected to be ready early in the season, if not by Opening Day. He suffered a setback early in camp, though, at which point a Tommy John procedure was recommended. Unfortunately, the Covid-19 pandemic delayed the timing of the procedure, pushing the surgery back into late July. He returned to throw just one inning late in the 2021 season.
By the time Dominguez took the mound in 2022, he was more than 18 months removed from surgery and nearly three calendar years removed his original elbow injury. The operation and the time off appeared to do wonders, as the flamethrowing righty looked like his 2018 self, pitching 51 innings of 3.00 ERA ball with a 29.5% strikeout rate and 10.6% walk rate while averaging 97.8 mph on his four-seamer and 98.4 mph on his sinker. Dominguez's 14% swinging-strike rate wasn't quite back to its 2018 levels (an outstanding 15.5%), but he induced chases on pitches off the plate more frequently (32.3% in 2022, 29.6% in 2018) and was nearly every bit as stingy when it came to surrendering home runs (0.71 HR/9).
Now a locked-in member of the Philadelphia relief corps for at least the next two seasons, Dominguez will have the peace of mind both of having pitched a full season since undergoing surgery and also having secured the first life-changing guarantee of his career. He'll be in the mix for saves alongside lefty Jose Alvarado, free-agent signee Craig Kimbrel and trade acquisition Gregory Soto — a quartet that will give Philadelphia one of the hardest-throwing bullpens — if not the hardest-throwing bullpen — in the sport. And, with Alvardo entering his final season of club control and Kimbrel playing the 2023 season on a one-year deal, it's possible that Dominguez could emerge as the go-to option in the ninth inning by the time 2024 rolls around.
Even if the Phillies pick up their club option on Dominguez, he'll still reach free agency in advance of his age-31 season. That'd still put him on the market early enough to land a sizable multi-year deal in free agency, and he'd have that opportunity after already banking $14.75MM over the course of this current contract.
Dominguez's two-year contract will carry a slightly larger luxury-tax hit than he'd have cost the club by just inking a one-year deal. The Phils are already into the second tier of luxury penalization, meaning they're being taxed at a 45% clip for any dollars spent between the $253MM and $273MM endpoints on the luxury scale. The $3.625MM average annual value on Dominguez's deal comes with a $1.63MM luxury hit, rather than the $1.125MM hit he'd have cost them had he inked a one-year deal at the $2.5MM midpoint between their exchanged figures. Nevertheless, the Phillies are nowhere close to the $273MM barrier for the third tier of penalization, which is the most onerous of the luxury tiers, as that's the point at which a team sees its top pick in the following year's draft dropped by 10 places.