The Reds are adding to their outfield, announcing the acquisition of Will Benson from the Guardians. Cleveland receives outfield prospect Justin Boyd and a player to be named later in the deal. In order to clear a spot on their 40-man roster, Cincinnati designated infielder Alejo López for assignment.
Benson was the 14th overall pick in the 2016 draft out of a Georgia high school. Listed at 6'5″ and 230 pounds, the lefty-hitting outfielder drew praise from prospect evaluators for his massive raw power and exceptionally patient plate approach. That was always paired with questions about his propensity to swing and miss, as his size has led to concerns about the length of his swing path and bat control. That combination of huge physical upside with a number of strikeouts has been on display for the bulk of his minor league career.
He moved slowly up the ranks, not reaching Double-A until the 2021 season. That was in part attributable to the cancelation of the minor league schedule the year before but also reflected the three-plus years he spent at various A-ball levels. He topped 20 home runs in both 2018 and '19 while drawing nearly as many walks as anyone in the affiliated ranks but consistently struck out at a rate approaching or exceeding 30%. That remained the case in his first Double-A action, though he hit 14 homers with an 18.1% walk rate to earn a brief Triple-A look late in the '21 season.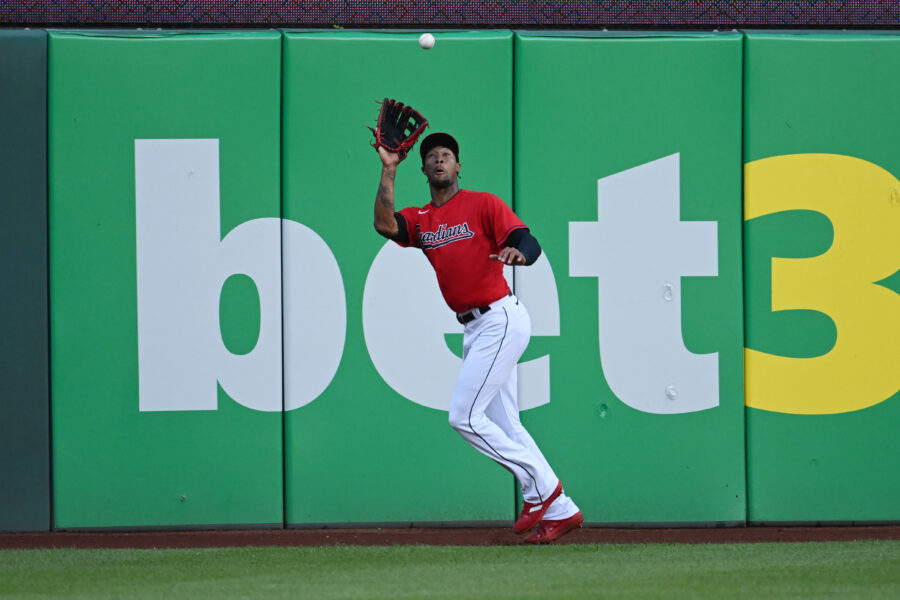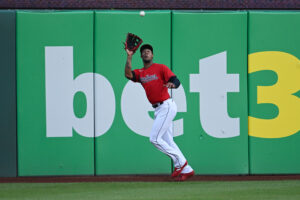 Benson struggled in his first 27 Triple-A games, leading the Guardians to leave him unprotected in that offseason's Rule 5 draft. The draft never transpired because of the lockout and he returned to their top affiliate in Columbus last year. The 24-year-old put together arguably his most impressive minor league showing, hitting .278/.426/.522 with 17 home runs through 401 plate appearances. He walked at his customarily excellent 18.7% rate and stole 16 bases in 20 attempts. Most encouragingly, he cut his strikeout rate to a league average 22.7% clip.
As a result, the Guardians selected him for his major league debut last August. He got into 28 games, hitting .182/.250/.200 with three walks and 19 strikeouts over his first 61 plate appearances. It wasn't a strong start to his MLB career, though Benson's Triple-A production clearly elevated his stock relative to where it had been at the opening of the season.
Benson has experience at all three outfield positions throughout his professional career. He's long been considered best suited for right field given his size and above-average arm strength, though he's a deceptively good athlete who's at least capable of covering center field in a pinch.
The Reds will roll the dice on his upside, betting on him to sustain some of the contact gains he made while continuing to demonstrate excellent plate discipline and tapping into his power. He still has all three minor league option years remaining, meaning the Reds can freely move him between Cincinnati and Triple-A Louisville for the foreseeable future. Benson has just 66 days of major league service time under his belt. He won't reach arbitration until after the 2025 season at the earliest and is under club control through at least the '28 campaign. Future optional assignments to the minor leagues can push that timeline back further.
Cincinnati doesn't have much certainty in their short-term outfield mix. Jake Fraley had a solid 2022 campaign and seems the favorite for left field work. Nick Senzel is penciled in as the starting center fielder, though he might be delayed in Spring Training as he recovers from offseason toe surgery. Senzel has struggled enough over the past few seasons his hold on the center field job probably isn't very strong. There'd seem to be an open battle for reps in right field, with TJ Friedl, Stuart Fairchild, Michael Siani, Nick Solak and perhaps offseason signees Wil Myers and Chad Pinder — both of whom can play other positions — in the mix. Benson steps into that group and could vie for at-bats in Spring Training.
The Guardians have a number of controllable outfield options who looked to be ahead of Benson on the depth chart. The presumptive regular outfield consists of Steven Kwan in left, Myles Straw in center and Oscar Gonzalez in right. While there are some questions about Straw's offense and Gonzalez's extremely aggressive plate approach, Cleveland also has Will Brennan on hand as a potential replacement. Top prospect George Valera isn't far off big league readiness himself.
Considering that depth, the Guardians have now twice subtracted a promising young player from further down the depth chart for a prospect. Cleveland dealt Nolan Jones to the Rockies in November. The Benson trade is a similar move, this time also clearing a 40-man spot while bringing back a player who's further from major league readiness.
Boyd, 22 next month, was selected with the 73rd overall pick coming out of Oregon State last summer. A right-handed hitting outfielder, he raked at a .373/.490/.577 clip during his final season in Corvallis. Boyd struggled over 21 Low-A games to close out the year but was an excellent college performer.
Baseball America placed him 133rd on their board before the draft, praising his athleticism and collegiate performance but raising questions about his power upside. He'll likely start next season in either Low-A or High-A for Cleveland and won't need to be added to the 40-man roster to keep him out of the Rule 5 draft until after the 2025 campaign.
To accommodate the one-for-one swap, the Reds also had to clear a 40-man roster spot. That comes at the expense of López, who has been an up-and-down infielder since June 2021. The 26-year-old has played in 75 big league contests, hitting .262/.307/.321 across 179 trips to the plate. He's shown plus contact skills, only striking out 14.5% of the time. That hasn't come with many walks or extra-base impact, though, as evidenced by his modest OBP and lone home run. It was a similar story in Louisville, where he hit .256/.330/.363 with three homers and an 11.5% strikeout percentage through 46 games last year.
López has primarily played second and third base but gotten brief looks in the outfield as well. He'll be traded or placed on waivers in the next week. López has never been outrighted and doesn't have the requisite service time to elect free agency if he clears waivers, so the Reds could keep him at Louisville as infield depth if he goes unclaimed.
Image courtesy of USA Today Sports.