It's generally rare for a significant trade to happen in the first few months of a season. Teams have just finished a winter of assembling their rosters for the campaign and don't give up and start selling so early. Some teams dealing with injuries might want upgrades, but it's not the time of year to send out a top prospect just to patch a temporary hole in the lineup or rotation. Front offices these days seem to like to push whatever time limits they have, saving their moves until the last moments before the trade deadline, non-tender deadline or what have you.
But there are exceptions, including one prominent one that occurred just shy of two years ago. In May of 2021, the Rays sent shortstop Willy Adames and right-hander Trevor Richards to the Brewers in exchange for righties J.P. Feyereisen and Drew Rasmussen. The trade was rare not only because of the timing, but the significance. Three of the players involved were relief pitchers, but Adames was established as a solid everyday shortstop who still had three-plus years of control. Trades of such players are rare at any time and especially so at at that part of the season.
What's also of note is that both teams were in contention. The Rays had made the postseason in the two previous years, going to the World Series in 2020. They were 27-19 when this deal was struck, just a game behind the Red Sox in the AL East. The Brewers had made the playoffs three straight years and were struggling a bit in early 2021, but their 21-23 record still had them in the mix, four games behind the Cardinals in the NL Central.
There were a few stars that aligned to make this happen. On the Rays' end, they had a middle infield surplus that was inevitably going to lead to some kind of move. Wander Franco was the top prospect in the game and on a path to take that shortstop job from Adames. Franco was at High-A in 2019 but jumped to Triple-A in 2021 after the pandemic wiped out the minor leagues in between. At the time of the deal, Franco was hitting .283/.333/.533 for a wRC+ of 126. The Rays had other prospects of note, Taylor Walls and Vidal Bruján, in line for middle infield jobs. Walls actually got called up in the immediate aftermath of the Adames deal, but Franco was up a month later.
On the Brewers' end, they were in a bit of a bind at shortstop. They had Orlando Arcia at the position for many years but decided it was time to move on. His defensive marks were okay but he had a career batting line of .244/.295/.366 at the end of 2020 for a wRC+ of 71. They opened the season by moving infielder Luis Urías to short, but that went sideways pretty quickly. He had already made nine errors in the first few weeks of the season and wasn't hitting much either.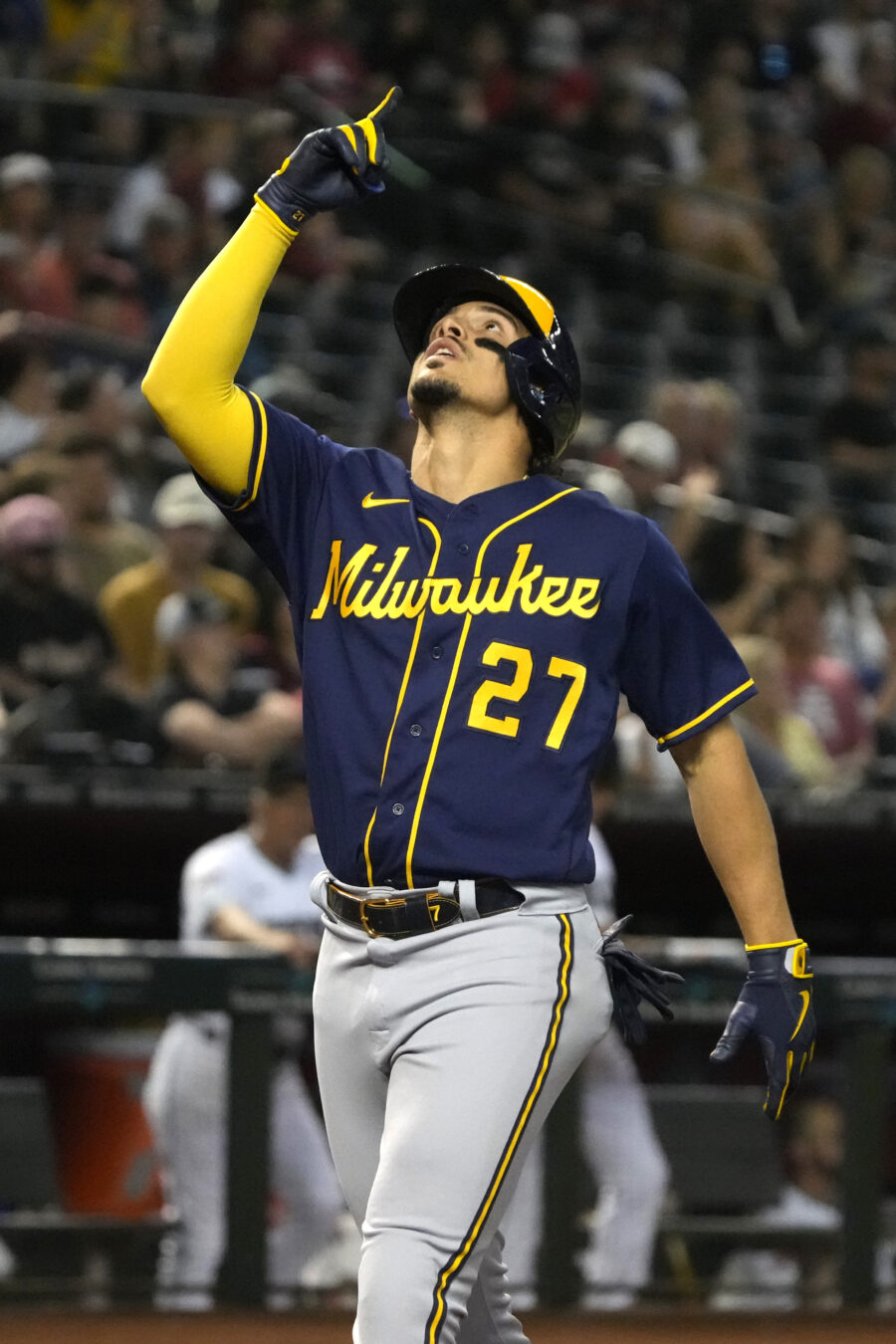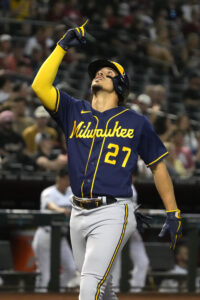 Those factors all contributed to bring this rare trade to fruition, which was since gone well for both clubs. Adames fortified the shortstop position immediately and has been a fixture there since. He was out to a slow start at the time of the trade, hitting .197/.254/.371 as a Ray, but he hit 20 home runs for the Brewers in the remainder of the 2021 campaign and produced a batting line of .285/.366/.521 in that time for a wRC+ of 136.
The Brewers ended up winning the division by finishing with a record of 95-67, five games up on the Cards. They just missed the playoffs last year, but that was no fault of Adames. He hit 31 home runs and slashed .238/.298/.458 for a wRC+ of 109. His speed and defense helped him tally 4.6 wins above replacement, per FanGraphs, tying Corbin Burnes for the team lead. He's still with the club this year and can be retained via arbitration for 2024.
As for Richards, he was only with the club for about six weeks, getting flipped to the Blue Jays in July alongside Bowden Francis, with first baseman Rowdy Tellez coming the other way. Tellez has also been a key contributor for the Brewers, tallying 35 home runs last year and hitting .219/.306/.461 for a wRC+ of 110. Though that was very similar production to Adames at the plate, he doesn't provide nearly as much in terms of speed or defense, leading to lesser tally of 0.8 fWAR on the year.
From the Rays' point of view, they got more than just a few relievers, as they almost immediately started stretching Rasmussen out into a larger workload. Three of his first five outings as a Ray were of the single-inning variety, but he ramped up as the campaign went along. He eventually made 10 starts on the year, including eight to finish the season. And these weren't just as an opener in the Tampa style. Those eight starts to end the year were all at least four innings long, with Rasmussen completing five innings in five of them.
This was a surprising development as it seemed like Rasmussen's starting days were over, mainly due to health concerns. He had required Tommy John surgery in college in 2016, but was still drafted by the Rays in the first round, 31st overall, in 2017. They didn't end up signing him due to concerns over that elbow, so he returned to Oregon State but needed a second TJS in August of 2017.
Despite those two surgeries, the Brewers grabbed him in the sixth round of the 2018 draft. He returned to the mound in the minors the following year, pitching mostly as a starter but logging just 74 1/3 innings. In 2020, with the minor leagues wiped out by the pandemic, Rasmussen was pitching out of the bullpen with the big league club. He tossed 15 1/3 innings over 12 appearances, posting a lackluster 5.87 ERA. He continued in that relief role early in 2021, logging 17 innings over 15 appearances with the Brewers with a 4.24 ERA.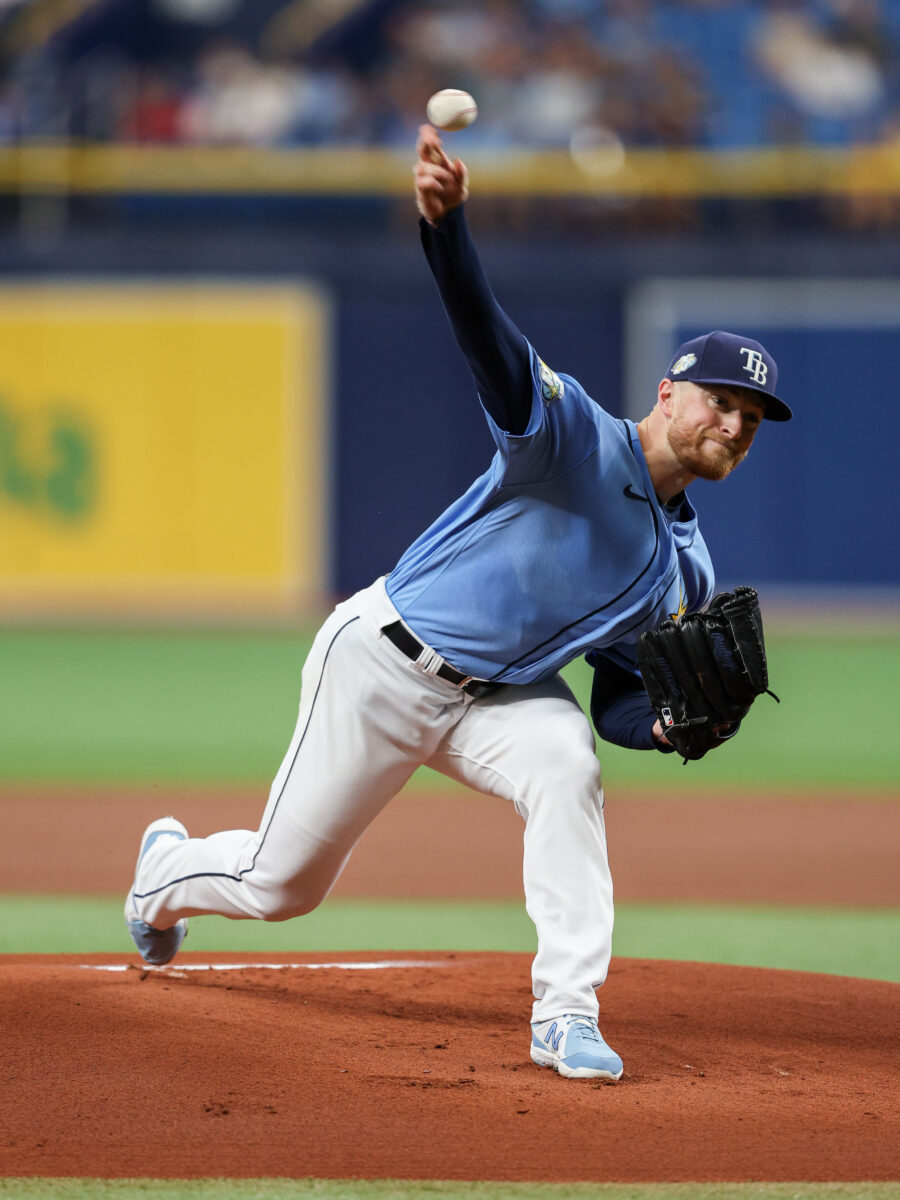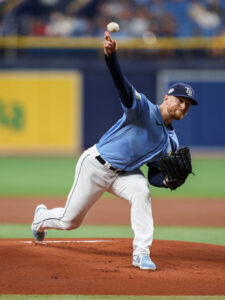 It seems the Rays hadn't given up on the pitcher they liked so much that they used a first-round pick on just a few years prior. They nabbed him in the Adames deal and, as mentioned, stretched him out as the season wore on. With pitchers like Tyler Glasnow and Chris Archer on the injured list and alternatives like Michael Wacha, Josh Fleming and Ryan Yarbrough posting middling results, the rotation was in need of some help. Rasmussen eventually tossed 59 innings for Tampa that year over 10 starts and 10 relief appearances. He posted a 2.44 ERA, striking out 20.9% of batters faced, walking 5.7% and getting grounders at a 51.5% clip. The Rays finished 100-62 that year, eight games ahead of the Red Sox and Yankees for the division crown, though Boston would eliminate Tampa in the ALDS.
It would have been fair to wonder at that time if Rasmussen's success with the Rays was sustainable. It was still a small sample and his total workload in the three years since his second Tommy John procedure was light, 177 innings between the majors and minors over the 2019-2021 period. But last year, he pushed those doubts aside, tossing 146 innings over 28 starts. His 2.84 ERA came with a 21.4% strikeout rate, 5.3% walk rate and 46.6% ground ball rate. He's looked sharp through three starts here this year as well, currently sporting a 2.60 ERA with his strikeout rate up to 29.2% in the early going. He won't reach arbitration until after this season and can be controlled for three more seasons beyond that.
Feyereisen was no slouch himself. He posted a 2.45 ERA for the Rays after the deal and then tossed 24 1/3 innings last year without allowing a single earned run. Unfortunately, he landed on the injured list in early June and wasn't able to return, eventually undergoing shoulder surgery in December. The recovery from that procedure required a four-month shutdown period, which meant the club would be without him for the start of the 2023 campaign. He was still under club control through 2026, but the Rays were dealing with a roster crunch and designated Feyereisen for assignment shortly after that surgery, with a deal seemingly already in the works at that time. He was dealt to the Dodgers the next day in exchange for minor league lefty Jeff Belge, who posted a 3.66 ERA in High-A for the Dodgers last year. He's started his Rays tenure with three scoreless outings in Double-A this year.
In the end, the Brewers shipped out some talented pitchers who weren't the most essential arms on their roster. Even without Rasmussen and Feyereisen, they've still had excellent pitching from Burnes, Brandon Woodruff, Freddy Peralta, Devin Williams and others. In exchange, they received an excellent everyday shortstop and, indirectly, a potent bat in Tellez. The Rays parted with that excellent shortstop, but replaced him easily from within and were able to bolster their rotation and overall pitching depth.
Images courtesy of USA Today Sports.