The Marlins held onto a 4-1 win over the Mariners in dramatic fashion yesterday, pushing them to 38-31. They're in possession of the National League's second Wild Card spot. They're 4 1/2 back of the Braves in the NL East but multiple games clear of the Phillies and Mets for second place in the division.
It's a start that'll surprise some onlookers. The Marlins are no longer rebuilding and fully intended to be competitive, but they were generally perceived as the fourth-best team in a strong division. While unimpressive starts from Philadelphia and New York have certainly helped, Miami is seven games above .500 and trending towards deadline season as a buyer.
The Marlins are already looking into ways to upgrade behind the plate. That's understandable; neither Nick Fortes nor Jacob Stallings has done enough to deter the front office from exploring upgrades. There haven't yet been any reports about Miami gauging the infield market, though that also figures to be a priority for GM Kim Ng and her front office.
Miami aggressively reshaped their infield over the offseason. The Fish went into the winter looking to add high-contact hitters to the lineup. They actualized that in the infield, swapping Pablo López (and a couple prospects) to the Twins for Luis Arraez while adding Jean Segura and Yuli Gurriel via free agency.
Arraez's acquisition and return to second base pushed Jazz Chisholm to center field. Segura was signed to play third base. Brian Anderson had already been non-tendered, so Segura displaced utility types Joey Wendle and Jon Berti at the hot corner. At the end of the winter, Miami traded clubhouse leader Miguel Rojas to the Dodgers for upper minors infielder Jacob Amaya and named Wendle their new starting shortstop. First baseman Garrett Cooper was the only Miami infielder to start at the same position on Opening Day for the second straight season.
Any time a team makes that many moves, there are going to be mixed results. The contrast in the Marlins' infield is particularly stark, though. Arraez has been everything the Fish could've hoped for. He's well on his way to another batting title, with a .378/.431/.461 line that more than compensates for concerns about his defensive chops at second base. The rest of the group has not performed up to expectations. There's no greater question mark than Segura, who has been the worst everyday player in the majors.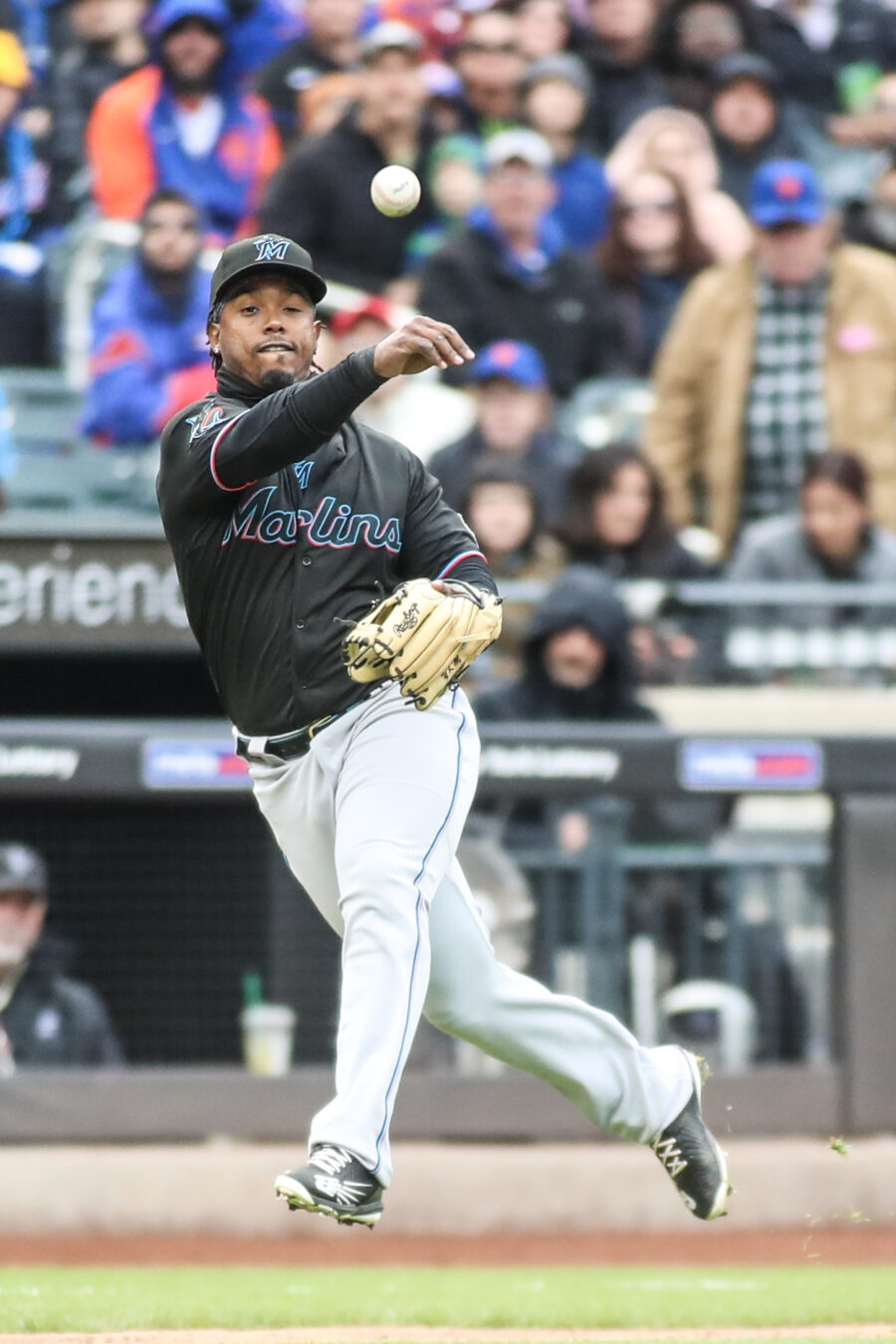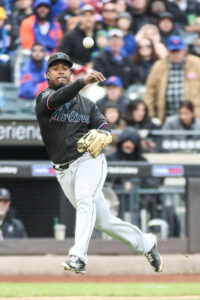 The veteran infielder owns a .190/.259/.234 slash over his first 225 plate appearances in South Florida. While Segura has never been a prototypical power threat, he's reached double digit homers in each of the last six full seasons. This year, he's connected on just one longball. Among hitters with 200+ plate appearances, Segura has easily the lowest slugging percentage. (Alex Call is second from the bottom at .295.) He's also last in on-base percentage and tops only Nick Maton and Kyle Schwarber in batting average.
That's disastrous offense, and Miami's gamble in moving Segura to a position with which he's not familiar hasn't panned out on that side of the ball either. Defensive Runs Saved has pegged him as five runs worse than the average third baseman through just over 500 innings. Statcast isn't quite so harsh but has him two runs below par.
Combining league-worst hitting and below-average defense has Segura well below replacement level thus far. He'll almost certainly improve his production. It's hard to get any worse than his current line, and Segura's pre-2023 track record was that of a solid regular. A .224 average on balls in play calls for some positive regression, so he should at least start hitting for a better average.
The complete lack of extra-base impact is a serious concern, however. Solid as the season has gone overall, Miami still isn't an imposing offensive club.
Playing half their games in cavernous loanDepot Park admittedly isn't doing the lineup any favors. Miami's offseason focus was about improving the run production, though, trying to add more balance to a club that skewed so heavily to pitching and defense last year. Many of their moves actively weakened the run prevention to increase scoring. They relinquished López to bring in Arraez, moving Segura and Chisholm off their standard second base positions in the process. They parted with Rojas — a light-hitting, plus defensive shortstop — to shoehorn Wendle into the lineup at a position he'd never played regularly.
The offense is better, but not dramatically so. They're tied for 25h in runs scored, 22nd in home runs, 18th in on-base percentage (.318) and 19th in slugging (.397). The Fish respectively finished in 28th, 24th, 27th and 28th in those categories last season. Arraez has driven the on-base jump, while the power spike is attributable to scorching starts from holdover outfielders Jorge Soler and Jesús Sánchez. Even with Arraez flirting with a .400 clip for a while, Miami's infield has a bland .269/.326/.361 slash. As measured by wRC+, they're 23rd in offensive production from their infielders.
Miami has weathered that so far. That's in large part to a 17-5 record in one-run contests, allowing them to overcome a -30 run differential that's above only those of the Rockies and Nationals in the Senior Circuit. The Fish aren't going to apologize for those wins. They're in the books, and they put the club right in the thick of a muddled NL playoff picture. Yet that kind of success in close games isn't something Miami can bank on continuing all year. They'll need the lineup to improve if they're to ward off that regression.
Some of that will happen organically. Chisholm has been out a month with a foot injury. Ng recently told Joel Sherman and Jon Heyman of the New York Post on their podcast that he's likely still several weeks away, but a second-half return should be a boon to the offense. Cooper is a better hitter than this year's .229/.268/.408 line would indicate. Sánchez is playing regularly now after missing a few weeks in May due to injury.
They'll need to support that at the deadline, likely by bringing in a left side infielder. Curtailing Segura's playing time a few months into a two-year, $17MM contract would be a tough pill to swallow, but it might be necessary for a team trying to hang onto a playoff spot.
Players like Jeimer Candelario, Jace Peterson and Patrick Wisdom should be available at the hot corner. There are fewer options at shortstop, though the White Sox could move Tim Anderson and the Cardinals would probably deal Paul DeJong. None of those players can carry a lineup (perhaps unless Anderson bounces back from a tough start), but they'd each provide manager Skip Schumaker some alternatives to continuing to plug Segura in every day.
This deadline season should be an exciting one for Marlins fans. Unless things fall apart within the next six weeks, they're in position to add in hopes of bolstering a playoff push. Two decades removed from their most recent berth in a 162-game season, the front office shouldn't hesitate to be aggressive, even if that means making the tough call to bench their biggest free agent pickup of this past offseason.
Image courtesy of USA Today Sports.