The Diamondbacks have added a key arm to the bullpen. Arizona and Seattle announced a trade sending Paul Sewald to the Snakes for infielder Josh Rojas, rookie outfielder Dominic Canzone and infield prospect Ryan Bliss.
Sewald was one of the top bullpen arms available. The right-hander has broken out as one of the game's best relievers since landing in Seattle two and a half years ago. A minor league signee over the 2020-21 offseason, Sewald cracked the Seattle roster by May '21. He had an excellent run in the Pacific Northwest, pitching to a 2.88 ERA over 171 2/3 innings. He kept his ERA at 3.06 or better in all three seasons.
He has paired that run prevention with very strong swing-and-miss numbers. Sewald punched out just under 35% of opposing hitters with Seattle. That includes a 35.5% strikeout percentage with a 2.93 ERA over 43 innings this year. His fastball only sits in the 92-93 MPH range but has well above-average spin despite a lower arm angle. That movement profile has translated into big whiff tallies. Sewald has gotten swinging strikes on over 14% of his offerings in each of the past three seasons.
Among 176 relievers (minimum 30 innings), Sewald ranks 10th in strikeout rate and 39th in whiffs. His 8.3% walk rate is acceptable and he has dominated hitters from both sides of the plate. Sewald is a fly-ball pitcher who has given up some homers in past seasons, but this year's 1.05 HR/9 rate is almost exactly league average for a reliever. That well-rounded, consistent production quickly pushed him up a strong bullpen hierarchy. He has worked as the M's primary closer this season, collecting 21 saves in 24 attempts.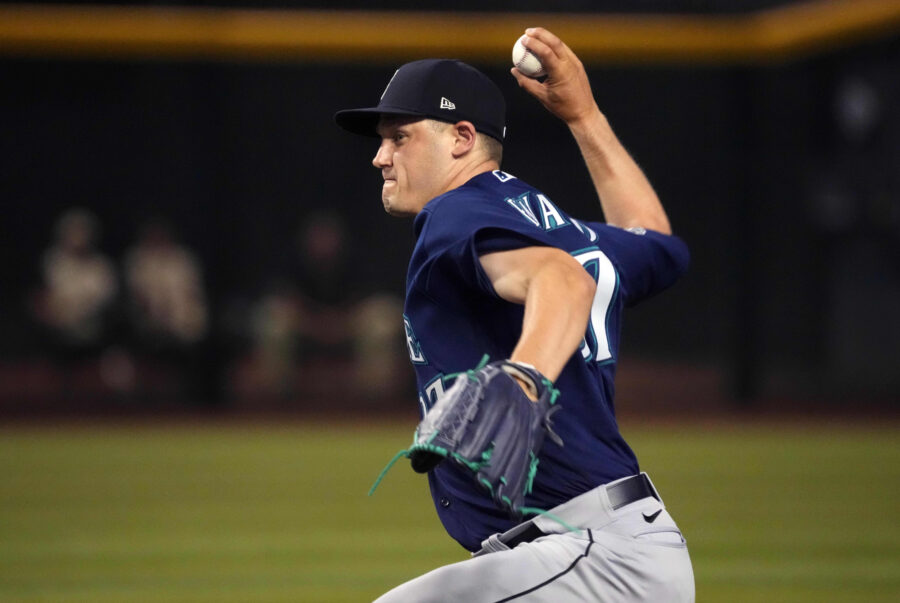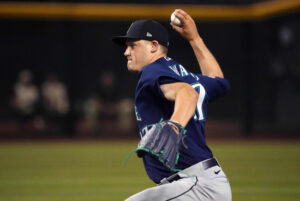 Arizona has searched for that kind of reliability late in games for a while. The Snakes had one of the league's worst bullpens in 2021-22. It hasn't been quite so disastrous this season, thanks in part to free agent additions of Andrew Chafin, Miguel Castro and Scott McGough that have all worked out reasonably well. The D-Backs didn't have anyone of Sewald's caliber to lock things down, though. Kevin Ginkel and Drey Jameson (the latter of whom is out for a while with an elbow injury) are the only Arizona relievers with a sub-3.00 ERA. Left-handers Chafin and Kyle Nelson are the only pitchers with a strikeout rate above 30%.
Bolstering the pitching depth has been a priority for an Arizona club that has dropped eight of its last 10 to hold a 56-50 record. The D-Backs have fallen out of the projected playoff picture after leading the NL West for a good chunk of the season. They're only a game out of the final Wild Card spot, though. Sewald will presumably step into the ninth inning for skipper Torey Lovullo. USA Today's Bob Nightengale tweets that Arizona could look for another bullpen addition and is unsurprisingly still searching for rotation help over the next 24 hours.
Seattle's position in that standings isn't that dissimilar from Arizona's. The Mariners are 54-51 and 4.5 games out in the AL Wild Card picture. They're certainly not buried, though president of baseball operations Jerry Dipoto acknowledged two weeks ago the club hasn't played well enough to be aggressive deadline buyers. They're reportedly open to offers on the likes of Teoscar Hernández and Ty France and have given some consideration to dealing from their stock of talented young starting pitching.
The primary purpose in all those talks is to subtract from an area of surplus to add controllable offensive help. The bullpen certainly qualifies as a strength. Seattle relievers are fourth in ERA and trailing only Houston in strikeout rate. Sewald was a big part of that success, of course, but the likes of Andrés Muñoz and Matt Brash are thriving in high-leverage capacities. Muñoz seems likely to take over the ninth inning with Sewald headed out.
In exchange, Seattle nets the kind of upper level hitting talent they'd been seeking. There's perhaps no clear "headliner" of the deal, but all three players could factor into the mix in relatively short order. Rojas and Canzone have big league experience, while Bliss had recently worked his way to Triple-A.
Rojas, 29, is the most well-known of the trio. Originally acquired in the Zack Greinke 2019 deadline blockbuster with Houston, Rojas developed into a productive bat-first utility option. The left-handed hitter combined for a .266/.345/.401 batting line in over 1000 plate appearances between 2021-22. He'd never rated especially highly as a defender at any stop but had enough flexibility to move throughout the infield and into the outfield corners.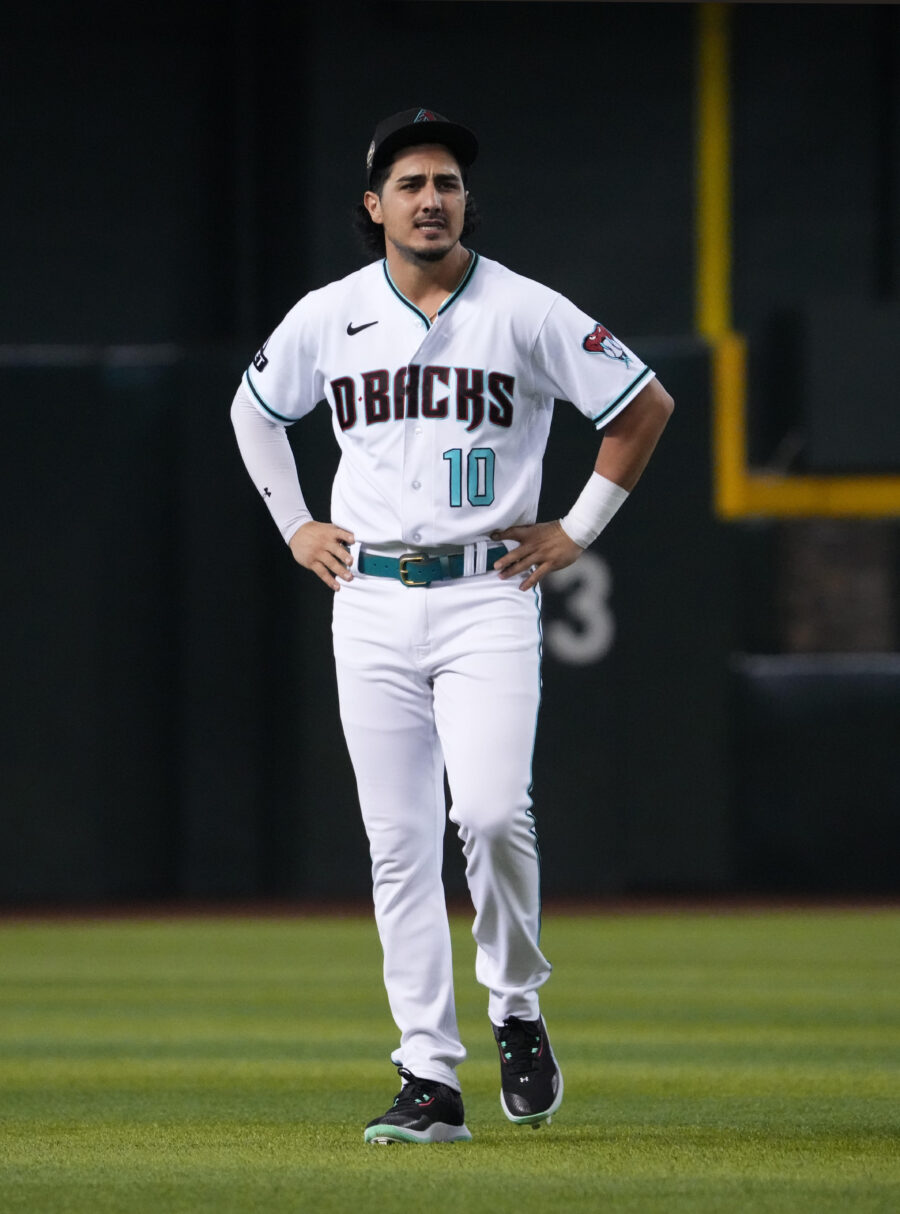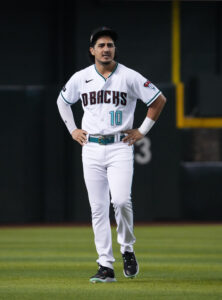 While not a franchise building block, Rojas looked like a quality role player. However, he has had a difficult 2023 campaign that pushed him into more a depth capacity of late. Rojas has hit only .228/.292/.296 over 216 trips to the plate and remains without a home run on the season. A walk rate that had sat north of 10% is down to 8.3%, while his strikeouts are up a few points to 23.6%. The D-Backs optioned him last month; he spent the bulk of his Triple-A time on the minor league injured list before returning to the majors when Evan Longoria went on the IL over the weekend.
Rojas has primarily played third base in Arizona but has a clearer path to playing time at the keystone in Seattle. Kolten Wong's struggles have left the M's with very little out of second base this season. Righty-swinging José Caballero has had a fine debut campaign but is nearly 27 and was never a top prospect. Rojas adds a left-handed complement to Caballero and Dylan Moore and could occasionally see some reps behind Eugenio Suárez at third base.
It's a buy-low flier for Seattle that also helps to balance the trade financially. Sewald is making $4.1MM this season, his second-to-last year of arbitration. Around $1.37MM remains to be paid out. Rojas is playing on a $2.6MM arbitration salary, his first of four arb years as a Super Two player. He's still owed around $867K through season's end. Arizona will take on roughly $500K in salary, thereby preserving a decent amount of financial flexibility for further deadline pickups.
Rojas could be a non-tender candidate after the season, though he'll get a couple months to try to secure his roster spot at T-Mobile Park. He could be joined immediately by Canzone, a left-handed hitting outfielder nearing his 26th birthday. He has struggled over his first 41 big league plate appearances but has had a monster year in Triple-A. Canzone mashed at a .354/.431/.634 clip with 16 homers through 304 trips to the dish in Reno, making him one of the top hitters even in a favorable offensive environment.
Canzone is limited to the outfield corners but clearly an accomplished minor league hitter. He could factor into the short-term left field mix. Jarred Kelenic is out into September after breaking his foot, while AJ Pollock is on his way to San Francisco. Canzone still has all three minor league option years remaining.
Bliss is not yet on the 40-man roster. A 2021 second-round pick of Auburn, he's a right-handed hitting second baseman. Bliss struggled in his first full professional season but had a monster .358/.414/.594 showing in Double-A this year. That earned him a spot in the Futures Game and a recent bump to the top minor league level. Baseball America had ranked him the #16 prospect in a strong Arizona farm system, crediting the 5'9″ infielder with a hit-over-power approach and quality range as a defender.
Arizona gets a year and a half of control over the impact late-game arm they've been seeking for some time. Seattle is clearly open to reshuffling some veteran talent on the roster but is following through on their stated goal of adding upper level hitting. The M's aren't completely throwing in the towel on 2023 while adding more controllable talent.
Nick Piecoro of the Arizona Republic first reported the D-Backs were making progress on a Sewald trade. Jeff Passan of ESPN reported the deal as being finalized, while Piecoro first had the return of Rojas, Canzone and Bliss.
Images courtesy of USA Today Sports.