The Guardians have made a habit of moving productive veteran starting pitchers over the past few seasons. Cleveland's excellent pitching development pipeline has allowed them to consistently backfill the rotation with younger, cheaper starters while adding other MLB talent in trades that sent Corey Kluber, Trevor Bauer and Mike Clevinger elsewhere.
Cleveland graduated another trio of top young pitching talents this year. Tanner Bibee, Gavin Williams and Logan Allen have all gotten to the big leagues and found immediate success. There was some related speculation about the Guardians dealing former Cy Young winner Shane Bieber this summer as a means of adding upper level hitting talent.
That no longer appears viable. Bieber is being shut down from throwing for a couple weeks because of forearm/elbow discomfort. While the club is optimistic he won't require surgery, he'll be on the injured list beyond the August 1 trade deadline. It's hard to envision another team sending Cleveland anything approaching commensurate value for Bieber right now. An offseason deal or move at next year's trade deadline (when he'd be an impending free agent) is the likelier scenario.
If Cleveland still has interest in balancing the roster by cashing in a starting pitcher, Aaron Civale now stands out as their top candidate. The 28-year-old righty has been an effective mid-rotation arm over parts of five big league campaigns, at least on a rate basis.
The former third-round draftee has started 73 games at the MLB level. He's worked 410 2/3 innings of 3.88 ERA ball. Civale 21.3% strikeout rate and 42.5% grounder percentage are a hair below league average, but he's a plus strike thrower who tends to avoid hard contact. While it's not an overpowering profile, a healthy Civale has been a quality #3/4 option in a rotation.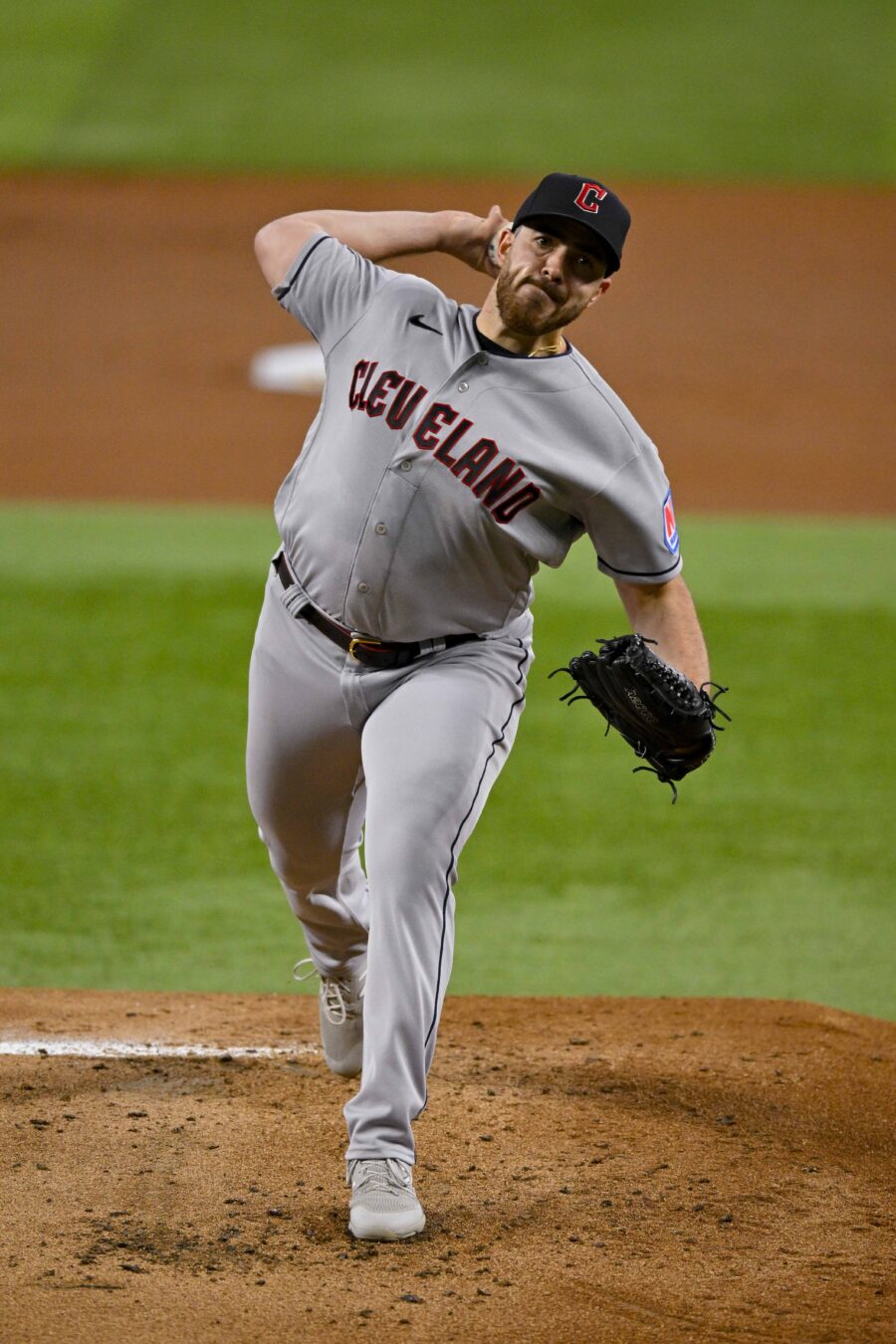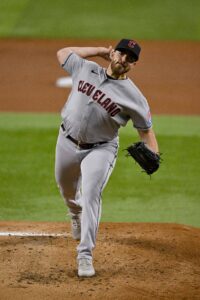 Civale hasn't logged the kind of workload typically associated with an innings eater. Some of that is beyond his control. He wasn't an established MLB starter until late in the 2019 season. He stayed healthy in 2020 but the season was shortened, limiting everyone to 12-13 starts. Civale has lost chunks of the last three years to injury, however, only topping 100 MLB frames once.
In 2021, it was a sprained right middle finger that cost him two months. He lost a few weeks apiece to glute soreness, a right wrist sprain and forearm soreness last season. This year, a left oblique strain took him out of action for around seven weeks between mid-April and the start of June.
While the nagging health issues have kept Civale from amassing a huge workload, they haven't impacted his per-start performances. His 10 starts this year look much the same as his overall body of work. He owns a 2.65 ERA through 57 2/3 frames, just under six innings per start. Opponents are only hitting .245 on balls in play, which is likely to tick back up closer to the .281 career mark he carried into 2023. Once a few more batted balls drop for hits, Civale should project as the upper-3.00s ERA type he has been in his career.
His 19.7% strikeout rate is narrowly a personal low but not dramatically off his previous level. Despite the slight dip in whiffs, Civale is throwing a little harder this year than in seasons past. He's averaging 88 MPH on his cutter and narrowly above 92 MPH on his sinker and four-seam, all of which are slightly above his previous career highs.
Those are relatively minor variations. Civale isn't a burgeoning ace, but he's a good major league pitcher. He throws strikes and mixes four pitches effectively to keep off barrels. He is solid against hitters from both sides of the plate, keeping lefties to a career .227/.278/.400 line and same-handed opponents to a .255/.307/.439 slash. Aside from the aforementioned injury concerns, the Northeastern product looks like a solid middle or back-end starter.
There's value in stability. That's especially true given his affordability. Civale is playing this season on a modest $2.6MM arbitration salary. He'll go through that process twice more before reaching free agency after the 2025 campaign.
That control window means Cleveland doesn't simply have to take the best offer this summer. Even as one of the game's lowest-payroll franchises, the Guardians could retain Civale without issue financially. Yet they're likely to have a fair bit of starting pitching depth going into next season, particularly if they hold onto Bieber.
Triston McKenzie and Cal Quantrill will hopefully be past injury-riddled '23 campaigns. Bibee, Allen and Williams could all be rotation fixtures, perhaps with higher upside than Civale possesses. It is tough to rely on Daniel Espino at this point given his shoulder woes, but the 22-year-old righty entered this season as one of the sport's most exciting pitching prospects.
Cleveland isn't abandoning hope on 2023. They couldn't have drawn up a worse weekend to start the second half, though. The Guardians were swept by the Rangers while Minnesota swept the A's. That wasn't wholly unexpected — the Twins were playing the worst team in MLB while Cleveland matched up against one of the best — but it dropped the Guardians 2 1/2 games back in a division they almost certainly have to win to make the playoffs.
That's hardly insurmountable, though the club has never really gotten rolling this season. That's in large part due to an offense that has scored more runs than only the A's, Royals and Tigers. José Ramírez and Josh Naylor are the only Cleveland players with 100+ plate appearances and above-average offensive production.
Cleveland's outfield has been especially troublesome. Steven Kwan has been fine but not recaptured his stellar rookie form. Myles Straw is providing next to nothing at the plate for a second straight season. Will Brennan has been inconsistent as a rookie.
There aren't a ton of clear sellers this deadline season. That could lead to a few more "baseball" trades, deals between hopeful or fringe contenders to address respective areas of weakness. Civale would be Cleveland's clearest option to market rotation help to another win-now team that could make a surplus outfielder available. Speculatively speaking, the Orioles (Kyle Stowers) and D-Backs (Jake McCarthy/Dominic Fletcher) could offer intriguing upper level outfielders as part of a Civale package.
Whether Cleveland pulls off a deal of this nature remains to be seen. Bieber was the higher-profile and more enticing trade candidate at this time last week. With that no longer plausible, Civale could be the next target for other teams eyeing the Guardians' rotation depth.
Image courtesy of USA Today Sports.