Justin Verlander is back in Houston. The Astros re-acquired the defending Cy Young winner and cash for outfield prospects Drew Gilbert and Ryan Clifford. Houston designated infielder Joe Perez for assignment in a corresponding 40-man move.
The Mets are paying a combined $35MM of Verlander's 2023-24 salary. They'd pay half of his $35MM salary in 2025 if his option vests. In all, they're paying as much as $52.5MM of the nearly $93MM that could still be paid out on his deal, pending that option.
Verlander, 40, was with the Astros from 2017-22 and departed as a free agent this offseason to sign for a record-tying annual value in Queens. His two-year, $86.666MM contract tied his former Tigers teammate Max Scherzer's $43.333MM AAV on a three-year deal with the Mets, but the reunion between the two future Hall of Famers will only prove to last a few months before being spun into a rivalry. The Mets shipped Scherzer to the Rangers on Saturday and will now send Verlander to Texas' top division rival.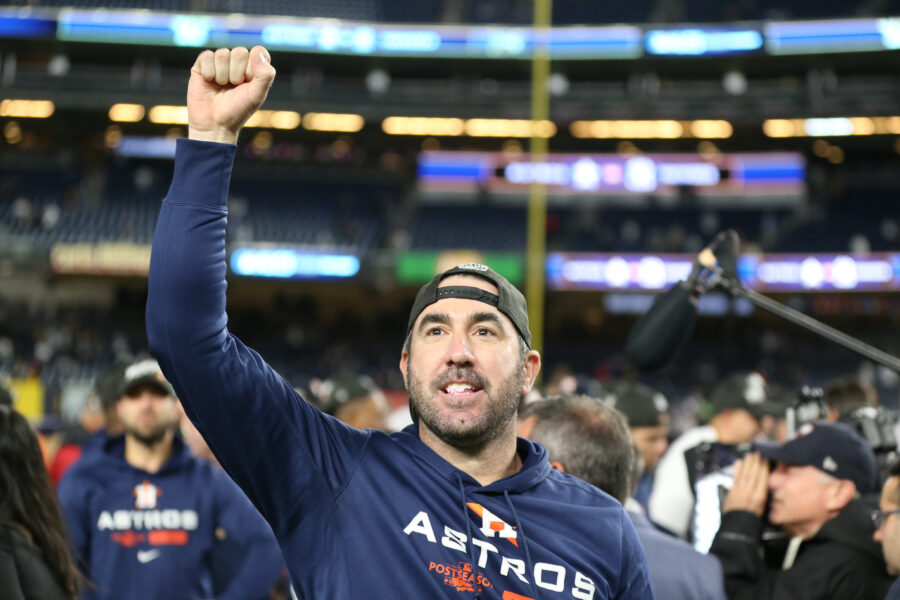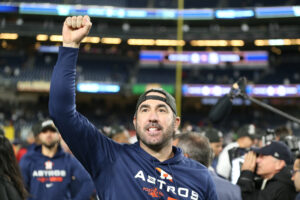 The 2023 season began on a sour note for Verlander, who missed the first five weeks of the year after suffering a strained teres major near the end of spring training. He's in the midst of yet another strong season, though his performance in 2023 isn't to the same level as it was in 2022, when he stunned the baseball world by capturing his third Cy Young Award as a 39-year-old in his first season back from Tommy John surgery. Verlander logged a ridiculous 1.75 ERA with a 27.8% strikeout rate and 4.4% walk rate in 175 innings last season. He's pitched to a 3.15 ERA with a 21% strikeout rate and 8% walk rate in 96 innings this year, and seen slight steps back in his average fastball (from 95.1 mph to 94.6mph), swinging-strike rate (11.6% to 10%) and opponents' chase rate (36.9% to 35%).
That said, even if Verlander's overall season numbers aren't quite as dominant as in 2022, there's little doubt that he's a major upgrade to an Astros staff that has lost right-handers Lance McCullers Jr. and Luis Garcia for the season. Righty Cristian Javier also hit a wall recently and has been struggling, and the 'Stros lost right-hander Jose Urquidy for three months due to shoulder troubles. Verlander's return will add one of the most talented arms of the entire generation back to the front of a staff, where he'll join Cy Young candidate Framber Valdez, standout rookie Hunter Brown, Javier and rookie J.P. France. When Urquidy returns in the near future, it's possible the Astros will go to a six-man rotation to help monitor the workloads of Brown and France.
For the Mets, Verlander becomes the fourth notable veteran they've shipped out in the past week, joining Scherzer, David Robertson and Mark Canha. The Mets have picked up a strong package of prospects in doing so but also waved a white flag on a season in which their $350MM+ payroll was expected to make them legitimate World Series contenders. They've also completely wiped out their rotation, which now consists of Jose Quintana (a trade candidate himself), Carlos Carrasco, Kodai Senga and David Peterson. Tylor Megill and Joey Lucchesi are candidates to step back into the starting staff.
The only near-term pitching prospect the Mets added in that slate of deals was righty Justin Jarvis, who came over from the Brewers and had been ranked near the back of their top 30 prospects on most publications. Given Carrasco's status as a pending free agent and the unproven nature of Peterson, Megill and Lucchesi, they'll head into the offseason with an enormous amount of work to do in rounding out the rotation. It's a deep crop of free agents, headlined by names like Shohei Ohtani, Lucas Giolito, Aaron Nola, Blake Snell, Julio Urias, Sonny Gray, Jordan Montgomery, Marcus Stroman and NPB ace Yoshinobu Yamamoto. If the Mets plan to compete in 2024 — hardly a sure thing in the wake of their deadline activity — they'll need to aggressively pursue rotation additions via either that free-agent market or the trade market.
The acquisition of Gilbert and Clifford could both help if the Mets choose the latter. While it's certainly possible that both newly acquired outfielders fit into the long-term puzzle, that's no sure thing — particularly for a team so willing to splash around in free agency. Brandon Nimmo is already signed for another seven years, so there are only two real long-term vacancies in the outfield anyhow.
Gilbert, 22, is the more advanced of the two prospects and the one who's garnered more national fanfare. The Astros' top pick in the 2022 draft, he's already ascended to the Double-A level in his first full season of pro ball. The University of Tennessee standout laid waste to High-A pitching early in the season, slashing .360/.421/.686 in 95 plate appearances before an aggressive promotion to Double-A. He's been a bit below average in terms of his overall output there, batting .241/.342/.371 in 264 plate appearances. However, Gilbert has also shown an advanced approach, walking in 12.5% of his Double-A plate appearances against a lower-than-average 17.5% strikeout rate.
MLB.com ranks Gilbert as the game's No. 68 overall prospect, and FanGraphs has him at No. 49 on their list. Both reports give Gilbert a chance to be in the big leagues by next season, touting his plus speed, plus arm, great approach at the plate and growing power. He has a chance to stick in center field, perhaps pushing Nimmo to a corner if the veteran's defense slips as he ages into his mid-30s. If not, Gilbert projects as a plus defender in an outfield corner. Both FanGraphs and MLB.com make note of his fiery personality, which could win over hometown fans while grating on opponents.
As for Clifford, he was taken ten rounds later in the same 2022 draft not for lack of talent but for a strong commitment to Vanderbilt University. The Mets convinced him to sign rather than attend college, offering him a huge $1.25MM bonus in the 11th round after most teams had passed assuming he'd head to school.
Jim Callis of MLB.com tweets that Gilbert and Clifford would've been his No. 1 and No. 2 Astros prospects, respectively, on the reranking of their system he's set to publish following the deadline. Clifford hit just .247 but posted a .426 OBP in 101 plate appearances during his pro debut last year, and his rate stats in 2023 are outstanding: .291/.399/.520 in 371 plate appearances between Class-A and High-A. He's slugged 18 home runs and 16 doubles, walking at a hearty 12.4% clip against a 24% strikeout rate.
FanGraphs had already bumped Clifford to the Astros' No. 2 prospect — he's now eighth in the Mets' system on their rankings — crediting him with the potential to grow into 70-grade raw power. He's a corner outfielder/first baseman with below-average speed and above-average arm strength. So long as his bat and overall offensive approach continue on their current trajectories, he could be in an outfield corner with occasional first base and DH time for the Mets at some point in 2025.
The Mets have done a nice job adding to their system, acquiring at least a pair of top-100-caliber prospects (Acuna, Gilbert) and another (Clifford) who could get there before long. They've paid a steep price to do so, however, gutting their 2023 roster and paying down close to $71MM on the Scherzer and Verlander deals alone. They've also saved just over $86MM on the pair of trades, including both salary and luxury tax penalties. In the event Verlander's option vests and he exercises it, those savings would jump to more than $119MM (while the dead money they'd paid down would rise to more than $86MM).
The Mets are so far into the fourth and final tier of luxury penalization, that short of getting a team to take on the entirety of the Verlander and Scherzer contracts, there was no real way of ducking back underneath that line. The Astros, meanwhile, have received enough cash from the Mets that they'll likely come in under the luxury line. Roster Resource had them exceeding the $233MM first-tier threshold by only a margin of $1.7MM even when assuming the full freight of Verlander's remaining money; that clearly won't be the case now. That would've been the first time Houston had crossed into luxury territory, but they'll now have Verlander for a total of $22.777MM for the remainder of this season and next — plus an additional $17.5MM in 2025 if that option vests and he picks it up.
Bob Nightengale of USA Today first reported the Astros were acquiring Verlander for two prospects. Mark Feinsand of MLB.com first reported Gilbert's inclusion, while Nightengale was first on Clifford. Joel Sherman of the New York Post was first with the specific financial breakdown.