Red Sox fans have been waiting roughly a half decade to see whether 2018 first-round pick Triston Casas would eventually become a fixture in the lineup. The hulking 6'4″, 252-pound slugger was selected with the No. 26 overall pick that year and has ranked among baseball's 100 best prospects in each of the past four offseasons according to both Baseball America and MLB.com.
As recently as this April, however, the early returns were looking questionable. Casas got a cup of coffee last season, hitting five homers and walking at a 20% clip in 95 plate appearances — but also hitting the ball on the ground at a whopping 56.8% clip. Not an ideal trait for a slow-footed slugger. Add in a sluggish start to this season, which saw Casas pare back that ground-ball rate but experience a large uptick in strikeout percentage (30.2% through 96 plate appearances), and it was hardly a promising start. Through his first 192 big league plate appearances, Casas batted .162/.319/.344 with an elite 18.8% walk rate and above-average but not elite power. He fanned in 27.2% of those plate appearances.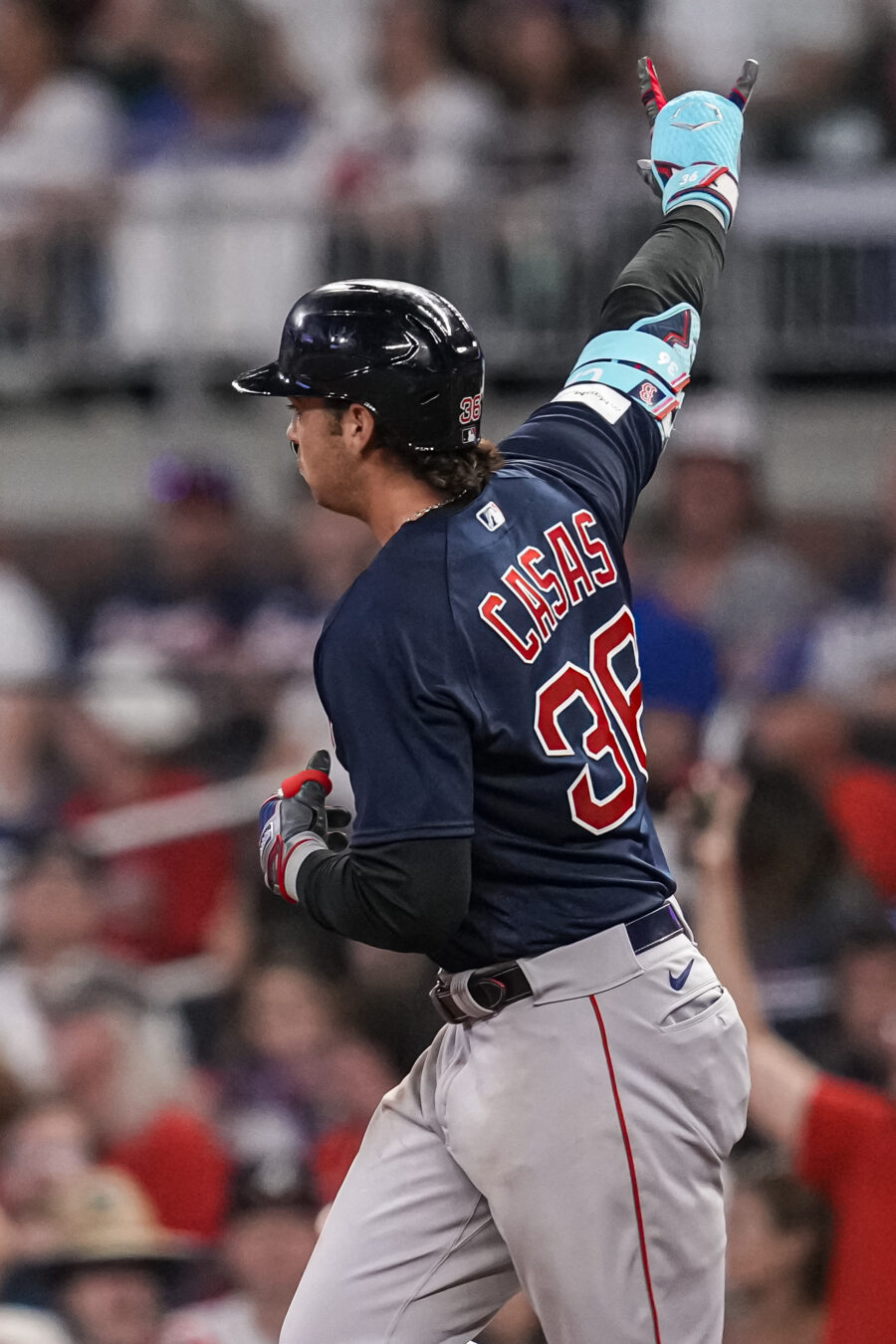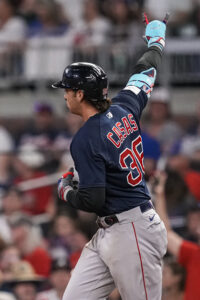 In the three and a half months since, however, Casas has not only turned things around — he's emerged as a genuine middle-of-the-lineup bat — at least against right-handed pitching. In his past 301 trips to the plate, Casas has produced a mammoth .293/.379/.540 output with 16 home runs, 13 doubles and a pair of triples. His walk rate is "down" to 12.3% in that time, and he's fanned at a 23.6% rate that's only slightly north of the league average.
The biggest change in Casas' first couple months of big league experience and this productive stretch has been one of passivity — or rather, lack thereof. From last year's debut through early May this year, Casas swung at just 62.9% of the pitches he saw within the strike zone (and 40% of pitches overall). During his this streak of mashing at the plate, he's swinging at 72.2% of pitches in the strike zone and 45.2% of the pitches he sees overall. He's now swinging at in-zone pitches at a higher-than-average rate (league average is 68.7%) but still swinging at a lower total percentage of pitches than the league-average 47.3%. That's because Casas is rarely enticed by pitches out of the zone; he's chased off the plate at just a 25.6% clip — more than six percentage points beneath the 31.8% league average.
As far as the quality of Casas' contact, it's been excellent. He was making consistent hard contact even before his early-May turnaround began, but the increased aggression within the strike zone now just means he's making a lot more of it. Casas has averaged 91.5 mph off the bat this season (league average is 89.1 mph) and put 46.1% of his batted balls in play at 95 mph or more (league average is 39.3%). Statcast has classified 14.5% of his batted balls as "barreled" (16.1% during his peak productivity).
Granted, some of the breakout has been a function of Casas being shielded from left-handed pitching. Casas has clear platoon issues in his young career, hitting just .193/.343/.325 against southpaws versus .257/.357/.503 against righties. This season, he's 219th in the Majors with just 77 plate appearances against left-handed pitching. The Sox haven't completely eliminated his playing time against southpaws, but compare his total plate appearances against southpaws to fellow lefty-swinging teammates like Rafael Devers (148 plate appearances), Masataka Yoshida (123) and Alex Verdugo (140) — and it becomes clear that the Sox have at best been selective about the opportunities they'll give him versus same-handed opposition.
Time will tell whether this year's usage signals intent for long-term platooning or is just a means of building some confidence in the burgeoning young slugger. If the Sox want to platoon Casas moving forward, there's at least one natural candidate down on the farm in 28-year-old Bobby Dalbec. Once a fairly heralded prospect himself, Dalbec has been squeezed out of the mix on the big league roster but responded with an outstanding .278/.384/.589 batting line and 30 homers in Triple-A this year. Against left-handed pitching, he's posted a ludicrous .347/.438/.640 line. Dalbec's future in Boston — he could potentially be a trade target for a club with eyes on giving him an everyday look this winter — is a topic worth diving into on its own, but suffice it to say he's at least played his way into consideration for such a role. If not, the free agent market this offseason will feature right-handed bats like Garrett Cooper, C.J. Cron, Donovan Solano and Darin Ruf.
The Sox started Casas against southpaw MacKenzie Gore last night and left him in to face lefty reliever Jose Ferrer. (Casas went 1-for-3, singling off Ferrer.) It's probably in their best interest to continue giving Casas opportunities against southpaws down the stretch, both to get him additional experience in left-on-left matchups and to help evaluate whether they'll need a platoon partner for him in the long run.
Casas is still a work in progress defensively (-4 Defensive Runs Saved, -11 Outs Above Average), and it's an open question just how productive he'll end up being against left-handed pitching.  If he can narrow his platoon splits and/or make some strides on the defensive side of his game, he has star potential in the middle of the Red Sox lineup. He already looks the part against right-handed pitching, however, and Casas' dedication to the science of hitting (check out his recent Q&A with FanGraphs' David Laurila) should serve him well as he looks to become a more complete hitter.
Image courtesy of USA Today Sports.