Pirates third baseman Ke'Bryan Hayes has been a useful player in his career, despite his offense.
Coming into 2023, he had hit just 18 home runs in 256 games. His 8.4% walk rate was close to average, but he wasn't producing enough power to really be valuable at the plate. His .261/.326/.386 batting line amounted to a wRC+ of 95, indicating he was 5% below league average offensively overall. Subtract his blazing hot 2020 debut and you're left with a line of .249/.315/.356 over 2021 and 2022 for a wRC+ of just 86. But he stole 30 bases in the 2020-2022 stretch and got excellent defensive grades across the board. Despite the slightly subpar offense, he was worth 6.6 wins above replacement in that time.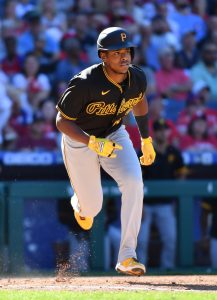 Although he was still a solid contributor prior to this year, there were reasons to believe he was capable of more. Last year, his average exit velocity was in the 85th percentile among qualified hitters, per Statcast, with his hard hit rate 84th. The reason his raw skills weren't translating into results was largely due to pounding the ball into the ground. Hayes had a 52% ground ball rate over 2020-2022, well beyond league average, which has usually been around 42 or 43% in recent seasons.
The Pirates clearly had faith that he could tap into something more, as they signed him to an eight-year, $70MM extension going into the 2022 campaign, the largest contract in franchise history at that time.
Here in 2023, Hayes has seemingly taken some steps forward with the ground ball issue. His grounder rate is down to 42.3%, which is just barely better than the 42.5% league average this year but almost a 10-point improvement over his previous work. Getting under the ball more has naturally led to improved power output. He already has 13 homers this year in 111 games, a far better pace than the 18 he hit in 256 games prior to 2023.
The results are even better if we focus just on the second half. Hayes went on the injured list twice this summer due to back issues. Since being activated on August 1, he's taken 159 trips to the plate and is hitting .297/.342/.552 for a wRC+ of 133. He has a 40.2% ground ball rate in that time and eight of his 13 homers have been hit in that stretch as well.
That is a very small sample of less than two months, but it has to be incredibly encouraging for Hayes and the Pirates. They don't spend a lot of money, which means that it's important for them to get value out of the money that they do spend. Hayes has a solid floor with his speed and defense, but becoming an above-average hitter could make him into a superstar. His offense on the season as a whole is still just shy of league average, wRC+ of 98, but he's been worth 2.7 fWAR thanks to the speed and defense. If he can maintain even a small amount of his recent offensive surge, he would push that even farther next year. He's still just 26 years old and could still be tapping into his potential, with six more guaranteed years remaining on his deal, along with a club option for 2030.
The Pirates still have a tall hill to climb in order to return to contention. The Brewers are perennial contenders. The Reds are loaded with young talent. The Cubs are in strong position. The Cardinals are sure to be aggressive in moving past this down year. The Bucs still have plenty of questions about their middle infield and pitching staff, but they should be able to count on solid production from the hot corner for the rest of the decade, and maybe even more.
Image courtesy of USA Today Sports.