December 22: As expected, Hosmer has been released, per Chris Cotillo of MassLive.
December 16: The Red Sox have acquired right-hander Wyatt Mills from the Royals in exchange for minor league righty Jacob Wallace and opened a spot on the roster by designating first baseman Eric Hosmer for assignment, per a team announcement.
Hosmer came to the Sox in a deadline deal just a few months ago. The Padres signed him to an eight-year, $144MM contract going into 2018, a deal that most observers considered an overpay from the moment it was announced. Hosmer's production dipped thereafter, which only added to the albatross nature of the deal.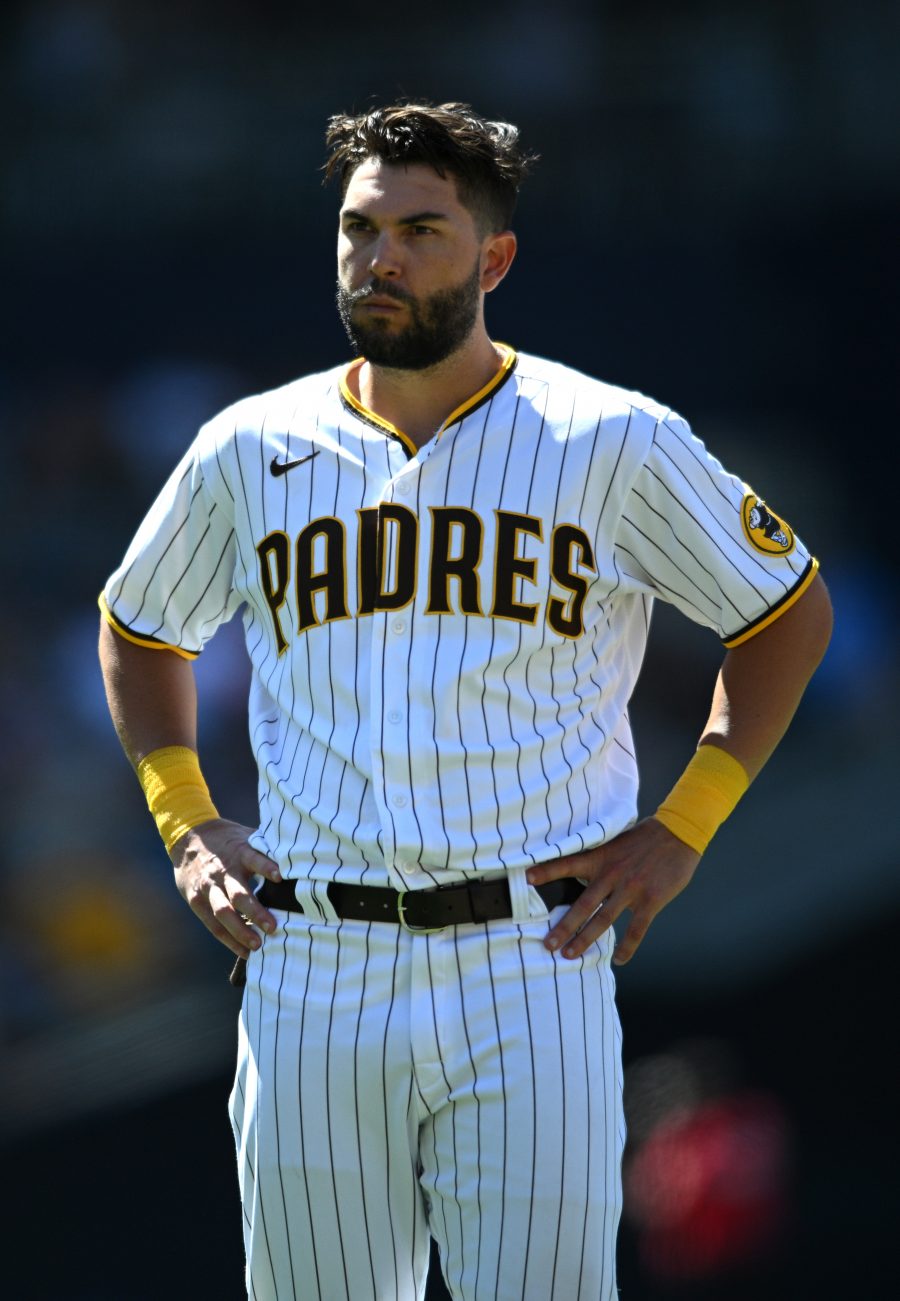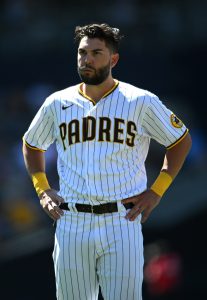 In 2017, his last year with the Royals, Hosmer hit .318/.385/.498 for a wRC+ of 135, indicating that he was 35% better than league average. But in his first season as a Padre, he produced a line of .253/.322/.398 for a wRC+ of 95. Apart from a surge in the shortened 2020 campaign, he's been around league average in each season and frequently mentioned in trade rumors with San Diego hoping to get rid of him. As the deadline approached this past summer, Hosmer was originally included in the blockbuster deal that was to send Juan Soto and Josh Bell to San Diego. However, Hosmer had a limited no-trade clause that included the Nationals, allowing him to veto the deal. Instead, Luke Voit was sent to Washington in his place, but the Padres then quickly dealt Hosmer to the Red Sox, who were not on his no-trade list.
As part of that deal, the Red Sox would only have to pay Hosmer the league minimum salary, with the Padres remaining on the hook for the rest of it. With this move just a few months later, it seems the trade was more about the young players involved, as Boston sent pitching prospect Jay Groome to the Padres but received a couple prospects as well in Corey Rosier and Max Ferguson. It's also possible that the club viewed Hosmer as a bit of a safety net at first base, where Bobby Dalbec had been struggling and prospect Triston Casas had yet to reach the majors. Casas was called up in September and launched five home runs down the stretch as well as walking in 20% of his plate appearances, leading to a batting line of .197/.358/.408, wRC+ of 120. Perhaps that debut gave them enough confidence to proceed without Hosmer.
Whatever the motivation, Hosmer's time in Boston seems likely to end after just 14 games. The club will have one week to trade him or put him on waivers, though a trade will be difficult to arrange. As part of Hosmer's contract, he gained a full no-trade clause after being dealt by the Padres. It's also possible that a team might have interest in claiming Hosmer off release waivers, as his minimal salary would create a no-risk scenario for the claiming club. However, players on release waivers are allowed to reject claims and elect free agency, which likely means no team would bother putting in a claim. It seems the most likely scenario is that Hosmer ends up released and returns to the open market.
Though he hasn't produced more than 0.8 fWAR in any season since 2017, it's likely some teams that need help at first base or designated hitter would have some interest. The Padres are on the hook for the $39MM owed to Hosmer over the next three years and any team that signs him would only have to pay him the prorated league minimum for any time spent on the roster, with that amount subtracted from what the Padres pay.
Over the last three seasons, his batting line is .271/.335/.407 for a wRC+ of 107, or 7% above league average. That doesn't lead to a lot of value overall as he is generally graded as a poor defender, but it's possible he could find a bit of uptick at the plate next year. The upcoming rules on defensive shifts are expected to primarily benefit left-handed hitters like Hosmer, as teams stack the right side of the infield with defenders. Hosmer's worst trait as a hitter is his incredibly high ground ball tendencies, as his career rate is 54.5%. For reference, this year's league average as 42.9%.
Many of the top first baseman from this winter's free agent class have already been signed, with José Abreu, Josh Bell and Anthony Rizzo off the board. For clubs still looking for upgrades there, Hosmer will likely join the remaining options, such as Trey Mancini, Brandon Drury, Matt Carpenter, Wil Myers and Brandon Belt.
As for the other players involved in today's announcement, Mills, 28 next month, was designated for assignment by the Royals when they signed Ryan Yarbrough earlier this week. The Royals had only acquired him a few months earlier as part of the Carlos Santana trade. He tossed 29 1/3 innings for the Royals with a 4.60 ERA, but the Red Sox are likely more interested in his minor league numbers. In 33 2/3 Triple-A innings this year, he posted a 2.14 ERA while striking out 29.9% of batters faced, though he also walked 12.7% of them. He still has an option year remaining, giving them an intriguing depth option with roster flexibility.
Wallace, 24, was drafted by the Rockies but came to the Red Sox as the player to be named later in the Kevin Pillar trade. He spent this year in Double-A, tossing 56 2/3 innings with a 3.81 ERA and 30.4% strikeout rate, though a huge 19.6% walk rate.
Image courtesy of USA Today Sports.