Mike Adams was never going to match the 0.73 ERA he posted for the Padres in 2009, but his 2010 season hasn't been bad at all. In a career high 63 appearances, Adams has a 1.79 ERA and he's striking out more than a batter per inning. If the Padres choose to extend Adams this offseason, they could model a deal after one signed by another right-handed setup man who strikes out tons of batters without the benefit of an upper-nineties fastball.
When Michael Wuertz signed an extension with the A's last offseason, he had similar career numbers to the ones Adams has now. Adams has a lower ERA than Wuertz did and he walks fewer batters, but he hasn't pitched as much as Wuertz had. As the table below shows, Adams is now in a similar position to the one Wuertz found himself in a year ago.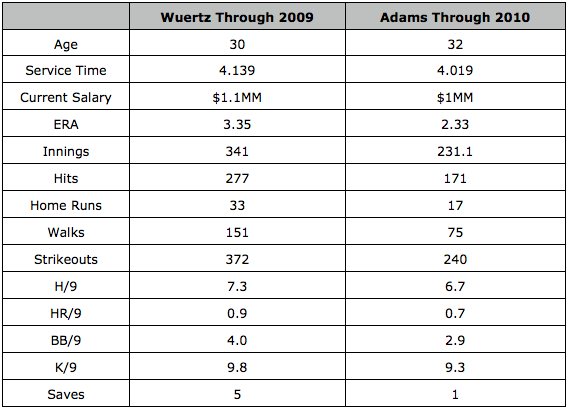 Wuertz ultimately signed a two-year $5.25MM extension that covered his remaining two arbitration seasons. The Padres could look to buy out Adams' remaining two arbitration seasons for a similar amount this winter. Given the pitchers' remarkably similar rate stats, service time and salaries, a two-year deal worth $5MM or so would be fair value for both sides.