Jeremy Guthrie's representatives at CAA will have to convince a panel of arbitrators that their client is worth more than $5.75MM if the sides go to a hearing. The Orioles offered the arbitration eligible 31-year-old $5MM, while he asked for $6.5MM. The discussion figures to revolve around three similar pitchers in the same service time class – Chad Billingsley, Matt Garza and John Danks – and will likely come down to durability vs. dominance.
Guthrie can point to his own durability and argue that he's worth more than $5.75MM. He has logged 812 1/3 innings in his career, more than fellow-CAA clients Garza and Danks. Garza will earn $5.95MM next year, Danks will earn $6MM and Billingsley will earn $6.275MM.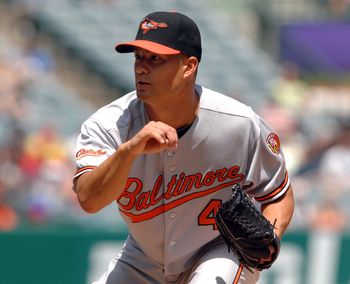 Guthrie has made at least 26 starts and logged no fewer than 175 innings in each of the last four campaigns. The other three starters cannot match the Baltimore right-hander's durability, as CAA will likely point out. Only Garza has had to compete regularly in the AL East, where Guthrie regularly faces some of the game's most potent offenses.
The Orioles, however, can argue that Guthrie's durability is compromised by inconsistent results. He led the American League in losses a year ago and posted an ERA over 5.00. None of the three other pitchers have posted an ERA that high since their rookie seasons and all of them have more wins and fewer losses than Guthrie in their careers.
Baltimore can also argue that despite Guthrie's durability, he has been hittable. The 2002 first rounder has been tagged for more hits and homers than the others, both in total and on a per-inning basis. Guthrie, the Orioles could argue, is less dominant than the other pitchers and therefore not deserving of a salary above the $5.75MM midpoint.
They could support that argument by pointing to his 4.15 career ERA (none of the others have career marks above 4.00, a seemingly arbitrary cutoff that could sway a panel of arbitrators). Despite Guthrie's high innings total, Billingsley, Garza and Danks have all struck out more hitters in their careers. 
But Guthrie's representatives can point out that he has walked fewer batters than the others, both in 2010 and on a career basis. Guthrie's 2.6 B/9 mark is far better than the others, who have all walked at least 3.1 batters per nine in their respective careers.
So can the Orioles convince a panel of arbitrators that Guthrie's worth less than $5.75MM next year despite his history of durability? That's the $1.5MM question and we'll know the answer to it within a few weeks at the latest.