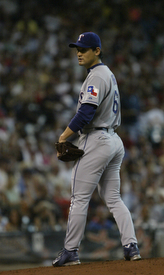 A few weeks ago we found out that Chan Ho Park, now 37 years old, had decided to sign with the Orix Buffaloes rather than continue his MLB career. The contract will pay him a little over $1MM, a pittance compared to the more than $85MM that Baseball-Reference.com says he's banked in a big league career that spanned parts of 17 seasons. The vast majority of that $85MM comes from the five-year, $65MM deal with the Rangers, a contract that was signed nine years ago today.
Texas was coming off a 73-win season and a last place finish in the AL West in 2001, when an Alex Rodriguez led offense was unable to overcome a pitching staff that allowed 968 runs. Park, 28 at the time, had just wrapped up an All-Star season with the Dodgers that saw him post a 3.50 ERA with 8.4 K/9 and 3.5 BB/9 in 234 innings. Over the previous five seasons, CHoP pitched to a 3.79 ERA with similar peripheral stats in over 1,000 innings with the Dodgers, throwing no fewer than 190 innings in each season. All it took was what was then one of the largest pitching contracts in baseball history to bring the two sides together.
Named the Opening Day starter in 2002, Park made a poor first impression with his new team. He allowed six runs in five innings against the A's, and overall he pitched to a 5.75 ERA with 7.5 K/9 and 4.8 BB/9 in 145 2/3 innings that year. After all those years of 190+ innings, Park visited the disabled list twice that season, once for blisters and once for a hamstring strain.
Park's second season didn't go any better. He posted a 7.58 ERA in just seven starts (29 2/3 innings), missing most of the season with a back issue. The injury popped up again the next year, when it limited him to just 16 starts (95 2/3 innings) with a 5.46 ERA. The good news is that Park was finally healthy in 2005, but the bad news is that he didn't pitch any better. He made 20 starts (109 2/3 innings) with Texas (5.66 ERA) before they'd finally had enough.
Just a day before the '05 trade deadline, the Rangers traded Park to the Padres for Phil Nevin, agreeing to pay $2MM of his 2006 salary. He fared a little better in San Diego but it didn't matter. Texas had invested approximately $47.4MM in Park, and in exchange they received 380 2/3 innings with a 5.79 ERA and equally depressing peripheral stats (6.6 K/9, 4.5 BB/9). Homer prone even during his time with the Dodgers, Texas' home park only exacerbated the problem. From 2002-2004, Park allowed one long ball for just about every 5 2/3 innings pitched.
Pitching contracts are inherently risky just because of the injury potential, and Park showed that. Throwing a baseball that hard and that often is an unnatural act and guys who do it for a living tend to get hurt, it's simply part of the game. Unpredictability is another part of it. Park was an above-average workhorse starter during his five years prior to signing with Texas, and in fact his core stats (3.79 ERA, 8.1 K/9, 4.1 BB/9) during his last five seasons with the Dodgers look a whole lot like the last five years of Carlos Zambrano's career (3.70 ERA, 7.7 K/9, 4.3 BB/9). He was just unable to sustain that performance in a new league and in a new park while battling injuries. As always, the lesson is: buyer beware.
Photo courtesy of Icon SMI.