The Cubs are next in our Offseason In Review series.
Major League Signings
Notable Minor League Signings
Trades and Claims
Notable Losses
Summary
The mandate for Cubs GM Jim Hendry this winter: turn a bloated fifth-place team into a contender for 2011 despite limited payroll flexibility.  The Cubs were in sell mode last summer, but Hendry switched back to a win-now approach this offseason.  Let's sift through the transactions.
Ramirez was awful for the first two months of 2010, driving his value so far down that he didn't dare test the free agent market.  If he can return to career levels in 2011, the Cubs might just be compelled to choose his $16MM club option for 2012 over a $2MM buyout.  Overall it's a positive to have him penciled in for another season, given the weak market for third basemen.
Pena replaces Derrek Lee at first base on a standard-issue Boras Corporation make-good contract.  If Pena finds his first National League season to his liking at age 33, perhaps he can ride a 35 home run season to a big free agent deal. 
Pena's one-year term opens up the possibility of the Cubs bidding on the big names next winter: Albert Pujols, Prince Fielder, and Adrian Gonzalez if his rumored extension isn't finalized for some reason.  A $140MM payroll would allow the Cubs to sign any of these sluggers, as they'd be under $110MM in 2012 commitments even with Ramirez and accounting for arbitration raises.  Still, I doubt the Cubs are thinking about next year's free agents whatsoever at this point.
Back to 2011: the Cubs were able to augment their bullpen on the cheap, with Wood's $1.5MM deal drawing comparisons to Andre Dawson's blank check offer.  Wood doesn't need to win an MVP award, though - he just needs to give the Cubs 50 solid innings and keep the walks down.  Wood will be setting up Carlos Marmol, whose odd statistical profile didn't prevent the Cubs from buying out his last two arbitration seasons and one free agent year for $20MM.  Marmol's 15.99 K/9 was the highest in baseball history among pitchers with 25 innings in a season, and it followed that he was stingy on hits and home runs.  But like Wood, Andrew Cashner, and John Grabow, he struggled with walks.  It's easy to dream on the back end of the Cubs' bullpen this year, but this seems to be an especially volatile bunch.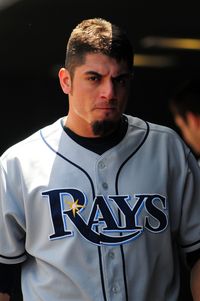 Hendry's big splash was the addition of Garza.  It wasn't clear Garza would be made available at the outset of the offseason, but the Rays seemingly held a covert bidding war and cashed the righty in for a big chunk of the Cubs' farm system.  Baseball America ranked the Cubs' system eighth in baseball prior to the deal, but the Rays now have the Chicago prospects formerly ranked #1, 4, 10, and 16.  In Archer, Guyer, and Chirinos, the Cubs surrendered prospects almost certain to play in the Majors soon.  The Cubs restored a touch of depth with the signings of Cuban players Silva and Cabezas as well as the Gorzelanny trade.
As you'd expect, the Cubs paid dearly for three years of Garza, who posted a sub-4.00 ERA over about 600 AL East innings over the last three seasons.  Garza has the stuff and reputation of a #2 starter, even if his strikeout rates in '08 and '10 don't quite match up.  It wasn't surprising to see the Cubs move Gorzelanny, though even with the lefty's inconsistency he might have been nice to have around with Carloses Zambrano and Silva not considered reliable.
The team's minor league signings focused on players who had already been in the organization.  They also coaxed Looper out of semi-retirement, and the Cubs are probably hoping he or Casey Coleman is Gorzelanny's equal as a sixth starter.  In the Cubs' perfect world, Andrew Cashner would beat out the less exciting rotation candidates, pushing Silva or Randy Wells to the pen.
Despite a rookie-filled second half last year, the Cubs are going for it in '11 with Mike Quade at the helm for his first full season.  Hendry chose to pay the price in prospects as opposed to cash, after watching the Brewers do the same on a more exaggerated level.  The Cubs enter 2011 as an expensive underdog in the NL Central, but with enough young talent and wild cards to make things interesting.
Photo courtesy Icon SMI.