The Athletics are next in our Offseason In Review series.
Major League Signings
Brian Fuentes, RP: two years, $10.5MM.  Includes $6.5MM club option for 2013 with a $500K buyout.
Grant Balfour, RP: two years, $8.1MM.  Includes $4.5MM club option for 2013 with a $350K buyout.
Mark Ellis, 2B: one year, $6MM.  Club option exercised.
Coco Crisp, CF: one year, $5.75MM.  Club option exercised.
Renato Nunez, 3B: $2.2MM bonus.
Vicmal De La Cruz, CF: $800K bonus.
Total spend: $40.1MM.
Notable Minor League Signings
Trades and Claims
Notable Losses
Summary
Once again, the Athletics failed to reach agreements with top free agent targets, falling short on attempts to sign Hisashi Iwakuma, Lance Berkman, and Adrian Beltre.  In an earlier post, I explained that Oakland missed on these players for a classic reason: they didn't offer the best contracts.  As ESPN's Jerry Crasnick explained, the A's chose to make modest, incremental upgrades to the offense, and did so by taking the decision out of the player's hands.  Two winters ago they acquired Matt Holliday, and this offseason they did the same by trading for DeJesus and Willingham.
Replacing Cust with Matsui at DH is not necessarily an upgrade, but Cust only accounted for about half of the plate appearances for the A's at that position last year.  The A's come out ahead overall, at about half the price of Berkman.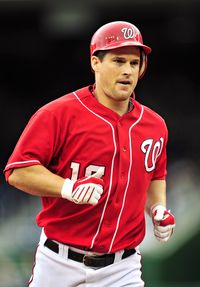 The A's didn't get much offense from the many players appearing at their outfield corners last year, so DeJesus and Willingham add much-needed production at reasonable salaries.  While neither player is a classic slugger, it's not easy to add a couple of .380 OBPs.  GM Billy Beane surrendered several interesting players to rent DeJesus and Willingham, though I wouldn't call the price exorbitant.
Even without Iwakuma, the A's had strong starting pitching depth in the first four spots.  For a mere $2.5MM they added projects Harden and McCarthy.  It's hard to find fault with such low-risk signings.  McCarthy in particular was a hot commodity after teams watched him throw in the Dominican Winter League.
Moneyball comes to the silver screen this year, but I don't think Beane signed Balfour and Fuentes with some kind of cutting-edge market inefficiency in mind.  In fact, signing free agent middle relievers to multiyear, top-dollar deals has proven to be one of the least efficient strategies out there.  After missing out on primary targets, the A's simply felt spending on the bullpen was the best remaining way to improve their team despite the risk involved.  "They're too good to be out there, and we had money to afford them," Beane told Crasnick. Why did the GM shift from overstocking the rotation with a $30MM+ commitment to Iwakuma to bulking up the pen with an $18.6MM expenditure on Balfour and Fuentes?  Perhaps they simply did not like Carl Pavano and the other remaining starters.  I haven't seen any evidence that their Iwakuma bid was insincere.
I like what the A's did at DH and the outfield corners, though moving money to relief extravagances was less than ideal.  They were unable to upgrade at third base, but the A's can't be faulted for the weak market at that position.  It stands to reason that the Athletics have cash on reserve to spend on a midseason hot corner addition, though they'll be at the mercy of the trade market and dealing from a poorly-rated farm system.  The current offense looks better than last year's, though the improvement is mitigated if you don't think their front four starters can post 700 innings of 3.17 ball again.
Photo courtesy Icon SMI.