Arbitration matters to teams and players alike, since millions of dollars are often at stake in a single hearing. But the process by which teams and players settle salary disagreements can be confusing, since the system is complex and the hearings are private.
At least one thing is simple about arbitration – the statistics. Sabermetricians have developed stats for just about everything, but teams and agents don't want to risk alienating arbitrators with wOBA, xFIP or UZR, so they stick to the basics. Wins don't necessarily indicate how effective a pitcher has been, but they will impact how much he gets paid. Innings pitched, ERA, RBI, runs, homers and doubles figure in, along with other back-of-the-baseball-card stats like batting average, on-base percentage and slugging percentage.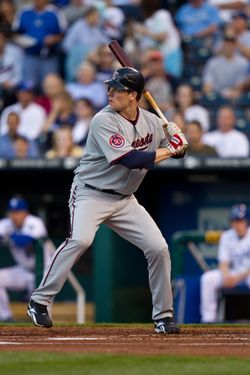 But arbitration eligible players have at least two-plus seasons of big league experience, so determining precisely which seasons are relevant is subject to interpretation. The collective bargaining agreement between the owners and the players spells out what matters in an arbitration hearing without going into excessive detail.
"The criteria will be the quality of the Player's contribution to his Club during the past season (including but not limited to his overall performance, special qualities of leadership and public appeal),"  the agreement reads, "the length and consistency of his career contribution, the record of the Player's past compensation, comparative baseball salaries [and] the existence of any physical or mental defects on the part of the Player."
In other words, the player's most recent (or platform) season matters and so do career numbers, previous earnings and comparable players. But those four factors are weighed differently depending on how much service time the player has. MLBTR surveyed MLB executives and agents to make sense of the CBA and determine what matters most in arbitration.
When a player is arbitration eligible for the first time, the "the length and consistency of his career contribution" matters a whole lot. It's the first opportunity for the player to reap the benefits of his first few major league seasons, so his entire career matters, not just the platform year.
That's why Justin Morneau (pictured) earned 'only' $4.5MM in his first year of arbitration eligibility. He had just won the American League MVP, but earned less than Albert Pujols, Miguel Cabrera and Ryan Howard did as first-time arbitration eligible players because his career numbers weren't as impressive. The platform year vaulted him into the $4-5MM range, but his career numbers couldn't push him into the $6MM club with the others.
Players' career numbers do matter when they go to arbitration for the second, third and, potentially, fourth time, but not to the same extent. Teams and players generally agree on a raise based on the player's previous salary and what he did in his most recent season. The 'raise' argument, which is common in arbitration cases, depends heavily on the platform year, rather than career totals.
Career contribution matters after a player's first season of arbitration eligibility, though. Consistent players like Mark Teixeira, Prince Fielder and Pujols were well-compensated as arbitration eligible players partly because of their steady careers and partly because they were working from strong platform seasons and high salaries.
In some cases – say a player is non-tendered or injured – career contribution becomes a more significant factor after a player's first arbitration season, as the sides attempt to re-set the player's value.
Because the CBA is ambiguous, teams and agents can weigh platform seasons, career contributions and other factors like "leadership and public appeal" as they see fit. For example, Jose Bautista and Jonathan Papelbon, who are both a year away from free agency, likely emphasized their 2010 seasons differently in discussions with their respective teams. Bautista will likely explain to the Blue Jays that his historic 2010 season outweighs a previously pedestrian career, while Papelbon likely pointed to his history of dominance instead of his disappointing 2010 season.
There are guidelines for arbitration, but there's room for interpretation, which is why teams and agents can look at the same facts and reach vastly different conclusions about a player's value.
Photo courtesy of Icon SMI.