As the 2011 Draft draws closer, MLBTR will be introducing you to a handful of the top eligible prospects with a series of Q&As. The series started with three of the top college pitchers in the nation and continues today with a college position player.
Teams looking for powerful outfielders with speed to spare will be intrigued by George Springer of the UConn Huskies. The 6'4" 21-year-old has improved his draft stock dramatically since the Twins selected him in the 48th round of the 2008 draft; Springer is now a projected first round pick.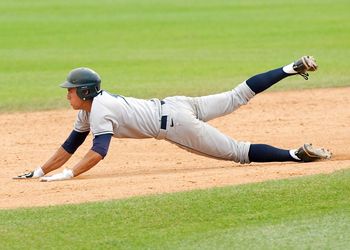 In its college baseball preview, Baseball America described Springer as one of the nation's best power hitters, who's a superb defender and a "plus-plus" runner to boot. 
He hit 18 homers with 33 steals, 60 walks, 84 runs and a .491 on-base average last year, prompting ESPN.com's Keith Law to rate him second among eligible prospects last month. Law described Springer as "an athletic outfielder with an above-average arm who projects to hit and hit for power and just needs to refine his approach, especially with two strikes." 
Springer started slowly and some said to ESPN that he changed his mechanics. After collecting just three hits in his first six games (22 at bats), Springer appears to have rediscovered his stroke, as his numbers are on the rise.
He spoke with MLBTR after UConn's loss to Sacred Heart today. Here's what he had to say:
Ben Nicholson-Smith – I wanted you to start by describing your game for me. I've seen it written up in a few different places, but I wanted to get your assessment of your overall game.
George Springer – I just go out and play as hard as I possibly can – I think that's basically it. I just go out and play as hard as I possibly can and just let my approach and my style of game happen and just go out and put it one the line.
BNS – When you're at your best, what might be some of the specific things that we would see from you on the field?
GS – One hundred percent – this'll probably sound dumb – but just balls out all the time. Not playing with any fear. Not afraid to fail. I just go out and I let the game come to me – I just go out and I play as hard as I possibly can and if for some reason the game says that I have to run into a wall, I'll run into a wall.
BNS – I've seen your game written up as a combination of power and speed. Do you see yourself as a power guy, or a speed guy, or somewhere in between.
GS – I see myself as a guy that can hit for power, but I don't necessarily see myself as hitting for power [primarily]. I see myself as hitting the ball hard and however far it goes, if it stays in the ballpark, I just keep running. 
BNS – Is there a major league player who you would compare yourself to as far as a guy who maybe has that gap power and occasional home run power?
GS – Well there's actually a guy – I wouldn't necessarily say I do things like him – but I model my game, my style of play, after him and it's Hunter – Torii Hunter. I used to watch him play when he was in New Britain. When he was in Double-A [in 1997-8] I watched him play with the Twins. He'll get after it. He plays without fear. He'll run into a wall or he'll run through a wall. He's not just going to swing to swing, he's going to swing hard. I think that seeing him play as a kid [influenced] who I resemble the most.
BNS – Any other major leaguers, or mostly Torii Hunter?
GS – It's him, but one other player who has a good overall approach is Robinson Cano. He goes out and he's basically the same way as Torii Hunter, but he's a very, very smart hitter. There are certain situations where he doesn't necessarily swing at a 3-0 fastball because he knows he's going to get a 3-1 pitch to hit. 
He does the small things. If you need a fly ball to score somebody, he hits a fly ball. Or if he's got to roll one over to get someone from second to third, that's exactly what he does.
BNS – If we were to fast forward to five years from now, which of those two guys do you think you would resemble more? Hunter or Cano?
GS – I don't know. I honestly don't know. I'd like to say it would be a combination of both. Not afraid to fail, but at the same time being smart, being patient.
BNS – Having guys like [former UConn teammate] Mike Olt drafted last year in the first round and then [UConn pitcher] Matt Barnes, who could also go in the first round with you potentially, does that change things at all? Does that make it any easier having some guys who are going through some of the same things that you are?
GS – I can say yes and I can say no because to me Mike Olt is Mike Olt. I played with him for the last three years of his [college] career and I've seen him grow as a player and as a person. Yeah he's Mike Olt and he went in the first round, but I just see him as Mike Olt and it's who I played with for three years.
The same thing for Matt. I've known Matt my whole life. I've played with him the last six, eight years. So having them there I would say has helped, but at the same time, he's just Mike Olt and Matt is just Matt Barnes.
BNS – You talk about Mike developing as a player and as a person at UConn. What might those [developments] be on the field for you since you started playing college ball?
GS – I've been taught my whole life to let the physical stuff happen. The strength, the speed, the power – let that come. But I think the biggest development in my eyes is developing the mental side of the game, which can help me go out and play if I learn about the game. And that's something that I've been working on the last four or five years. 
I'm not in the big leagues, so I obviously have some stuff hitting-wise and fielding-wise and baserunning-wise [to work on]. But I think the biggest thing I've tried to learn has been the mental side of the game.
BNS – Is that through coaches or is that through books or videos or just talking to people? How do you go about doing that?
GS – Through experience. You've got to learn pitch to pitch and at bat to at bat. The last three or four years, I've had the privilege to talk to guys and play with guys who know certain things that I wouldn't have thought about.
Being with guys like Matt Barnes – being with Matt I can get the pitcher's side of the game and I can learn from him what I have to do as a hitter in certain situations and learn what he's thinking and what the other guy's thinking and learn from my mistakes and my successes and learn from the success of my teammates. There's always something I can learn and over the past three or four years it's been mainly just through playing and just learning at bat to at bat and pitch to pitch, but I've also played with guys like Matt Barnes and [2011 draft prospect] Jackie Bradley Jr.
BNS – What about your season so far? A slow start and now it seems like you're hitting better. How do you evaluate the season so far.
GS – So far it could obviously be better. It could obviously be worse, too. I think one of the main things for me is just to not try to do too much, to not press. Just to get in the box and play hard and swing and slow everything down and eventually they'll start falling.
BNS – What about the draft? Last time, going in the 48th round was probably different than what you've experienced so far and what you're looking ahead to.
GS – I look ahead to it as June 6th to the 9th because if I think for one second that the draft is set or anything like that that's when I let down my team. That's when I don't play as hard, that's when I don't stay positive or get a big head and say 'here's the hype, here's the potential.'
But that's not what I'm about. I'm about the success of my team and my teammates before myself and if something happens in the draft, it's something that I can't focus on now because I have to help our team win.
Photo courtesy University of Connecticut athletics.