The Reds are next in our Offseason In Review series.
Major League/International Signings
Notable Minor League Signings
Extensions
Trades and Claims: None
Notable Losses
Summary
In 2010 the Reds rode the league's best offense and an acceptable pitching staff to the NL Central crown, marking their first winning season since 2000 and first playoff appearance since '95.  In the offseason that followed, GM Walt Jocketty adopted the motto, "If it ain't broke, don't fix it."
Due to payroll limitations, Jocketty's only real play to change the Reds significantly would have been through trades or by way of declining Arroyo's option.  In early November Jocketty decided to exercise Arroyo's 2011 option at a hefty $13MM, as opposed to a $2MM buyout.  It was a large commitment to a 34-year-old soft-tosser many teams would consider an innings eater, though six seasons in a row of 200-plus innings is a rarity.  A month later Jocketty tacked on two years, coming up with a new deal heavy on deferred money.  The Reds halved Arroyo's 2011 salary in the process. 
Otherwise Jocketty minimized his free agent expenditures, committing under $10MM to five position players.  I don't blame him; there wasn't much out there at left field or shortstop.  The bullpen features enough big arms to withstand the loss of Rhodes, though an arbitration offer would not have been a bad idea for the Type A lefty.  In addition to a full season of Aroldis Chapman, the Reds' 2011 pen features a sleeper in Jose Arredondo.  Signed to a minor league deal a year ago, he's fully recovered from Tommy John surgery.  The Reds will try Paul Janish and Renteria at shortstop with Cabrera's departure.  I don't mind the plan, though I'm curious if the Reds inquired on J.J. Hardy.
The Reds' front office spent the bulk of their offseason hammering out extensions with Bruce, Cueto, and Votto, and attempting one with Edinson Volquez.  Bruce's deal offers a chance at three affordable free agent seasons, and it makes sense for both sides.  Cueto's contract allows for two free agent years, and is riskier by nature since he's a pitcher.  But $16MM is the going rate for a good young pitcher's arbitration years in an extension, so this was a typical contract.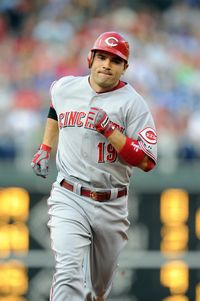 As MLBTR's Ben Nicholson-Smith outlined in January, Votto's deal was a head-scratcher from the Reds' point of view.  The Reds were not able to buy out any free agent seasons, which might have cost upwards of $20MM each.  At best the Reds received a mild discount of a few million dollars on Votto's first two arbitration years, compared to the year-to-year earnings of Prince Fielder.
Payroll aside, the Reds did not need to tinker much with the NL's best offense.  They're bringing back a similar group, with plenty of upside for players like Bruce and Drew Stubbs.  Replacing Harang with a young in-house starting pitcher is an upgrade, especially if Homer Bailey's late-season success carries over.  The team is overly enamored with Arroyo and the Votto extension was player-friendly, but the painful aspects of those contracts will be realized after 2011.  The 2011 Reds are short on new faces, which is a positive in their case.
Photo courtesy of Icon SMI.