The Angels are next in our Offseason In Review series.
Major League Signings
Notable Minor League Signings
Trades and Claims
Notable Losses
Summary
The Angels entered the offseason seemingly ready to spend; they were a strong fit for free agents Carl Crawford, Adrian Beltre, and Rafael Soriano.  However, they came up short on all major free agent targets, succeeding only in upgrading the bullpen.  Then GM Tony Reagins made matters worse by acquiring Vernon Wells, who has one of the worst contracts in baseball.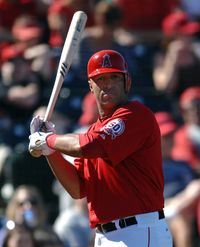 Wells has four years and $86MM left on his contract.  If we are to consider Juan Rivera to be dead weight, that's $5.25MM cleared, and the Blue Jays reportedly sent another $5MM.  The Angels' reluctance over the years to give playing time to Napoli unless they had to indicates they weren't fond of his receiving skills, and I'm guessing they didn't want to pay him $5.8MM in 2011.  Still, could have been non-tendered if the Halos didn't want him and he did have trade value by himself.  Since he wasn't a pure salary dump, I can't subtract Napoli's contract from Wells' burden even if Arte Moreno does.  Ultimately, it's as if the Angels gave Wells a four-year, $75.75MM free agent contract, with the bonuses of opening up an extra roster spot and not having to surrender a draft pick.
Wells isn't a $19MM player at this point in his career, though I am curious what kind of contract he would have gotten this winter as a free agent.  I think coming off one good year following a pretty bad one would have set his ceiling at four years and $52MM at the very most.  My comparison is Victor Martinez, another player who can handle a premium defensive position but is not regarded as good there.  So even with this generous comp, the Angels overpaid Wells by at least $20MM.  For the Wells deal to work out for the Angels, he'll need to improve defensively with the switch to left field and have offensive seasons resembling '08 and '10 rather than '07 and '09.  You can cherry-pick Wells' 2010 numbers either way, but it was a streaky season bookended by strong performances in April and September.  From May through August, he hit .251/.300/.449.  The ZiPS projection system calls for .260/.313/.432 in 2011 (and presumably worse in future years), which would make this trade a disaster.
As for lefty relievers Downs and Takahashi, the Angels certainly paid full sticker price.  But their bullpen needed the upgrade and such expenses are justified for big budget contending teams. 
On the plus side, the Angels have improved their outfield defense, which is crucial given their flyball pitching staff.  The Angels have serious offensive concerns, but all of the AL West contenders are flawed.  Despite a poor offseason, the Halos' fine rotation may still carry them to the playoffs in 2011.
Photo courtesy of Icon SMI.