When Josh Beckett makes his first start of the season tomorrow, exactly one year will have passed since the Red Sox locked him up for $68MM over four years. Now Boston's fourth starter, Beckett is trying to recover from what was arguably the worst season of his ten-year career.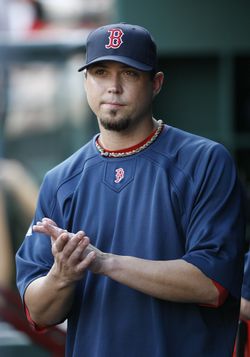 Poor performance and poor health turned Beckett from one of the most dependable starters in the league to one of the most perplexing. A lower back injury sent him to the disabled list and limited him to 21 starts, his lowest total since 2002. When he did pitch, the results weren't pretty. Of the 140 MLB pitchers who threw 100 innings last year, Beckett ranked 137th with a 5.78 ERA. 
Beckett would have been a free agent after last year if the Red Sox hadn't locked him up and it's easy to see why GM Theo Epstein and the Red Sox front office wanted to keep him in Boston. He was among American League leaders in a number of categories including strikeouts per nine innings (8.4 K/9), walks per nine innings (2.3 BB/9) and innings (212 1/3) in 2009 and was coming off of a season filled with personal bests. Plus, Beckett had a standout postseason record and was one of two pitchers in baseball to record at least 150 strikeouts every season from 2003-09.
His free agent stock would have tumbled after the 2010 season and he would have been lucky to sign for half of what Boston committed to him last April. Though interested teams would have liked Beckett's 93.5 mph fastball, 45.8% ground ball rate and typically strong strikeout and walk numbers (8.2 K/9, 3.2 BB/9), he would have represented a risky investment given his back injury and lackluster results.
Beckett has bounced back from disappointing seasons to prove doubters wrong before. He followed up his discouraging Boston debut with 20 wins and a second place finish in the 2007 Cy Young voting. And at 30 years of age, he is certainly not old. 
The extension kicks in this year (and will pay Beckett $15.75MM annually through 2014), so it's too early to label it a bust or a success. But one year after its completion, the contract looks like a definite overpay and the Red Sox are hoping Beckett rebounds once again.
Photo courtesy Icon SMI.