The Cardinals are next in our Offseason In Review series.
Major League Signings
Jake Westbrook, SP: two years, $16.5MM.  Includes $8.5MM mutual option for 2013 with a $1MM buyout if club declines.
Albert Pujols, 1B: one year, $16MM.  Club option exercised.
Lance Berkman, RF: one year, $8MM.
Brian Tallet, RP: one year, $750K.
Nick Punto, 2B/SS: one year, $750K.
Total spend: $43.1MM.
International Signings
Leobaldo Pina, Fernando Gonzalez, Jorge Araujo
Notable Minor League Signings
Trades and Claims
Notable Losses
Summary
February was a painful month for the Cardinals, as they failed to sign Pujols to an extension and lost Adam Wainwright to Tommy John surgery.  Still, Pujols and Tony La Russa will be in St. Louis for at least one more season, so let's take a look at how GM John Mozeliak augmented his team.
Last year's significant one-year gamble was righty Brad Penny; this time it's a position player in Lance Berkman.  In both cases the Cardinals paid a little more than I would have predicted, but it's hard to complain much about a one-year contract.  Berkman can probably still hold a spot in the middle of a lineup – ZiPS projects .262/.379/.449 – but expecting the 35-year-old to play more than 400 innings in the outfield for the first time since 2004 seems unrealistic.  You have to think his injury risk is heightened and the defense he does provide will be a negative.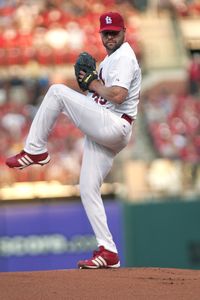 The Westbrook contract represents a bargain, in both the $8.25MM salary and avoidance of a third year.  The need for 200 respectable innings from Westbrook (pictured) became much stronger when Wainwright went down.  The dropoff from Wainwright to Kyle McClellan might have pushed most pundits to pick the Reds or Brewers in the NL Central, but the Cardinals still have enough pitching to contend. 
Theriot didn't cost much to acquire, since the Dodgers probably would have non-tendered him.  He's a stretch as an everyday shortstop; a run at J.J. Hardy would have been better, though he may have been too expensive at $5.85MM.  Failing a Hardy trade I would have retained Brendan Ryan, who at least provides significant defensive value.
What about Pujols?  The Cardinals reportedly offered eight or nine years at $19-23MM annually.  While that might have been the third-largest contract in baseball history, I feel that $225MM over nine years would be the floor for an acceptable deal.  That'd still represent a hometown discount.  The Cardinals will need to enter that uncharted territory in the crucial five-day negotiating period after the World Series ends, having failed to resolve the Pujols situation during the 2010-11 offseason.
Photo courtesy of Icon SMI.