The Dodgers are next in our Offseason In Review series.
Major League Signings
Ted Lilly, SP: three years, $33MM.
Juan Uribe, 2B: three years, $21MM.
Hiroki Kuroda, SP:  one year, $12MM.
Jon Garland, SP: one year, $5MM.  Includes $8MM club option for 2012; vests with 190 innings in 2011.
Marcus Thames, LF: one year, $1MM.
Tony Gwynn, CF: one year, $675K.
Jay Gibbons, LF: one year, $650K.      
Total spend: $91.575MM.
Notable Minor League Signings
Extensions
Trades and Claims
Notable Losses
Summary
You've heard repeatedly that the biggest story of the offseason for the Dodgers was owner Frank McCourt's divorce.  At this point the question is whether Commissioner Bud Selig will approve McCourt's proposed television deal with Fox, allowing him to settle his divorce and resolve some of the team's massive debt.  While the situation surely prevented GM Ned Colletti from bidding on Carl Crawford and Jayson Werth this winter, he did guarantee over $125MM to 11 free agents and Chad Billingsley.  The Dodgers were one of the most aggressive teams in baseball in free agent spending as Colletti assembled a team for new manager Don Mattingly.
The Billingsley extension was Colletti's best move of the offseason, as two free agent years were acquired affordably and a club option was included.  MLBTR's Ben Nicholson-Smith estimated savings of at least $6MM for the club.  Not to take away credit from Colletti, but it appears this extension fell into his lap.  Reportedly, agent Dave Stewart recommended the pitcher wait until after the season but Billingsley instructed him to broker a deal as soon as possible.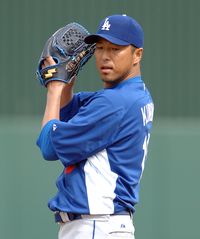 Similarly, Kuroda (pictured) was eager to re-sign on a team-friendly deal with the Dodgers, and he never felt the need to field offers from other clubs.  Re-signing the second-best free agent starter on a one-year commitment was a big win for Colletti, who at least deserves praise for the original signing in '07 that led to this goodwill.
Had he made it to the open market, Lilly might have placed ahead of Kuroda as the second-best free agent starter – especially if the Dodgers chose not to offer him arbitration.  Instead, they extended him at a fair price in October after a strong 12-start stint.  By early November, the huge rotation uncertainty expected from Kuroda and Lilly's free agency was resolved. 
The Garland signing was the icing on the cake; a solid 200 inning arm fell to the Dodgers for just $5MM.  Garland probably won't actually hit 200 innings in 2011, as a spring oblique strain should have him right around the 190 inning threshold that could turn this into a two-year deal.  I liked the depth added by the affordable Padilla signing as well at the time, but since then the righty required elbow surgery.  Colletti didn't out-fox other GMs in signing so many pitchers below market rates, but the moves do reflect well on the organization.
The Uribe and Guerrier additions were market-rate signings.  Uribe rose to the top in a weak free agent market for middle infielders, but it's a sizeable commitment for a guy with a .300 OBP.  His versatility should come in handy, at least, and it's nice to hurt the Giants slightly.  The Dodgers were also the one team willing to add a third year for Guerrier, whose recent success has relied on limiting hits allowed rather than striking batters out.  I'm wary of that kind of commitment to a 32-year-old reliever who struck out 89 in 147 1/3 innings over the last two years.
The Dodgers' pitching staff looks strong top to bottom.  Scoring runs should be an issue, with the low OBPs of Uribe and Barajas and a possible lack of corner infield power from James Loney and Casey Blake.  The left field mix of Thames, Gwynn, and Gibbons figures to prove dicey offensively or defensively, depending on who's out there.  I'd hate to see the Dodgers waste this pitching staff, which includes Clayton Kershaw's last cheap season.  To compete, they'll need big offensive years from Matt Kemp, Andre Ethier, and Rafael Furcal, plus a few surprises at other spots in the batting order.
Ben Nicholson-Smith contributed to this post.  Photo courtesy of Icon SMI.