Jered Weaver's upcoming arbitration case won't be as groundbreaking as Tim Lincecum's, but Weaver should still continue to set arbitration records.  Let's see what's in store for the 28-year-old righty.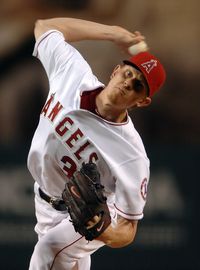 The Impact Of Losing A Hearing
Weaver will be arbitration eligible for the third time after this season, and most consider him the first and second-time record holder with $4.365MM and $7.365MM salaries.  However, that $7.365MM figure was actually the Angels' submission, as Weaver and agent Scott Boras filed at $8.8MM and lost the February hearing.
Aside from setting Weaver back $1.435MM, losing the case might have minimal impact on his 2012 salary.  The focus should still be on Weaver's 2011 season and his career numbers, both of which should be better than they were at the hearing if the pitcher's first seven starts are any indication.  Scott Boras is not generally one to back down from an arbitration hearing, so another one is possible unless Weaver is opposed.
The Raise Argument
One agent explained the general strategy each side takes in an arbitration hearing:  "Owners always make the raise argument, whereas the union always concentrates on comparable players and numbers notwithstanding what "raise" a player is getting.  The teams have been somewhat successful with their raise arguments in some cases."
The raise argument for Weaver starts with Carlos Zambrano's $5.9MM increase in 2007.  Since Weaver is expected to have better career and platform numbers than Zambrano did, a bigger raise is appropriate – maybe $2MM more, putting him over $15MM.  There's also the current class factor – if John Danks and Matt Garza settle before Weaver, each side can try to spin those pitchers' raises into arguments about what Weaver should earn.
Boras could be compelled to shoot for the moon with Weaver, if for example he wins a Cy Young award.  Boras could eschew the Zambrano/Danks/Garza comparables, instead making the argument that there is no pitcher comparable to Weaver who went this far in arbitration going year to year.  That could open the door to A.J. Burnett/John Lackey comparisons, allowing Boras to argue for something around $16.5MM.  That's probably the ceiling.
The Extension Possibility
Surprisingly, one agent predicted Weaver will sign an extension with the Angels.  We haven't seen many high-profile Boras clients take that route one year away from a free agent payday, and the Angels aren't on the best of terms with Boras.  Plus, Weaver attended the February hearing, and there's no telling how that affected him.  On the other hand, Weaver is a California guy and the Angels have minimal commitments beyond Vernon Wells in 2013 and beyond.  In recent memory, the only Boras client who chose not to explore free agency with one year remaining was Ryan Madson.
In an email discussion, members of the MLBTR writing team pointed out that Weaver will turn 30 in October of 2012, meaning he will be older than C.C. Sabathia, Barry Zito, and Johan Santana were when they signed huge extensions.  Nonetheless, we all see $20MM+ per year as likely, even if the term only covers six free agent seasons.  The MLBTR writing team believes Weaver could land something like a six-year, $140-150MM deal on the open market after '12.  If Weaver were to sign an extension before the '12 season, I don't imagine much of a discount, though perhaps he'd give up his last arbitration year for $12MM or so instead of battling for every last dollar in that season.
The Bottom Line
When the 2012 season begins, Weaver's name could occupy all three spots in the starting pitcher arbitration record book (some wouldn't count Tim Lincecum's third-year salary, since he didn't go year to year).  Weaver will still be a bargain for the Angels next year even if his salary doubles and he lands around $15MM.
Photo courtesy of Icon SMI.