Luke Scott had the best full season of his career in 2010, ranking sixth in the American League with a .535 slugging percentage.  As a late bloomer with lightly-regarded defense, Scott has been going year to year through arbitration and is an oft-cited comparable due to the healthy raises he's received.  In his last time through, he beat the midpoint of his and the Orioles' submissions and received a $2.35MM increase, bringing his 2011 salary to $6.4MM.  Scott's offseason, of course, was better known for a Winter Meetings interview with Yahoo's David Brown than his arbitration raise.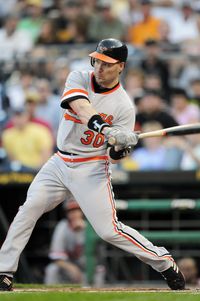 Scott, 33, had his projected position changed twice during the offseason.  When Derrek Lee was signed to play first base Scott became the designated hitter, and then he became the left fielder upon the Vladimir Guerrero signing.
Scott's season started out with a whimper as he battled a groin strain in April, and then a shoulder issue became public in May.  He decided to play through a torn labrum in his shoulder, using a combination of rehab and a June cortisone injection.  But then Scott bruised his knee in late June, and he landed on the disabled list a week later.  During that DL stint the pain in his shoulder worsened, and after another cortisone shot and a rehab assignment he was activated in late July.  It only took one game for Scott to realize he had to have surgery on his shoulder.  From what I've heard, Scott is a disciplined and devoted offseason worker, and is expected to be ready for Spring Training next year.
Scott didn't add much in the way of counting stats in 2011 – nine home runs, 22 RBI, and 24 runs.  So, we project his salary to be in the $6.4MM range again.  Is that a worthwhile gamble for the Orioles, who have gotten power production this year from J.J. Hardy, Mark Reynolds, Adam Jones, and Matt Wieters?  Scott's recovery progress leading up to the December non-tender deadline will be a big factor, but I'm leaning toward the Orioles tendering him a contract.  The O's will have a lot of payroll space, and the free agent market doesn't offer much in the way of alternatives who have Scott's power potential and will sign a one-year deal under $7MM.  The x factor will be a potential new GM in Baltimore, who could certainly find reasons to cut Scott as part of a mini-shakeup.
Photo courtesy of Icon SMI.