Check another item off the Dodgers' winter to-do list, as the team officially signed second baseman Mark Ellis to a two-year, $8.75MM deal that includes a team option for 2014.  Dylan Hernandez has the contract breakdown; only $2.5MM is owed to Ellis in 2012.  He can earn an additional $125K per year in plate appearance-based incentives.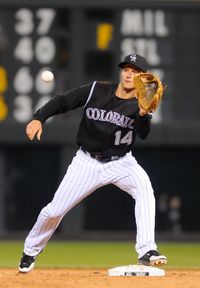 With Dee Gordon penciled in at shortstop and Juan Uribe at third, second base was considered one of the Dodgers' offseason needs.  Ellis, 34, hit .248/.288/.346 in 519 plate appearances for the Athletics and Rockies this year.  He's best known for his strong second base defense.  Assuming the current free agent compensation system remains in place for this offseason, the Rockies will receive a supplemental draft pick for losing the Type B free agent.
Ellis' deal may have been based on Omar Infante's September pact with the Marlins.  Ellis is represented by TWC Sports.
It's been an active offseason for Dodgers GM Ned Colletti amid recent news of the team going up for sale.  Colletti reached an agreement with Matt Kemp on an eight-year, $160MM deal yesterday, signed Juan Rivera for $4.5MM, and made an offer to Ryan Doumit.
ESPN's Buster Olney broke the story of Ellis' agreement, with Ken Rosenthal adding the total and the option info.  Photo courtesy of Icon SMI.