The Angels are the bridesmaid no more.  Albert Pujols signed a ten-year deal with the Angels, reports Yahoo's Tim Brown.  He receives a full no-trade clause.  Pujols decided this morning, writes Brown.  The Angels have since announced the monumental signing, which ESPN's Buster Olney says is for $254MM.  It's the second-largest contract in baseball history in terms of overall and average annual value, behind Alex Rodriguez's ten-year, $275MM deal with the Yankees four years ago.  Pujols is represented by Dan Lozano of Icon Sports Group.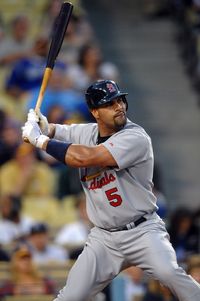 Pujols, 32 in January, was drafted by the Cardinals in 1999 in the 13th round and began his career with a staggering 11-year stretch.  The first baseman is the active career leader in batting average (.328) and slugging percentage (.617).  He's second among active players in career on-base percentage at .421, so Pujols certainly fits new Angels GM Jerry Dipoto's plan to improve the team's OBP.  Pujols owns a Rookie of the Year award and three MVP awards, and has ranked no worse than ninth in the MVP voting in every season of his career.  He's been extremely durable, averaging 155 games per season.  
Pujols anchors an Angels offense that ranked tenth in the American League in 2011 with 4.12 runs scored per game.  With Kendrys Morales and Mark Trumbo, Dipoto now has a surplus at first base, but reportedly he won't trade either.  Within an hour of the Pujols signing breaking, Dipoto completed a five-year, $77.5MM deal with free agent lefty C.J. Wilson, bringing the team's total today to $331.5MM.
The Cardinals signed Pujols to a long-term deal in 2004, which ended up being a huge bargain at $111MM over eight years.  Pujols and the Cardinals failed to find common ground on an extension in February this year, but the contract didn't seem a distraction as the team ended up winning the World Series.
The suddenly free-spending Marlins made the high bid for Pujols this offseason at ten years and $275MM, but they would not bend on their policy of avoiding full no-trade clauses.  They seemingly dropped out after signing Mark Buehrle.  The Cubs reportedly made an offer to Pujols as well.  Up until Thursday morning, the Cardinals were considered the favorite, though they reportedly topped out with a nine-year offer that was just the fourth-best he received.  Pujols could have been the next Stan Musial, but even a call from the legendary Cardinals Hall of Famer couldn't convince him to take less money to stay in St. Louis.  It's not much of a consolation prize, but the Cardinals will receive the Angels' #19 pick in the 2012 draft as well as a supplemental choice. 
With Pujols off the market, Prince Fielder is the top prize still available for teams looking to add a big bat. However, based on recent reports, the most aggressive suitors for Pujols, the Cardinals and Marlins, won't be involved in the bidding for Fielder.
 Photo courtesy of Icon SMI.