Lefty C.J. Wilson will join Albert Pujols in Los Angeles, as the Angels continue a surprising free agent spending spree.  The Halos completed a deal with Wilson today, learned Joel Sherman of the New York Post.  It's a five-year, $77.5MM contract, according to ESPN's Karl Ravech, bringing the Angels' tally to $331.5MM on the last day of the 2011 Winter Meetings.  The contract includes a full no-trade clause in the first two years and partial in the last three, tweets Alden Gonzalez of MLB.com.  Wilson is represented by Bob Garber of Select Sports Group.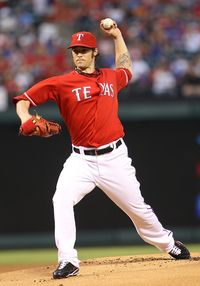 Wilson, a 31-year-old Fountain Valley, California native, will earn $10MM in 2012, $11MM in '13, $16MM in '14, $18MM in '15, and $20MM in '16, according to Richard Durrett of ESPN Dallas (via Twitter). The remaining $2.5MM makes up the southpaw's signing bonus.
Wilson posted a 2.94 ERA, 8.3 K/9, 3.0 BB/9, 0.64 HR/9, and 49.3% groundball rate in 223 1/3 innings this year.  He added another 28 innings in the postseason.  Including the playoffs, Wilson has tallied a massive 479 2/3 innings over 76 starts since being converted back to a starter in 2010.  Aside from perhaps the recently-posted Yu Darvish, Wilson was the best available pitcher this offseason.  Wilson, who has a popular Twitter page, joins a stellar Angels rotation that includes Dan Haren, Jered Weaver, and Ervin Santana.  Weaver had signed a five-year, $85MM extension in August, and it seemed like the Angels couldn't justify giving Wilson more.
The Rangers reportedly topped out at four years in their bid to retain Wilson, though they never made a formal offer and according to the player, weren't close.  The Rangers will receive the Angels' second-round draft pick and a supplemental choice as compensation.  GM Jon Daniels appears to already be exploring alternatives such as Darvish and Matt Garza.  The Marlins were heavily in the mix for Wilson, reportedly making the best offer at $98-99MM over six years.  In fact, Garber said the Marlins "would not let it go" and Wilson could easily have gotten $100MM.
Photo courtesy of Icon SMI.