The Blue Jays have acquired Jason Frasor from the White Sox in exchange for right-handed pitchers Myles Jaye and Daniel Webb, according to a press release.  Frasor, 34, returns to Toronto where he played his entire big league career before being traded to the White Sox mid-season.
The veteran right-hander had his $3.75MM club option exercised on October 31st.  It's possible that the White Sox picked up the option with the intention of dealing him this winter.  Frasor posted a 3.60 ERA with 8.6 K/9 and 3.9 BB/9 in 60 innings for the Blue Jays and White Sox in 2011.  He will join former teammate Sergio Santos, whom Toronto acquired in early December.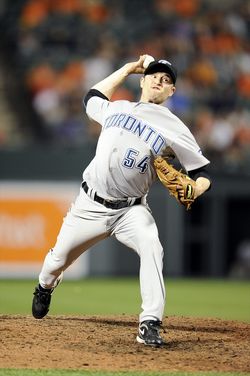 Jaye and Webb were not among the top 25 prospects in the Blue Jays' system, according to John Sickels of Minor League Ball.  Jaye, 20, was Toronto's 17th round pick in 2010 and made nine starts and four relief outings for the club's Appalachian League affiliate in 2011.   Webb, 22, spent the bulk of 2011 with Single-A Lansing where he posted a 5.59 ERA with 7.0 K/9 and 3.3 BB/9 in 12 starts and six relief appearances.
It appears that GM Ken Williams hasn't taken any time off to celebrate the New Year after trading Carlos Quentin to the Padres just over 24 hours ago.  By trading Frasor and the arbitration-eligible Quentin, the club has saved roughly $11.25MM in 2012. 
Frasor and starter Zach Stewart were shipped to Chicago prior to the trade deadline for starter Edwin Jackson and third baseman Mark Teahen.  Of course, the Blue Jays dealt Jackson to the Cardinals that very same day in order to land center fielder Colby Rasmus.