Before he turned 24, Anibal Sanchez had been dealt in a blockbuster trade, pitched a no-hitter and undergone an operation for a torn labrum in his throwing shoulder. The unpredictability of the right-hander's early career has subsided and Sanchez, who turns 28 next month, has established himself as a dependable, accomplished starter.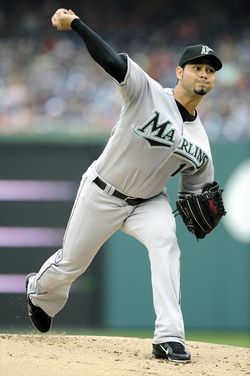 Since 2010, Sanchez has averaged a 3.61 ERA, 196 innings, 8.3 K/9, 3.1 BB/9 and a 44.7% ground ball rate. He's entering his final season as an arbitration eligible player, and the Marlins view him as a candidate for a contract extension. The club approached Sanchez about a long-term deal late last season, Clark Spencer of the Miami Herald reported in the fall.
The Marlins offered $6.9MM for 2012, while Sanchez countered with an $8MM submission, as MLBTR's Arbitration Tracker shows. Let's place his 2012 earnings at $7.5MM to keep things simple. 
Sanchez's free agent years figure to be considerably more expensive for the Marlins. C.J. Wilson, who was able to solicit bids from all 30 teams this offseason, will earn $15.5MM per free agent year under his new contract with the Angels. Since 2010, Wilson has out-performed Sanchez in terms of wins, ERA and innings, so it's hard to imagine an annual salary of $15.5MM for Sanchez's free agent years at this point. Another Angels starter, Jered Weaver, signed an $85MM deal, but it's also out of reach for Sanchez.
There's little doubt that Sanchez's free agent years are each worth $10MM-plus. Johnny Cueto, Trevor Cahill and other statistically similar pitchers had free agent years valued above $10MM on extensions, although those pitchers were considerably further from free agency than Sanchez is now. This gives us a likely $10MM floor for each free agent year to go along with the presumed ceiling of $15.5MM.
John Danks signed a five-year, $65MM deal with the White Sox and though the left-hander has historically been more durable than Sanchez, his deal could figure in to talks between the Marlins and Icon Sports Group. Danks' free agent seasons were valued at $14.25MM each, a target Sanchez could approach.
A 2012 salary of $7.5MM and a $14MM salary for 2013-15 would amount to a four-year total in the $50MM range. The deal would not rival Danks' contract in terms of length or overall value, but Sanchez has more labrum operations than 200-inning seasons at this point in his career, and the Marlins will surely take that into account when considering the possible risks of locking Sanchez up.
However, Miami committed $58MM for four seasons of Mark Buehrle and appear to have offered Wilson considerably more. They're willing to spend on pitching and if they believe Sanchez can replicate his 2010-11 success, he could be their next long-term investment.
Photo courtesy Icon SMI.