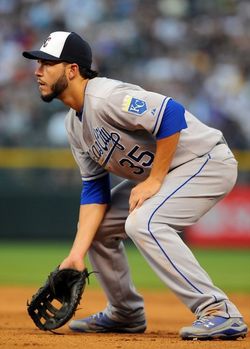 This past week was a rough one for the Royals. Not only did they watch the reigning division champs add Prince Fielder, but they also caught a glimpse of what it could take to keep Eric Hosmer in town long-term should he develop into the type of player they think he can become. After giving him $6MM as the third overall pick in 2008, it's clear Kansas City expects great things.
Hosmer, 22, was called up to the big leagues in early-May and went on to finish third in the AL Rookie of the Year. He hit .293/.334/.465 with 19 homers and 11 steals in 128 games. The Royals likely delayed his free agency by a year with the late call-up, but Hosmer is almost certain to qualify as a Super Two after the 2014 season. That means he'll be arbitration-eligible four times rather than the usual three, which can get expensive in a hurry.
For comparison's sake, Hunter Pence hit .289/.340/.488 during the first three years of his career, and parlayed it into $20.8MM during his first three years of arbitration-eligibility as a Super Two. He earned $3.5MM his first year of eligibility, $6.9MM in the second, and recently agreed to $10.4MM for the third. Barring an unexpected non-tender next winter, Pence will earn north of $32MM during his four years of arbitration-eligibility. Surely the Royals would want to avoid a similar payout for Hosmer.
The largest contract ever given to a player with less than one full year of service time is the eight-year, $45MM pact the Brewers bestowed upon Ryan Braun during the 2008 season. I'm sure the Royals would love to lock up Hosmer's next eight years at that price, but it might be unrealistic since he's a Scott Boras client. If there's one thing Boras is good at, it's breaking contract records. Evan Longoria's six-year, $17.5MM deal is the only other contract ever given to a position player with less than one year of service time worth more than $1.5MM annually.
If Kansas City plans to buy out any of Hosmer's free agent years, they're looking at a minimum contract length of seven years. That would cover his six years of team control and just one free agent year. It would also be the longest deal in franchise history by two years, and anything more than $55MM would make it the richest as well (Gil Meche and Mike Sweeney hold the record with matching five-year, $55MM contracts). I'm not suggesting that a deal of that size would be appropriate for Hosmer after one year in the bigs, but like I said, Boras is fond of breaking records. Those are some benchmarks he can target.
The Royals have more pressing issues than extending Hosmer (like extending Alex Gordon), and there's no real rush to get a deal done now. They will pay their first baseman little more than the league minimum over the next two years, so time is on their side. The Fielder contract serves as a harsh reminder though, a reminder that if Hosmer turns into the franchise cornerstone Kansas City hopes he'll be, he might price himself right out of Kansas City. A long-term contract extension could help prevent, or at least delay that.
Photo courtesy of Icon SMI.