Phillies GM Ruben Amaro Jr. has authored eight extensions since taking charge in November of 2008, so it's only natural to assume he'll attempt to lock up summer acquisition Hunter Pence.  Let's discuss Pence's situation.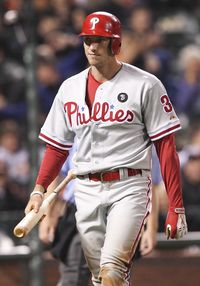 Pence, 28, had the best year of his career in 2011 with a .314/.370/.502 line in 668 plate appearances.  He's averaged 156 games over the last four seasons, with right field defense generally regarded as a positive.  Pence, a client of Beverly Hills Sports Council, has four years and 156 days of Major League service time.  That means he's already been arbitration eligible twice, with two more times to go.  Pence's agency won a hearing last February, scoring a $3.4MM raise to a $6.9MM salary.  The Astros had submitted a $5.15MM figure.  In unparalleled work done exclusively for MLBTR, Matt Swartz projected an even bigger raise this time, taking Pence to approximately $11.1MM for 2012.
In his prime and two seasons away from free agency, Pence may not necessarily be motivated to sign long-term at a big discount.  $23MM could work for his two arbitration years.  It'd be difficult to make a case that Pence deserves Ryan Braun/Matt Kemp money to buy out free agent years, which would be $19-21MM a season.  The $17-18MM range we saw with Jayson Werth and Matt Holliday could work, though those seven-year deals were reached by Scott Boras on the open market.  Pence might be able to get a six-year free agent deal if he remains consistent in 2012-13.  If the Phillies are willing to buy out six free agent years now at $16MM apiece, the total eight-year commitment could approach $120MM.  I think the floor for a Pence contract has to be five free agent seasons at $15MM each, bringing a seven-year deal to almost $100MM.
Pence turns 29 in April.  He one shot at a huge long-term deal in his career, and if he signs now, $100MM is a reasonable target.  The Phillies probably consider Cole Hamels a more pressing concern, but another big year from Pence will either drive the price higher or close the door on a long-term extension altogether.
Photo courtesy of Icon SMI.