After 14 MLB seasons, Kerry Wood's playing career is coming to an end. The 34-year-old right-hander plans to announce his retirement, Bruce Levine of ESPNChicago.com reports. Wood will retire after making one more appearance this weekend, MLB.com's Carrie Muskat tweets.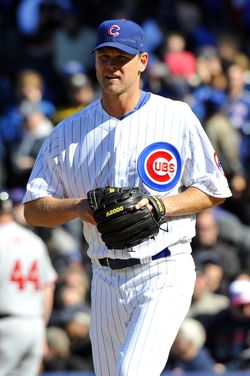 Wood debuted with the 1998 Cubs and it didn't take long for him to make an impression. He struck out 233 hitters in 166 2/3 innings as a rookie, including a record 20 strikeouts in one game against the Astros. After being named the NL's 1998 Rookie of the Year, Wood missed his sophomore season to undergo Tommy John surgery. He returned to the rotation in 2000 and started effectively for five seasons, but had trouble staying healthy and transitioned to the bullpen, where he pitched exclusively from 2007-12.
Wood signed a one-year, $3MM contract with the Cubs this offseason, but struggled through nine appearances, allowing nearly one earned run per inning with twice as many walks (11) as strikeouts (5). Wood's contract included a $3MM club option for 2013 which will no longer be in play for GM Jed Hoyer.
The two-time All-Star will retire with a 3.67 ERA, and 86-75 record, 1379 2/3 innings pitched and 1581 strikeouts. Wood, the fourth overall selection in the 1995 draft, earned more than $70MM in his career, according to Baseball-Reference. He is a client of SFX.
Photo courtesy of US Presswire.