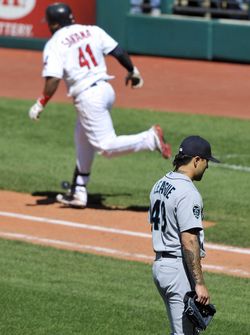 The new playoff system may or may not impact the number of buyers and sellers this summer, but there's one thing about the trade deadline that won't change: pitching will be in demand. It is every year and in all forms — starters and relievers, right-handers and left-handers, aces and innings-eaters — there's a market for all of them.
A popular target for clubs looking to add bullpen help is the proverbial "closer on a bad team." The Rangers were 14.5 games out when they traded Eric Gagne to the Red Sox in 2007 and the Nationals were 13.5 games out when they traded Matt Capps to the Twins in 2010, just for example. The upcoming free agent class is littered with closers, but two of them have seen their trade value drop because of poor performance in recent weeks.
Brandon League, Mariners
League saved 37 games and was an All-Star a year ago, but this season he's pitched to a 4.43 ERA with a 44.4% ground ball rate that is well below his career norm (60.3%). Manager Eric Wedge removed the 29-year-old right-hander from the closer's role following last night's blown save, already his fourth of the season. He told reporters (including Larry Larue of The News Tribune) they'll instead "match up with what we think works" in the ninth inning.
Grant Balfour, Athletics
Three poor performances (two blown saves) in late-April and early-May cost Balfour his job as closer, and now he's working the seventh inning in Oakland thanks to Ryan Cook's emergence. The 34-year-old veteran has a 4.09 ERA in 22 innings, though his strikeout (7.0 K/9) and walk (3.3 BB/9) rates are both trending in the wrong direction for the second straight season.
Both League and Balfour are scheduled to become free agents after this season, though Balfour's contract includes a $4.5MM club option ($350K buyout) for 2013. With pitchers like Jonathan Broxton, Huston Street, and Francisco Rodriguez providing quality rental bullpen help alternatives on the trade market, the Mariners and A's could be left with nothing to show for their free agent-to-be relievers.
Photo via US Presswire.